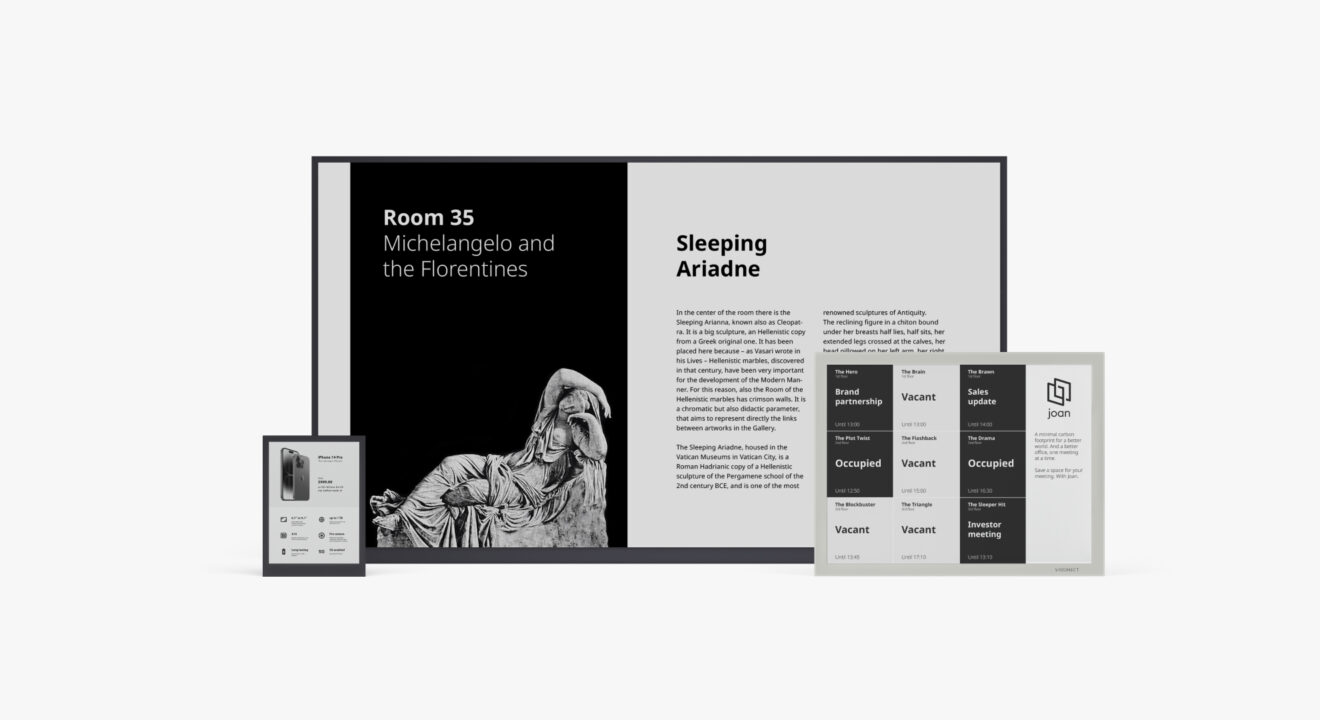 In the realm of modern technology, simplicity is the ultimate sophistication. Visionect's Place & Play devices are a testament to this belief. By combining convenience and functionality at the highest level, these devices stand as a stellar example of user-friendly design, redefining what can be achieved with digital signage.
Today we're going to take a closer look at what makes Place & Play devices so beautifully simple yet so powerful.
Simplicity starts with excellent design
Visionect's Place & Play devices emphasize simplicity at every step of the way – from installation to integration.
Hassle-free setup and maintenance
First impressions are key. That's why our devices kick things off with a cable-free setup that removes the frustrations of elaborate installations and wiring needs. No more drilling holes or wrestling with tangled cables. Our magnetic mounts ensure effortless installation on most indoor surfaces, maintaining a sleek and clutter-free environment. The setup process is as simple as it's quick.
Place & Play's convenience doesn't end here. Our devices boast exceptional energy efficiency, running for months on a single charge. This battery longevity not only minimizes the need for frequent maintenance but also gives you more flexibility when deciding where you want to use the device.
Long-lasting peak performance
We believe that longevity and robustness translate to simplicity. After all, devices that you don't have to worry about make life simpler.
Unlike traditional LCDs that require frequent refreshes, Place & Play displays showcase content while staying dormant. They become active only briefly when updating the display. This dormancy translates to a very long lifespan, marked by an ultra-low failure rate.
Moreover, electronic ink displays exhibit remarkable endurance even in extreme conditions. Operating flawlessly in temperatures ranging from 32°F to 122°F (0°C to +50°C), these devices are built to perform reliably regardless of the environment. This resilience makes them an ideal choice for a wide array of settings.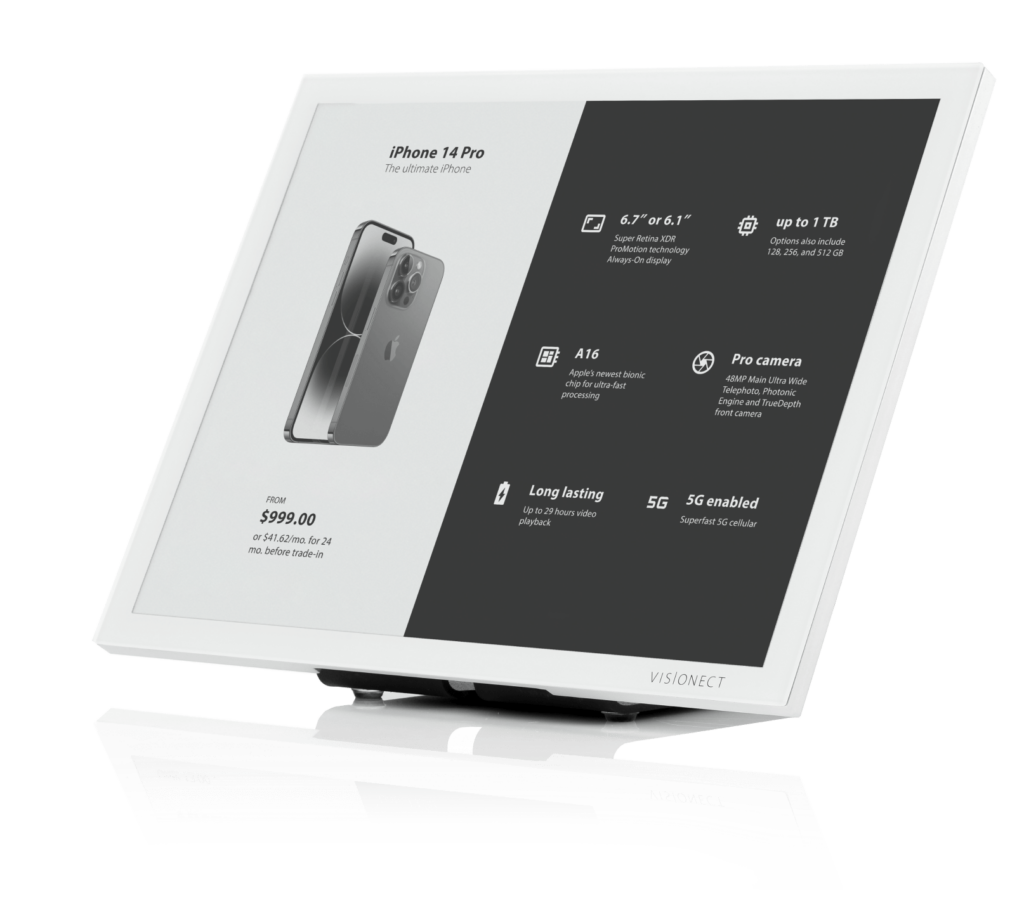 Simply readable
The frustrating glare from traditional screens can make a display unreadable and useless. With Place & Play displays, such annoyances become a thing of the past. Our devices reflect ambient light just like paper, resulting in a glare-free experience and improved screen readability in any environment.
Integrates with your content management system (CMS)
Once you set up your Place & Play devices you can integrate them with any web-based CMS, ensuring a cohesive content management experience. Nevertheless, we highly recommend utilizing the dedicated CMS provided by Place & Play, scheduled for launch this fall.
Intuitive and capable software for effortless management
Combining hardware with purpose-built software is the easiest way of streamlining processes and achieving desired results. That's why Visionect is offering an all-in-one solution for integrated e-paper device management and content management. It's a combination of our Software Suite and CMS.
Visionect Software Suite
At the core of Visionect's seamless signage experience lies the Visionect Software Suite, the digital brain that orchestrates our Place & Play Devices.
The Visionect Software Suite is there to ensure flawless content display on your e-paper devices. With intuitive deployment, control, management, and integration, it simplifies every aspect of your digital signage journey. Frequent updates enhance its functionality, guaranteeing your system stays cutting-edge.
Our Software Suite empowers you to manage multiple or individual displays from one central location. The Cloud-based subscription option provides managed hosting that accelerates onboarding, ensuring the simplest and swiftest route to experiencing all the benefits of Place & Play devices.
Place & Play CMS
Our fully featured CMS has everything you need to enhance your digital signage experience. It offers advanced content editing capabilities, versatile templates, support for various media formats, content scheduling, sequencing capabilities, and real-time data integrations.
It's created with e-paper displays in mind and includes features such as frame-rate control, progressive image optimization, and customized output previews.
Place & Play CMS is the simplest way of making the most of your e-paper displays and making them more versatile than ever.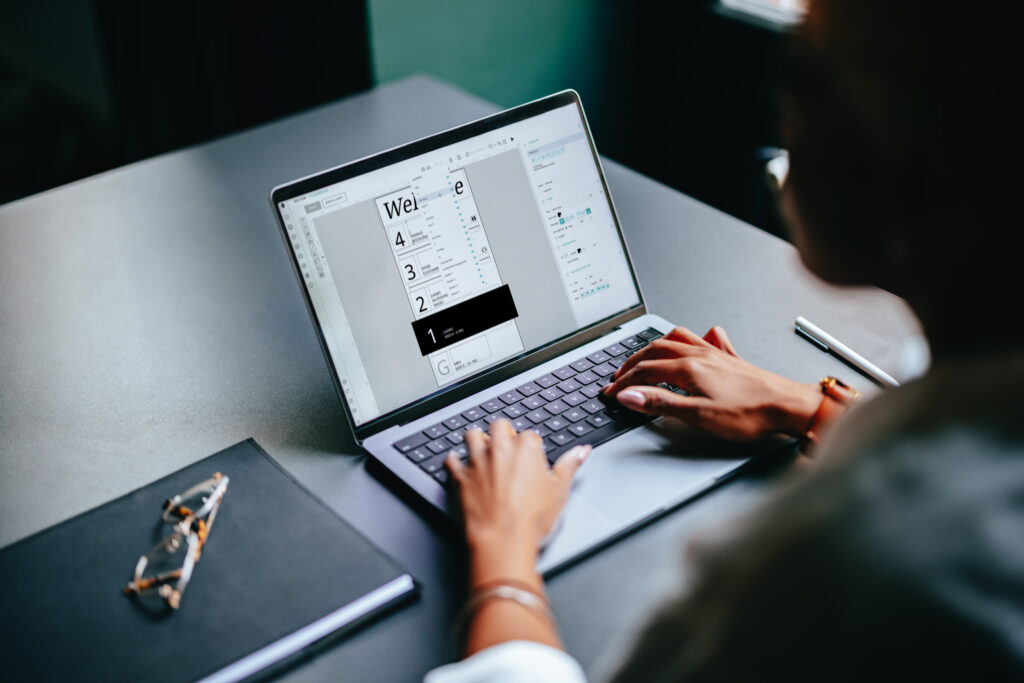 Simplicity and versatility result in a variety of use cases
The true value of simplicity lies in adaptability. Visionect's Place & Play devices are not just simple to use; they unlock an array of possibilities across diverse sectors. Their ease of installation, maintenance, and management make them a great fit for all kinds of jobs. To list only a few examples:
Whether in an office building or at an airport like Schiphol, Place & Play devices help people find their way around. They can be set up or moved to a different spot without drilling or wiring and are therefore ideal displays to simplify visitors' lives.
Using Place & Play devices as shelf labels is a testament to how easy it is to install them. Retailers can get smart labels without any drilling or wires. It enables them to tailor the content to their customers and even trigger promotions based on real-time events.
Museums also benefit from the simplicity of Place & Play devices. They make it easy to adapt information to various exhibitions and seamlessly integrate into the museum environment.
There are many more examples of how companies around the world are using Place & Play devices.
If you want to know how to make the most of them in an office setting check out the 11 use cases for e-paper displays in any office or facility.
If you're curious about the industries that can benefit from e-paper displays, see Visionect digital signage use cases from around the world.
And if you're after some extra interesting applications that show how flexible Place & Play devices are and how simple it is to adapt their use, read Unique use cases for Visionect e-paper displays.
Another example?
Here's what a managing partner at a luxury resort thinks about Place & Play devices:
"I am excited to use a product that does not over-complicate communication between host and guest, while at the same time allowing the flexibility needed to communicate in our established style and quality level."
— Julian Mayer, Managing Partner at Familux Resorts
Has this article given you ideas on how Place & Play devices might solve any of your challenges? Contact our Sales team and find the display that's ideal for your needs.