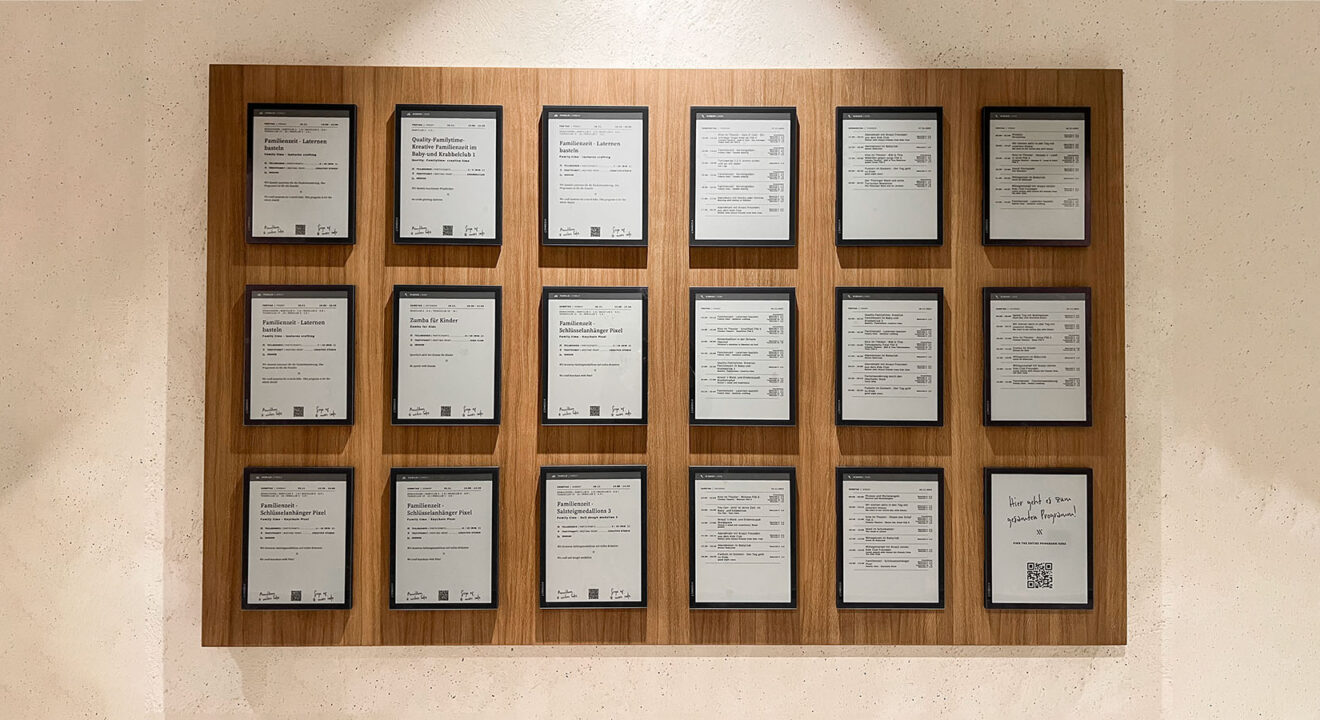 Bright lights and flashing screens aren't always better. When a company is as elegant and luxurious as Familux, they want subtle, quality solutions that work. This company is one of many who searched for an "impossible" solution… and found it.
Familux is a hotel group currently comprised of four resorts, chalets, and yachts. The company focuses on luxury family lodgings with five-star service and amenities. Every day, their hotels run activities and services for their patrons of every age from children to adults.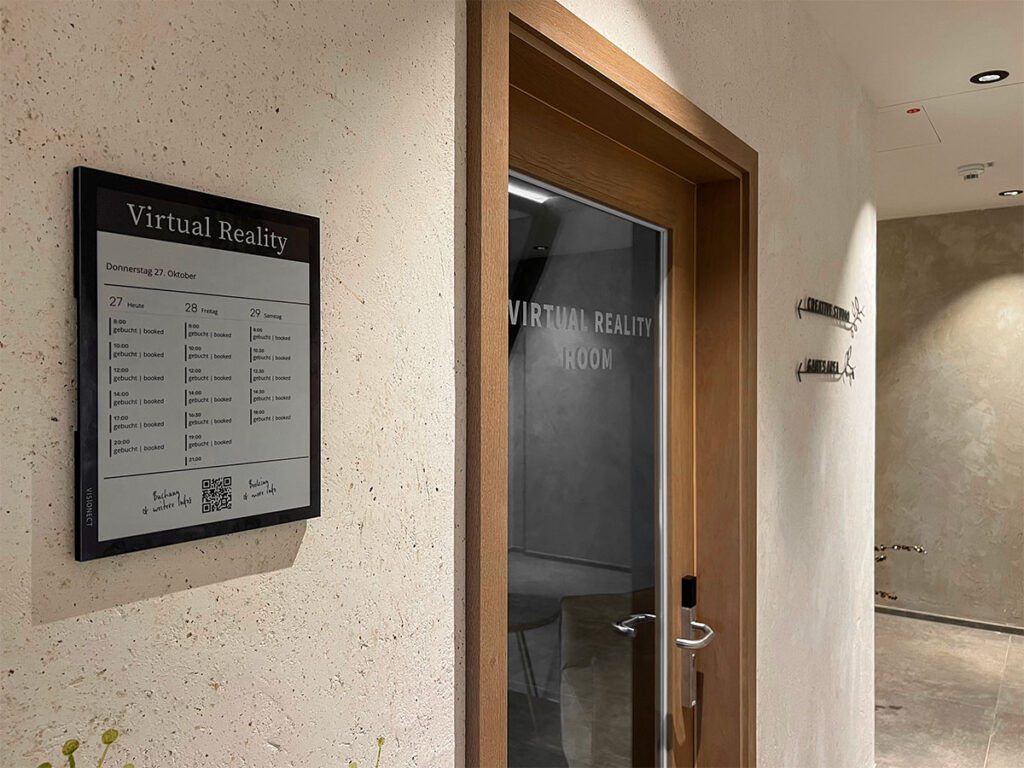 Managing guest events
With the numerous activities Familux locations run each day, they needed a way to communicate the events to the guests. Furthermore, the guests needed a simple and intuitive way to sign up for these events. In reality, Familux needed a two-way communication stream.
Still, the company had more criteria than simple communication. Familux wanted a solution that
✔ Displayed static and consistent information
✔ Could not be changed by accident
✔ Easy to update by various departments heads
✔ Can be installed on different surfaces with no electrical installation
✔ Is luxurious and stylish for their environment
In order to manage events, Familux began its search for an impossible solution.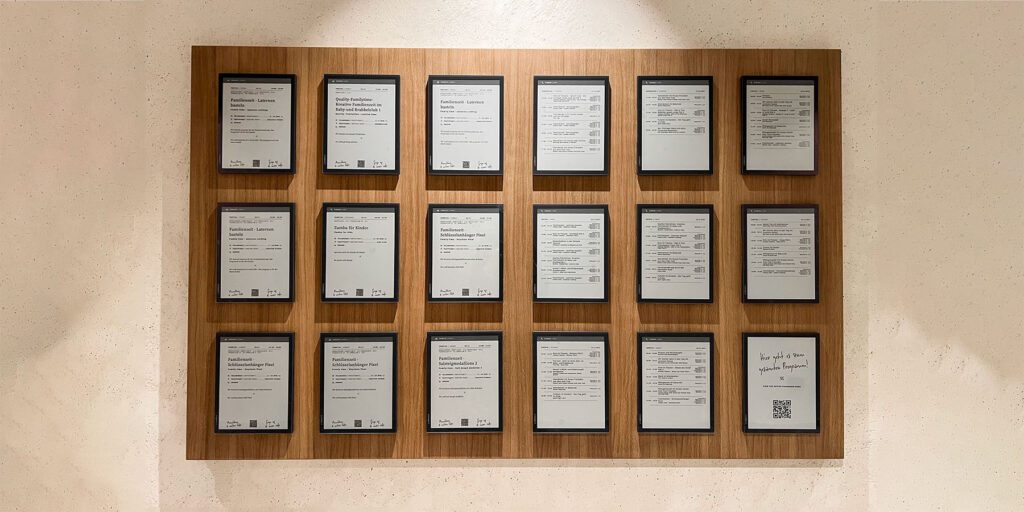 The Visionect solution
Having already had great experiences with e-paper buffet tags in their dining rooms, Familux knew which direction they wanted to go. They knew that the most versatile displays, the ones that could be mounted anywhere around their resorts without installation, were e-ink displays. Upon glance, Visionect displays checked off all of their requirements. The fit was almost too good to be true.
Fast forward to today, the company has invested in over 150 Place & Play displays and counting. As you can imagine, they've found numerous use cases for their Visionect screens. Here are a couple of examples:
Familux uses Place & Play displays, among others, as a program wall. These walls consist of 18 Place & Play screens mounted with Visionect magnetic mount on a stylish wooden board. This board shows guests the day's events, letting them sign up for specific events with a QR code displayed at the bottom of each screen.
The new system is programmed and managed by Familux's long-term partner, Mindstream, including frontend, backend, and data management.
The company also uses Visionect solutions as wireless room displays. These Place & Play screens are mounted outside of individual rooms, showing the room's schedule and availability. These Visionect devices are mounted on wood or rough concrete walls — no drilling or wiring required!
What makes e-paper so adaptable?
E-paper displays are static with the content only changing when an update is pushed to the devices. Place & Play screens update virtually over Wi-Fi. Meaning, any department head can update the information on any screen from anywhere.
The screens show content in a way that keeps patrons from accidentally navigating away from key information or inadvertently changing settings.
Where e-paper displays really stand out is their ability to run months to a year off of battery power alone before needing to be recharged. This characteristic is why Place & Play displays can be stationed anywhere on any surface without installation or wiring. Find out more in our article covering the top 10 questions about Visionect e-paper displays.
Last but not least, Visionect displays are constructed of top-of-the-line materials. Painted aluminum creates a timeless look that plastic could never achieve. The glass screen is on par with the latest and most popular mobile devices, easily fitting into the luxurious Familux properties.
"I am excited to use a product that does not over-complicate communication between host and guest, while at the same time allowing the flexibility needed to communicate in our established style and quality level."

— Julian Mayer, Managing Partner at Familux Resorts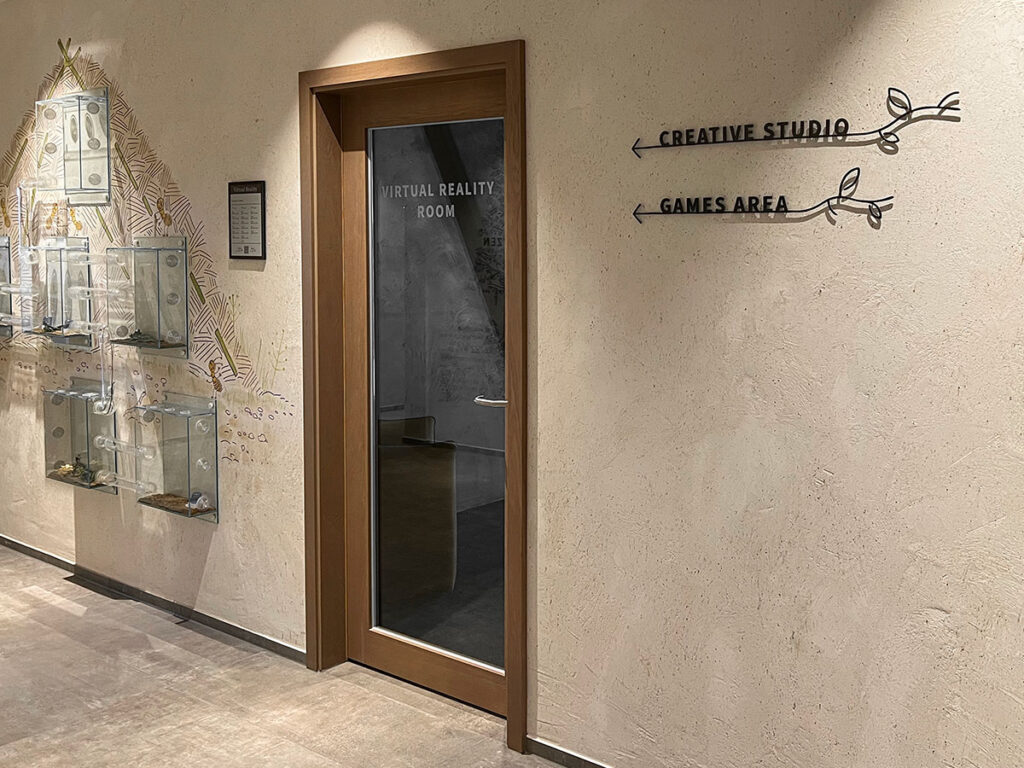 Equipped with Visionect Place & Play displays, Familux easily shares event schedules with their guests. By way of a QR code, guests can sign up for events directly from their mobile devices. In the end, Visionect e-paper displays matched their "impossible" criteria, providing a classy and reliable solution.
Needless to say, Familux found their perfect match. Each Visionect display is designed to last with the lowest failure rate in the industry. Which means, Familux properties will be thriving with their stylish Place & Play devices for years to come.
Get in touch with our sales team if you are looking for a luxurious display for your business, and we will be happy to introduce you to our solutions.