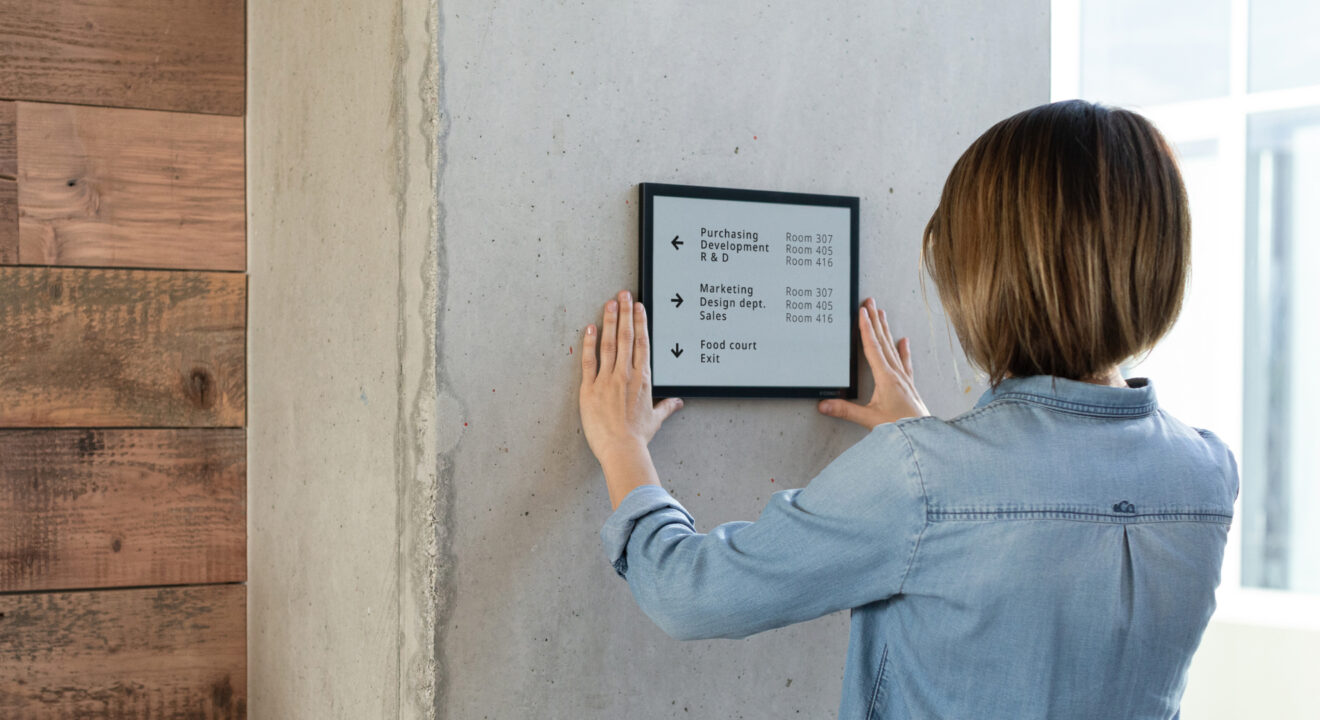 This article is a bit different – it's about your journey with us. Let us show you our seamless path from understanding the possibilities of top-quality e-paper displays to experiencing the transformative impact of e-paper devices.
Join us and find out how you can unlock the full potential of e-paper digital signage with Visionect.
Phase 1: Discover the best use case for your e-paper Visionect screens
First, you need to figure out how a top-quality e-paper device can benefit you. But that won't be hard. Visionect offers versatile solutions that fit seamlessly into various industries and serve countless purposes, both indoors and outdoors.
The exceptional power efficiency, unmatched visibility even in direct sunlight, and elegant design make e-paper displays the ideal choice when traditional screens fall short.
Let's explore some of the use cases where Visionect's digital signage shines:
In offices and facilities: Enhance lobbies, receptions, and conference rooms with e-paper displays for key information, wayfinding, and scheduling.

In retail: Convert visitors into customers with e-paper displays providing product information and analytics-driven insights.
In hospitality: Streamline check-in and check-out processes in hotels, and easily update menus in restaurants.
In transportation: Guide people in airports and public transportation with real-time schedules and information.
In culture: Engage visitors with informative plaques and captivating imagery in cultural institutions.
If you're eager to dive deeper into the world of e-paper displays, we invite you to explore the myriad of more detailed use cases for e-paper displays in various office and facility settings, how digital signage is used around the world or learn more about unique applications of Visionect's devices.
Phase 2: Understand the benefits of our Place & Play devices
As you begin your journey with Visionect, it's crucial to determine what you aim to achieve and why e-paper presents a superior solution compared to LCD and other screens.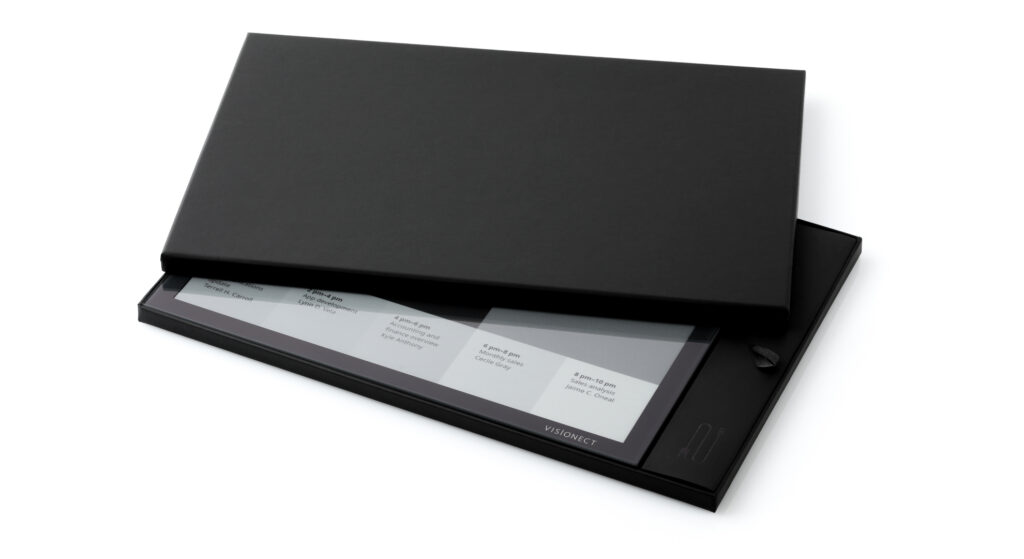 In this phase, you'll delve into the reasons why our Place & Play devices stand out among the competition and find out about the top benefits of using Visionect e-paper displays, such as:
Energy efficiency: Consuming 99% less power than traditional LCDs, Visionect's e-paper displays last for months to a year on a single charge, delivering sustainable performance.
Hassle-free installation and maintenance: Long battery life enables our displays to be easily installed on any surface without drilling or wiring.
Longevity: Premium materials and a low refresh rate ensure a longer lifespan of our devices compared to LED and LCD technologies, which often succumb to overheating or burnout.
Reducing operational costs: Low energy consumption, longevity, and minimal installation costs result in substantial savings when comparing e-paper displays vs LCD and LED displays in the long run.
Sustainability and reputation: Crafted with reusable and recyclable materials, our displays prioritize sustainability and enhance your brand's reputation as environmentally conscious.
Enhanced effectiveness: E-paper displays offer superior readability even in direct sunlight and perform reliably in a wider range of temperatures than LCD and LED displays.
Elegant and unobtrusive design: Our devices elegantly integrate into any environment and alleviate eye strain as they don't emit blue light.
Phase 3: Reach out, find the perfect fit and receive a tailored offer
Now that you understand the advantages our e-paper devices offer, it's time to take the next step.
Reach out to us, and our dedicated team will provide you with in-depth information on how our devices can be tailored to meet your specific needs and bring you the most value. You'll get all the necessary details to ensure the successful deployment of your project.
Phase 4: Test multiple devices and showcase the power of e-paper in different environments
Let's move forward to the testing phase, where you'll have the opportunity to evaluate our devices in real-world scenarios.
Here we provide a selection of devices and solutions for you to showcase to your clients, gathering valuable feedback and making necessary adjustments to your plan. During testing, you'll experience the tangible advantages of e-paper displays and find the perfect fit for your requirements.
Phase 5: Seal the deal and deploy with confidence
After successfully completing the testing phase it's time to move forward with the final purchase order.
Our dedicated team will work closely with you to ensure a seamless procurement process, offering support with logistics and any additional requirements.
Once your devices are delivered, you can proceed with the deployment phase – already knowing how easy it is to set up the devices.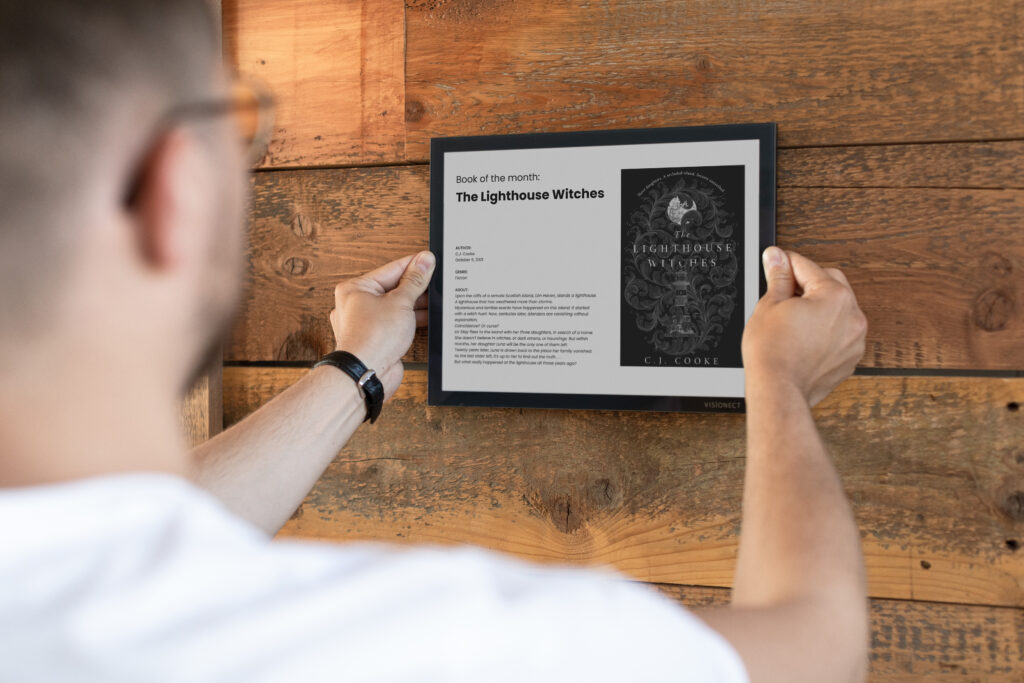 Phase 6: Smooth operations with unwavering support
At Visionect, our commitment to your success doesn't end with the deployment of your devices.
Our support team is dedicated to assisting you every step of the way, ensuring that your digital signage goals are achieved. If you can't find immediate answers to your questions within our extensive knowledge base, our team of experts is ready to jump into action and resolve any issues you might encounter. We are here to help keep your digital signage operations running smoothly.
As you can see, your journey with Visionect will be seamless and customized to your needs. You'll receive a tailored offer and you'll be able to test and showcase the abilities of our devices before making a purchase. Our support team will help you with the implementation and optimization of your e-paper display usage. We'll make sure you achieve digital signage excellence.
Once you're ready to embark on your Visionect journey, contact our team.