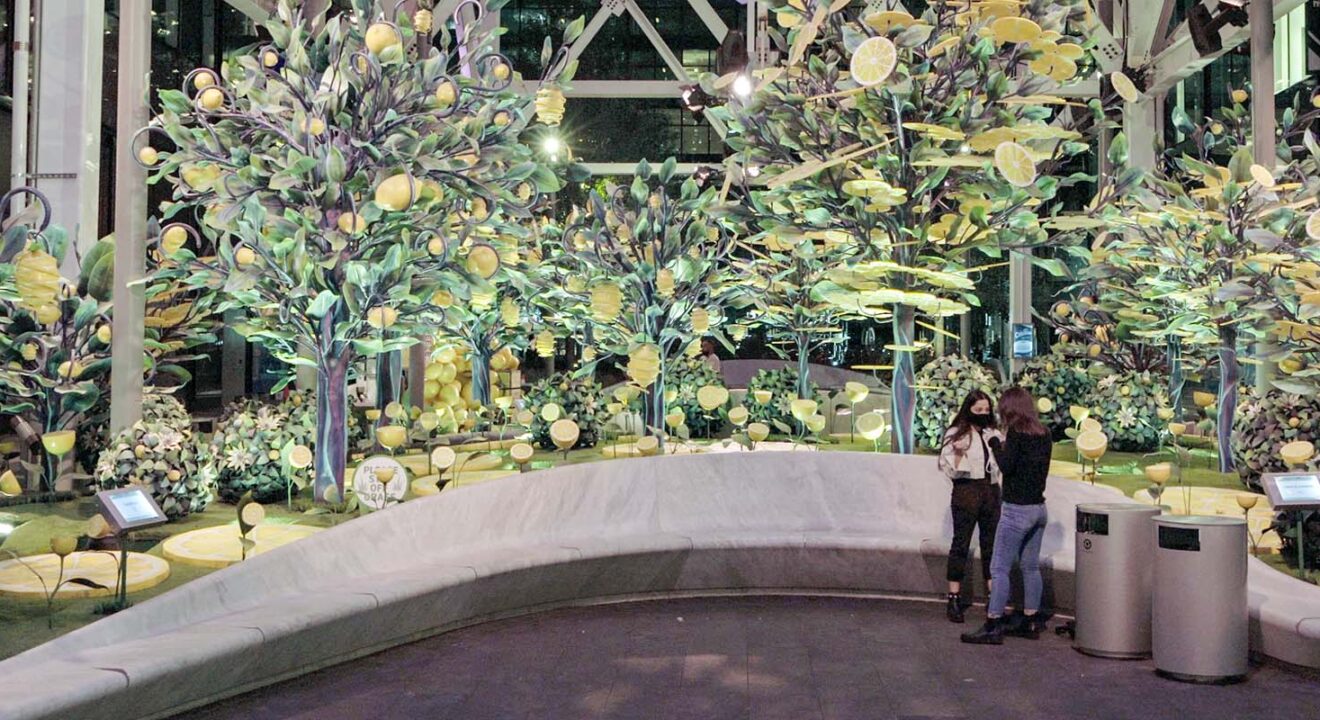 Life is better with lemons, say the makers of Citrovia, an interactive, outdoor installation that transports Manhattan visitors to a fantastical citrus garden. And we add: it's even better when those lemons are curated by Visionect e-paper tech!
Enter the lemonverse
You could say that yellow is the color of the moment in New York. At least at Citrovia, a 30,000 square-foot art installation at Manhattan West. Here, more than 700 oversized plaster lemons (none of them the same!) are paired with 18-feet-tall blue, violet and turquoise trees and overhead lighting displays to bring dream-like summer joy to winter-ready New Yorkers. 
The exceptional Manhattan lemon grove was commissioned to cover up an inevitable eyesore: the construction site of the 58-story skyscraper Two Manhattan West, set to be completed in 2023. And until then, lemons! And on Instagram, too.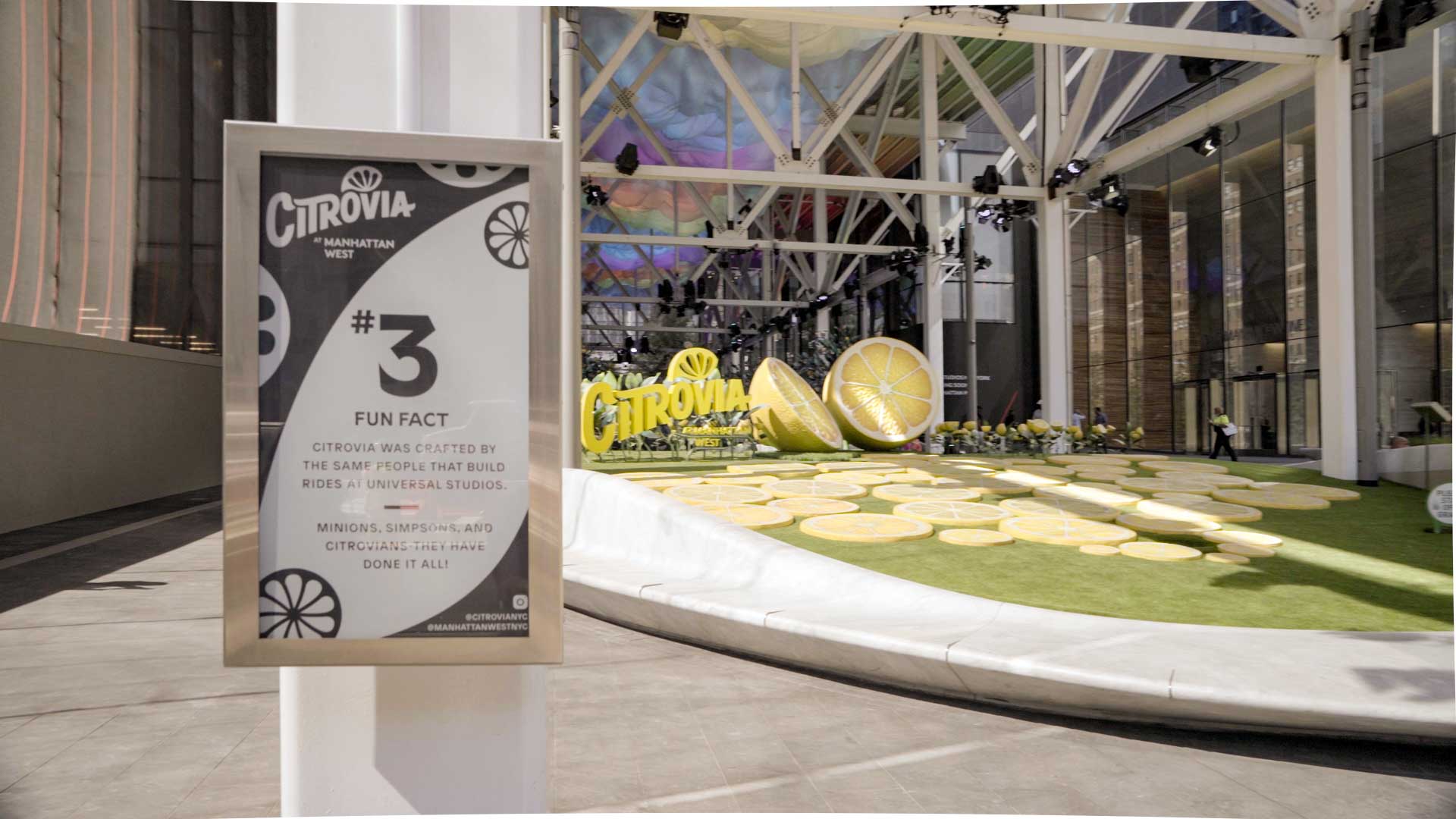 The whimsical Manhattan lemonverse, where there would normally only be scaffolding, has been installed by The Cuttlefish, a US company focused on location-based work where technology, environment, content and real-life interaction meet. But the creative technologists soon ran into a challenge (besides hand-crafting all those lemons, that is): how do you add communications to a faux-forest full of saturated color and light without distracting from the immersive experience? 
Electronic paper for signage that pops
The poster-like, reflective quality of electronic paper proved a perfect solution for digital signage that would pop against the colorful lemony backdrop, offering the most analog look and feel that stands in creative contrast to bright, too electric screens. 
"The quality of e-paper is truly unique and provides a distinctive contrast in our environment, drawing attention to the content without feeling like an electric billboard," explains Evan Schechtman, founder of The Cuttlefish. So the company reached out to Visionect ⁠— we not only have the most complete product offering, our team also has the know-how to customize the products to fit a wide range of applications and environments.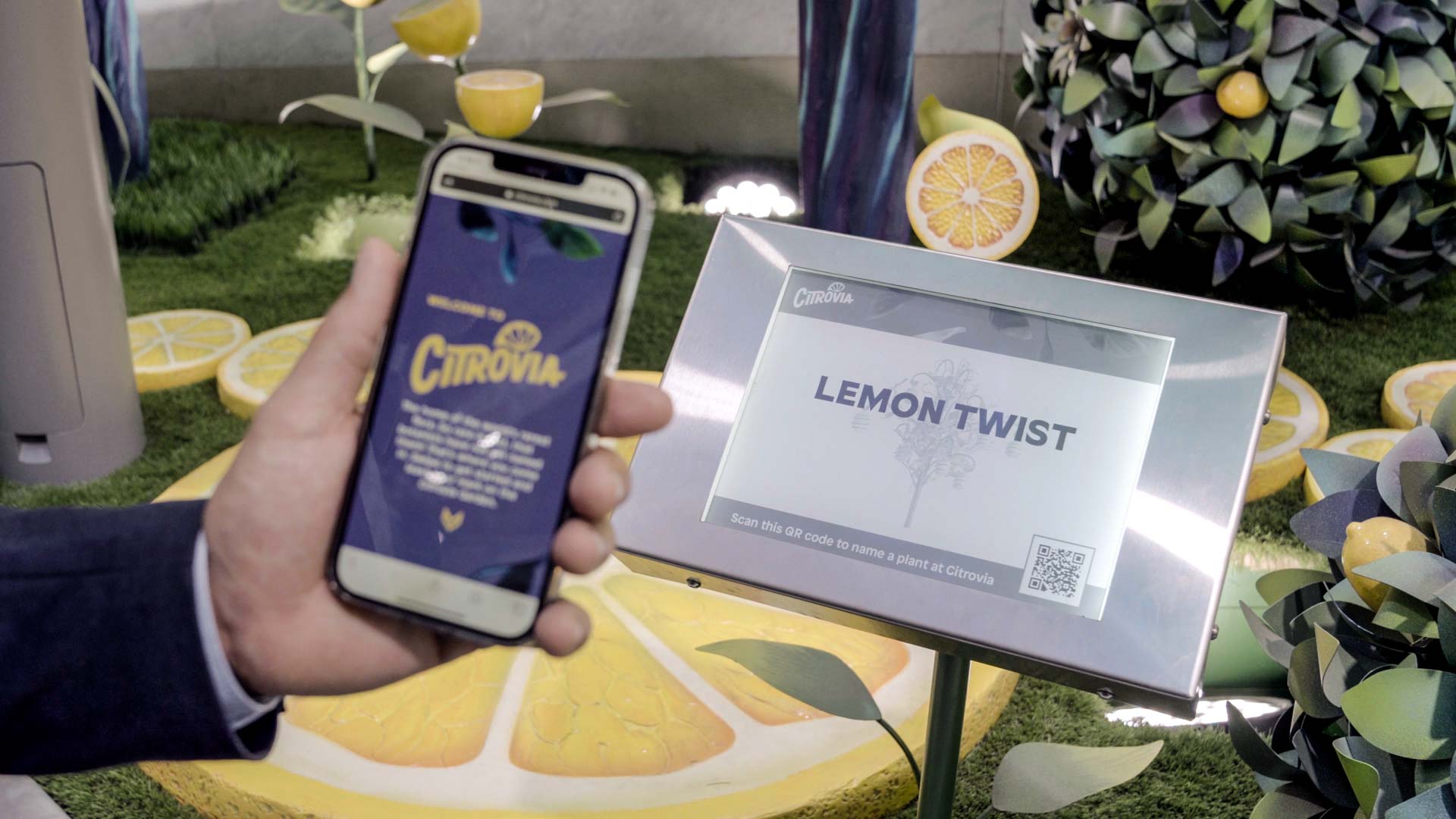 In this case, it was powering a lemon-forest worth of ultra low energy e-paper displays that connect via Ethernet to guide visitors through Citrovia's dream-like landscape. Here, people can now scan QR codes to name a plant at Citrovia which displays user submitted names immediately onto strategically placed Visionect e-paper monitors throughout the experience. In addition to the Name-A-Plant program, Citrovia plays host to a rich Augmented Reality web application whereby users can play virtual games, interact with custom developed AR characters, create a soundtrack for the experience and help grow the Citrovia garden virtually. The technology also extends to a sophisticated underlying software and network infrastructure to manage all aspects of surveillance, health monitoring and safety. 
The Visionect eInk screen system throughout the experience is powered by a hosted server and custom content management system designed to allow for simple and instant drag and drop changes, be it screen by screen or in groups. Adds a happy Schechtman: "Visionect worked with us to architect a truly custom solution based off of a rock solid product that exceeds the environmental parameters of our installation."
And we could not be happier with all the amazing projects that Visionect technology is bringing to life, from civil rights monuments to ski information, art photography and more. We can't wait to see what's next!