Creating a healthy place for visitors: people counting on easy-to-install electronic paper
Visionect, 11 Jun 2020
If it's one thing the last few weeks have taught us, it is this: our new normal must be adjusted to include extra precautions when it comes to health. This is especially true of retailers and other Point-of-Interest operators, many scrambling to enforce social distancing rules. E-paper can help simplify this difficult task. Just ask our partner INKcoming!
Visionect Belgian partner has rolled out an innovative e-paper screen use case to help retailers prioritize the wellbeing of their customers without having to mobilize all of their staff. The low power displays first went up in Louvain-la-Neuve, at the Medi-Market store, and then in Brussels, at the organic food retailer Séquoïa, allowing it to continue its eco-responsible line.
 And the best part? They are built on Visionect e-paper tech!  
Store capacity in real time
We already spoke about how messages in the physical world must adapt to the post-corona landscape. Faced with the current health crisis and in an increasingly eco-responsible world, technologies like electronic paper do a great job supporting the new reality. 
This is why INKcoming, dedicated to creating a smarter and more eco-responsible world, turned to Visionect, the pioneers of electronic paper signage. 
Easy-to-deploy and scalable, Visionect solutions, now more accessible than ever, are ushering in a brave new world of location-specific information. Just like in Belgium. Here, the e-paper screens, much more ecological than a conventional display, show Medi-Market's and Séquoïa's capacity information in real time, informing customers about wait times, the number of people in the store or even about the rules of social distancing to respect. And an added plus: once the measures are lifted, the displays can easily be adapted into new communication channels.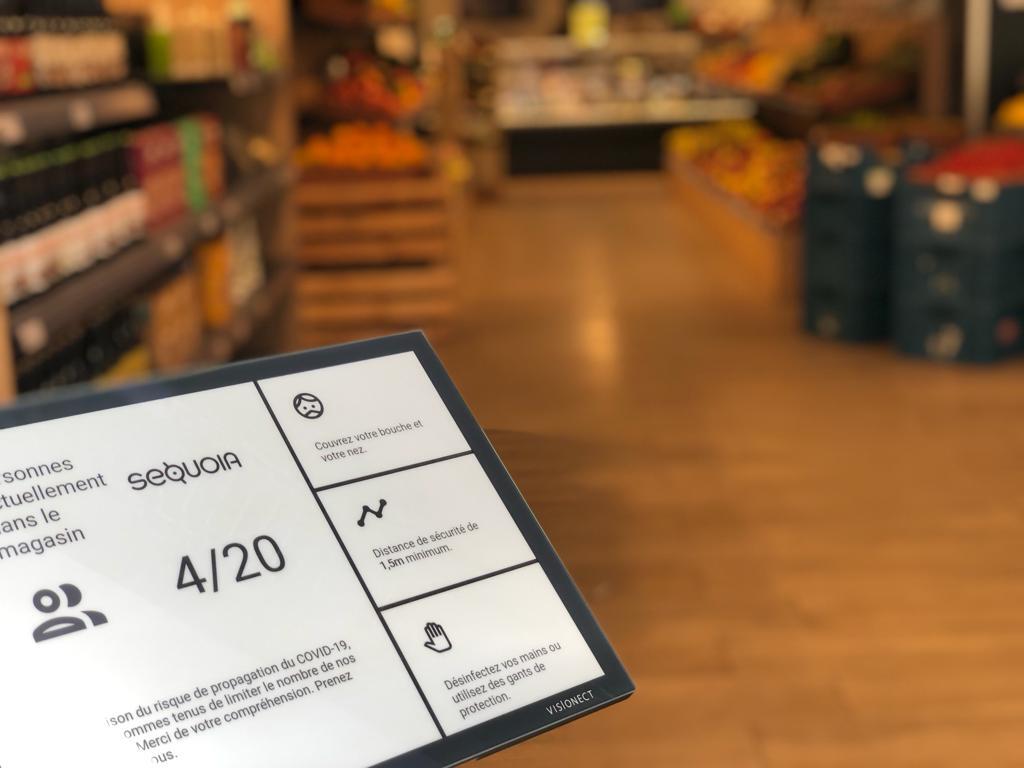 Sequoia bio market communicating its visitors real-time store occupany
So how does it work?
If you've ever seen a Kindle, you know all the merits of electronic paper: daylight readable and emitting no glare or light pollution, the display has the crispness of ink on paper, albeit with a digital twist.   
Unlike a traditional display, e-paper signage is sustainable and consumes very little energy – 99% less than classic screens. Its major asset? It does not require wires, bringing installation and maintenance costs to a minimum, a definite boon for small and big businesses alike as a full charge will allow the device to operate for months. 
Ultra-economical, the screens can be displayed at strategic locations with minimum fuss: in stores, just in front, at the entrance to corporate meeting rooms, or as dynamic information panels anywhere you need to modify communications on an ad hoc basis.
Take your pick: custom application or ready-made solution?
As people counters become essentials for all commercial buildings, ensuring that there aren't too many people in an enclosed space, Visionect is dedicated to helping customers choose an e-paper signage solution that will suit you best. 
Just like INKComing, you can use our technology to easily create a solution that will be custom-tailored to your specific needs and requirements. Start with one of our Place & Play electronic paper displays, Visionect's ready-to-use digital display that is the perfect blank canvas on which to show your custom message. Then, use standard web technologies to design interactive apps or use existing applications for the fastest development of a people counting solution that will be uniquely tailored to your specific circumstances.
This will be made easy by the Visionect Software Suite, in charge of all operational aspects of your new sign and featuring a basic digital signage content management system. With full API support, displaying content on your new sign can be as easy as adding a web address to the Suite's list of applications and managing its output in the Suite's dashboard; or, for the more adventurous, as easy as developing a proprietary application and merging it with the Visionnect Software Suite.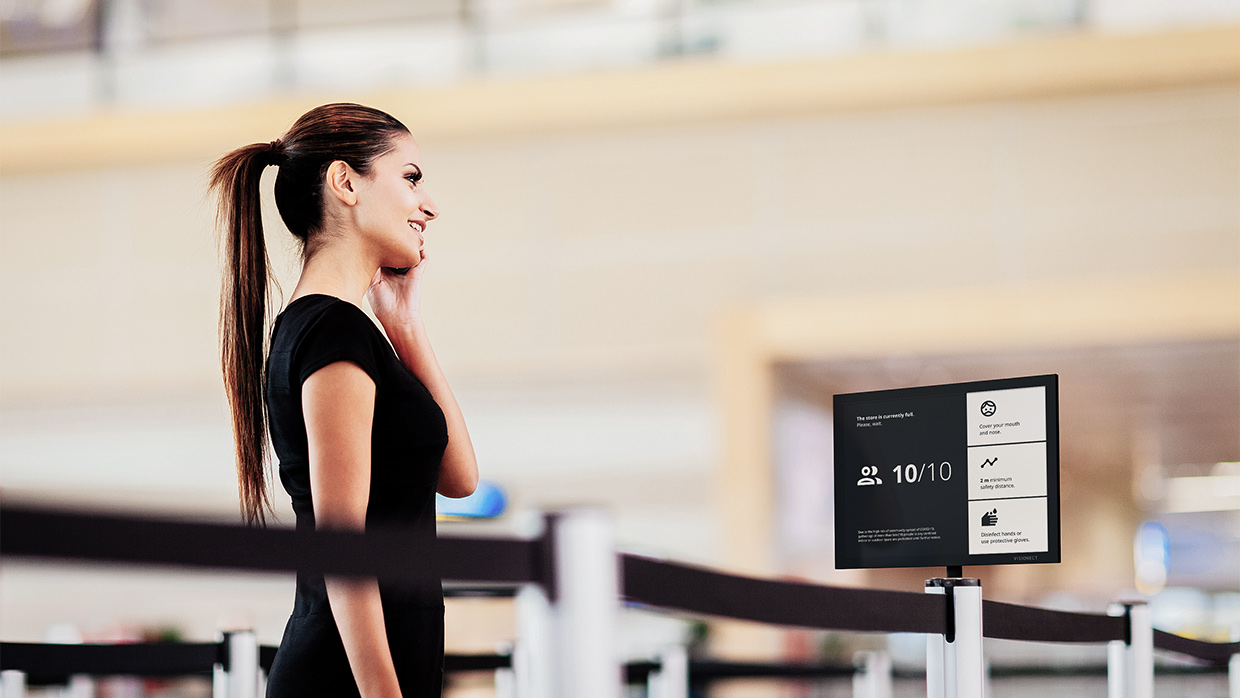 Use case example: Joan Sign 13-inch format, placed in public transport hubs for clear people occupancy communication.
Alternatively, you can decide to prevent your building from becoming a virus hotspot by investing in a one-size-fits-all solution such as Visionect's Joan SIGN. Joan SIGN is an out-of-the-box solution, which can display relevant information from people's counter systems dashboards. There's no need for wiring, drilling, mounting, or even placing the device next to a power source. It even arrives pre-charged – being 99% more energy-efficient than LCD screens means you'll not need to pay attention at least for a few months. In just a few clicks Joan SIGN can be activated online, ready to level-up the health standard of any public building.  
And it's a level that must become the new normal of any retail or other public environment. Very rarely, however, can it be achieved so effortlessly and effectively.