Paint a perfect picture with Visionect Software Suite 4.0, the "Warhol" of electronic paper
Visionect, 14 Jul 2017
Displaying impeccable content on electronic paper has never been easier or more streamlined. From intelligent updates to automatic image optimization and universal web CMS support, this is the new breakthrough version of the Visionect Software Suite, the brain behind the world's most successful e-ink signage.
Getting the absolute best from your electronic paper sign has never been as simple as it is now.
Supported by the zero failure track record of our products and a decade of low-power signage know-how, Visionect has worked hard to bring you the next step in the evolution of electronic paper—the Visionect Software Suite version 4.0 "Warhol", named for visual art mastermind Andy Warhol.
---
Highlights:
•  An integrated CMS with universal web CMS support  
•  The best screen content performance ever and intelligent screen updates
•  An improved sign-management experience
---
The Visionect Software Suite is a core Visionect product, in charge of all the operational aspects of running an electronic paper sign, from the content displayed to battery life and connectivity.
Andy Warhol revolutionized visual art, bringing it into the living rooms of the masses and paving the way for a new generation of artists. In a similar vein, the new Visionect Software Suite 4.0 "Warhol" uses never-before-seen technology to transform electronic paper into a mainstream powerhouse, building on an unheard-of epaper image excellence.
Find out how to update to the revolutionary version 4.0 here or read on to find out more about the new release.
Any web page, easily
The first important new feature in "Warhol" is an integrated Content Management System (CMS) with universal web CMS support.
Visionect software has been compatible with any CMS from its very beginnings, allowing users the freedom of choosing the content management tool that works best for them. This has now been made an even more seamless, user-friendly part of the Visionect Software Suite 4.0.
Enter any URL into the Suite to quickly display the content of a particular web page. This allows for effortless compatibility with any CMS—be it Four Winds Interactive, TransitScreen, Geckoboard, AirportLabs, or anything else. Just type in the web address of the output you would like to show on screen, and voilà, you're done! It's that simple.
Find out more about the easy-peasy content management in Visionect Software Suite 4.0 here.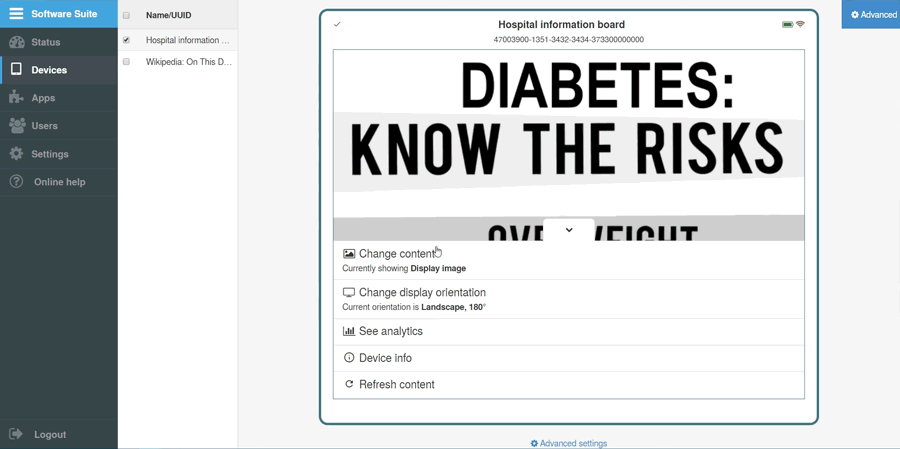 Intelligent updates and impeccable image performance
An electronic paper screen can sometimes 'blink', briefly flicker while updating, a consequence of how e-paper creates pictures and text. This could often be avoided through partial screen refresh, where only a pre-selected section of the screen was updated while the rest of the screen remained static.
Visionect has gone a step further, virtually eliminating content flicker by introducing a revolutionary new feature in Software Suite 4.0: intelligent updates.
The breakthrough functionality detects all and any change in screen content, automatically updating only the relevant screen regions. The automatic partial refresh removes the need to manually add the display sections to be refreshed, allowing for even lower power consumption, faster screen updates and less data transferred.
In addition, "Warhol" also supports for the first time ever the option of automatic content optimization. Certain properties of images intended for grayscale displays, such as contrast can now be automatically adjusted for optimal results, making the conversion of 16 million or more colors into 16 grayscale levels as smooth as possible.
Find out more about enabling intelligent updates and image optimization in Visionect Software Suite 4.0 here.
Enhanced user experience
Among the new features of "Warhol" is also an improved and streamlined user interface.
Integrated into the Visionect Software Suite 4.0 is a basic digital signage CMS, allowing users to easily upload an individual image or a rotating image gallery directly onto the electronic paper bus stop, menu board, retail tablet, wayfinding sign or other. All it takes is one click.
In new Suite you can now also quickly note the relevant server information, engine load data, the number of online devices and active sessions, and the status of the firmware server.
Even more, in the 'Basic mode' overview for each of your signs you can check the status of the e-paper display, access the live view of what is shown on screen, change the screen orientation, or delve into performance analytics. For even more settings, head over to 'Advanced mode' and really get cracking!
Find out more about all of the streamlined functions in Visionect Software Suite 4.0 here.