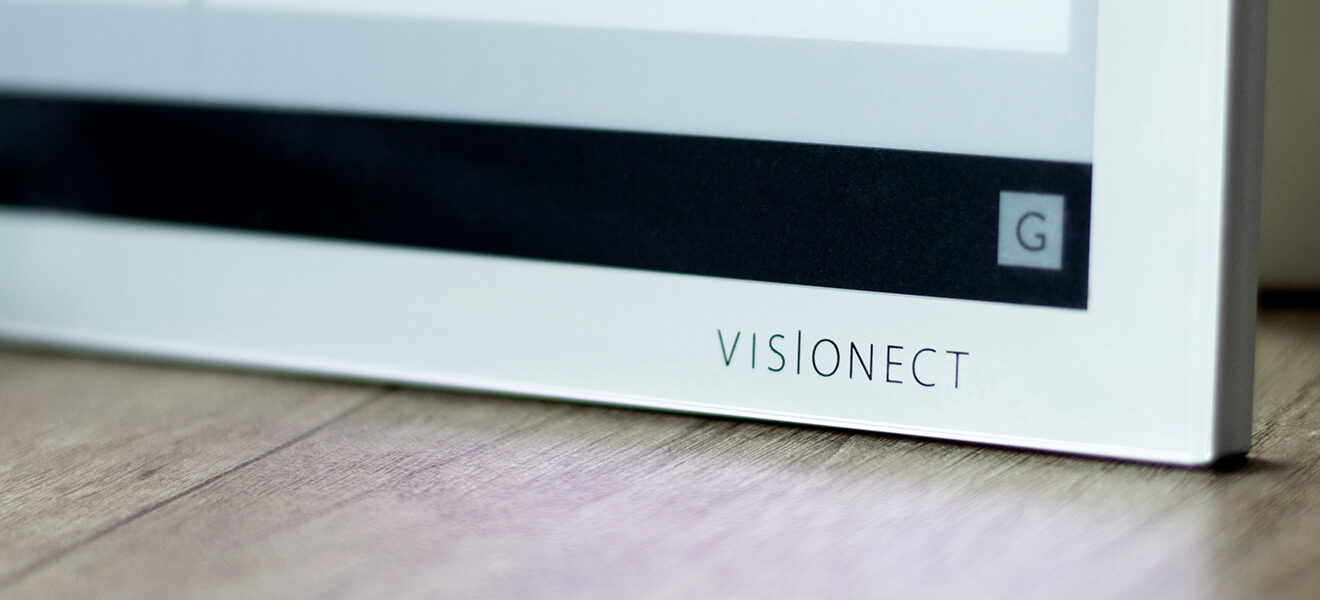 All good business decisions should be driven by data—ideally data that is clear and easy-to-understand. What better way to follow all the key company targets than on a metrics dashboard displayed on a cord-free, low-power electronic paper screen?
More than a century ago, Arthur Conan Doyle's immortal detective Sherlock Holmes quipped: "It is a capital mistake to theorize before one has data. One begins to twist facts to suit theories, instead of theories to suit facts."
Nowhere is this sentiment truer than in growing your company and focusing your team.
It is something that Geckoboard understands very well. For years now, the London-based company has been helping clients evaluate their success at reaching targets by providing an effortless way to build a TV dashboard with live business metrics.
Utilizing Place & Play, the breakthrough new digital sign from Visionect, achieving this has never been simpler. And more affordable: Place & Play offers Early Adopters Program electronic paper displays at a substantial discount.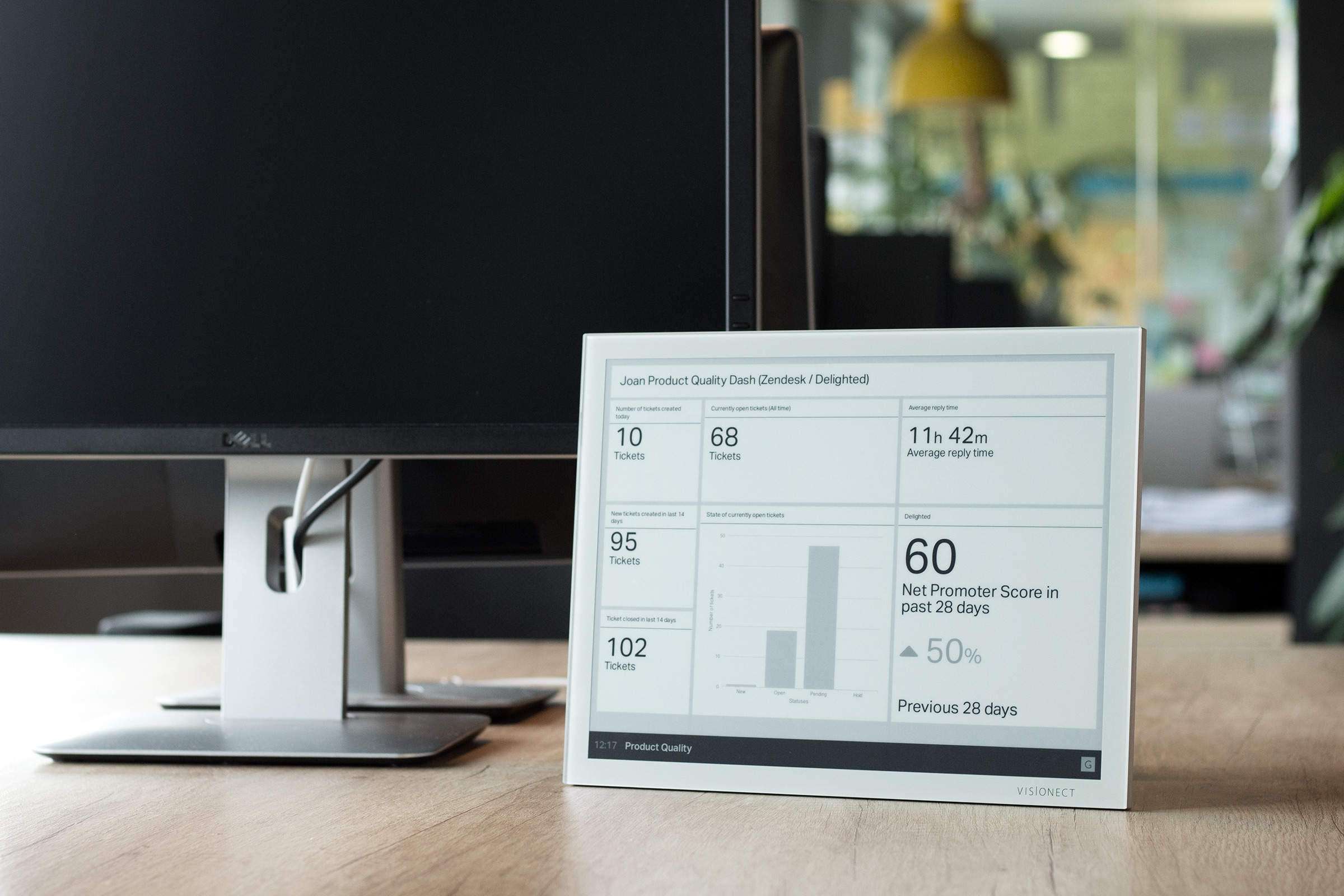 Geckoboard meets Place & Play to create a 13-inch business metrics dashboard with paperlike visibility. With its wire-free capabilities, it's installable pretty much anywhere.
Geckoboard and the metrics that matter
When clearly visualized, company measurements, key performance indicators (KPIs) and goals turn information into action, driving successful company behavior. Geckoboard's mission is to ensure that this data is accessible to all, highly visible and easy-to understand.
Utilizing Place & Play, the breakthrough new digital sign from Visionect, live metrics have never been simpler.
Live metrics are visualized in Geckoboard from popular business tools, from data tracked in a Google Sheet or Excel file, or from databases, in-house systems and third-party software. The created dashboard is then paired with a television screen, effortlessly displaying the metrics that matter.
All these visualizations are designed with one thing in mind: simplicity.
And if there is one thing that Visionect and Geckoboard have in common, it is commitment to keeping things simple.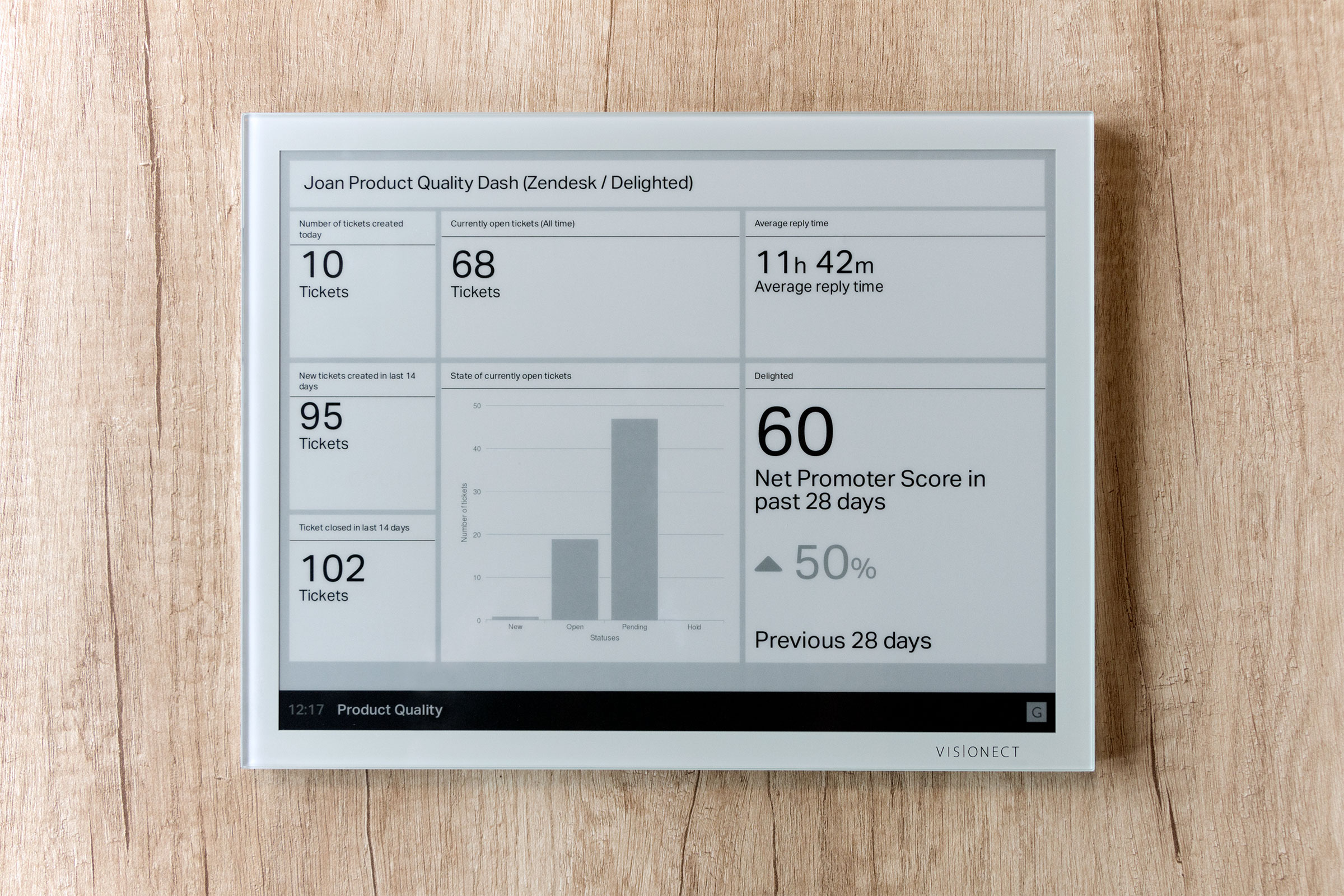 The 'Product Quality' dashboard for our room booking system JOAN, created on Geckoboard and displayed on Visionect's Place & Play sign.
Place & Play, visualizing your key data
If Geckoboard is a dashboarding service dedicated to eliminating unnecessary complexity, Place & Play is its digital signage counterpart.
"With Place & Play we have a common approach to design simplicity that removes distractions from important metrics," comments Paul Joyce, Geckoboard CEO.
The latest in the line of pioneering electronic paper solutions, Place & Play is just as straightforward to use as the name suggests, avoiding expensive and time-consuming signage installation, integration and content management.
Instead, the 13-inch sign combines mount, display and player in a single device, connects via Wi-Fi and is usable straight out of the box. Added is superb design that blends with any interior, the impeccable readability of electronic paper, emitting no light pollution, and the ultimate image optimization and refresh.
All this without a wire in sight, with an ultra-low power consumption that comes at a fraction of LCD – 1% to be exact. It's installable anywhere, even on glass partitions.
From a real-time overview of digital marketing efforts to e-commerce performance, all the way to sales development, product support, web analytics, and more, any KPI dashboard can now quickly find its home on electronic paper.
"With Place & Play we have a common approach to design simplicity that removes distractions from important metrics," commented Paul Joyce, Geckoboard CEO. "Combining this simplicity with the benefits of low-power aligns with our vision of helping teams easily be more effective by using data to set clear goals and share progress toward them."
---
Want to harvest the power of key metrics? Find out more about Place & Play here.
---