Want to know how customers behave on your store floor? Check Google Analytics!
Visionect, 8 Sep 2020
Yes, smart shelf labels can help you keep track of customer behavior in brick and mortar stores. Just ask Telekom Slovenije, now using Visionect tech to convert visitors into customers at its newest retail location. 
A young woman picks up the latest Samsung phone, prominently displayed on a stand in the middle of the store where she is sure not to miss it. Curious to find out more about the smartphone everyone's raving about, she picks up a sleek tablet located next to the device, flipping through its paperlike screen to read more about the tech specifications of the phone and check its price against the price she can get as a member of the store's loyalty program. 
It is a scene replayed daily at the retail locations of one among the most comprehensive communication service providers in South-Eastern Europe, Telekom Slovenije. The first electronic paper smart shelf labels made by Visionect were installed here in 2014, replacing antiquated information on paper price tags. Since then, they have gone from strength to strength. 
See how: 
Now found at 20+ Telekom Slovenije's stores, the slim e-ink tablets have improved with each new installation, offering extended battery life, optimized connectivity to backend systems and, perhaps most crucially, allowing for an unparalleled insight into the behavior of people coming through the door. 
And here's where things really get interesting, explains Jeff Pivac,  B2C Senior Marketing & Sales Expert at Telekom Slovenije. 
A customer-centric process supported by analytics 
Take the girl from the opening paragraph, for example.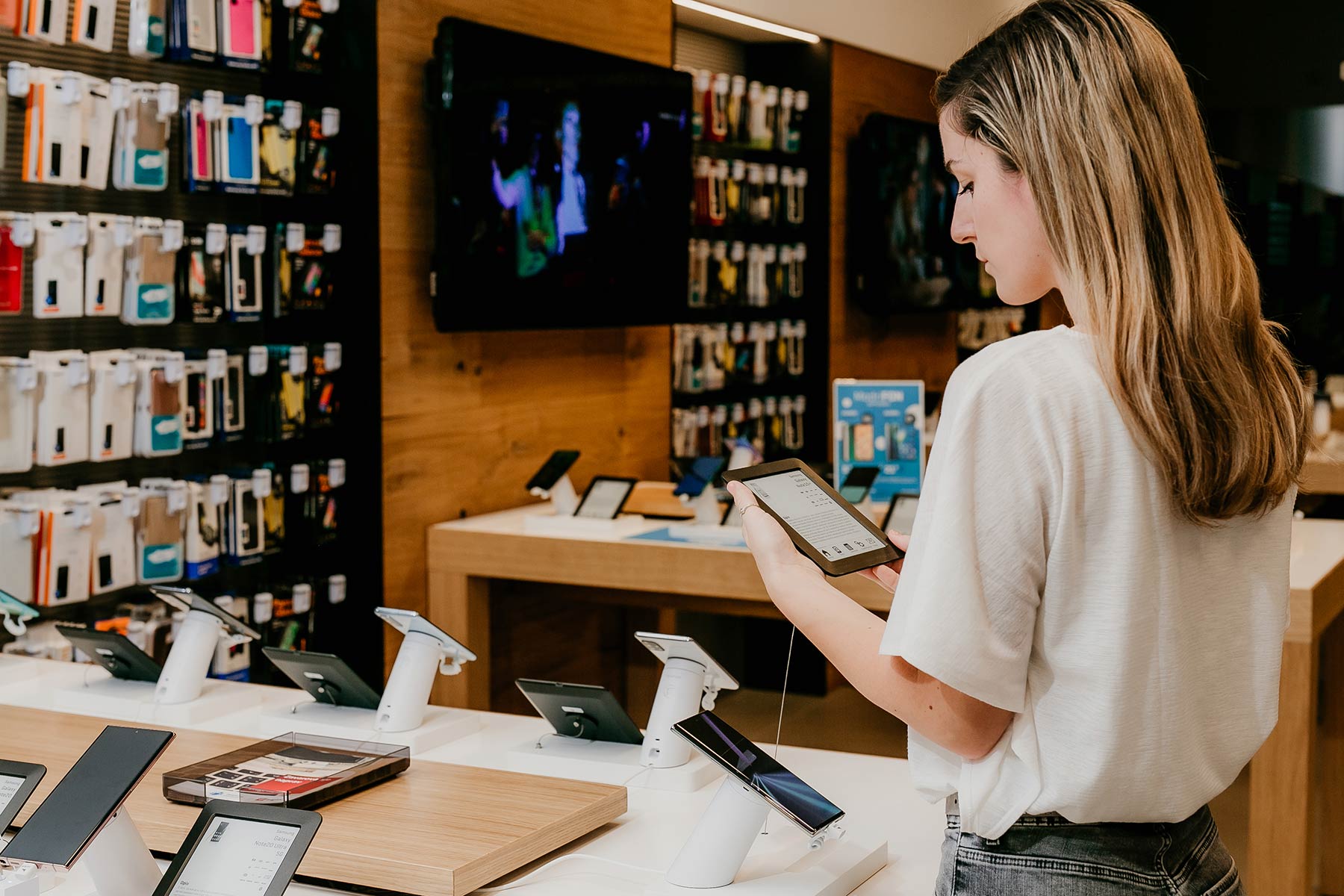 When she walked into Telekom Slovenije's newest store, located at the Aleja shopping center in Ljubljana, says Jeff, she found herself in a retail environment that is tailored completely to her needs, with a customer-centric approach that sees one sales person guide her through the entire purchasing process, from information to invoice, supported by a shop floor designed to spark her interest. The phones and devices that she might find most intriguing are displayed in a central spot, with those that perhaps need more time with the tech specs tucked away in the quieter section of the store, and all the merchandise arranged to not encourage crowding (a must in the Covid-19 retail era). 
But how is such an approach possible? With the help of strategically placed cameras or perhaps through surveys, focus groups or interviews that can provide a detailed picture of consumer behavior? No. The answer is less time and cost consuming: Google Analytics. 
The use of Visionect's smart shelf labels triggers custom events in Google Analytics – in real time! –  which occur when a visitor is browsing the details of a certain product. Telekom Slovenije can then easily: 
Analyse how users move in their store

, based on smart shelf label use patterns.

Identify spots where visitors seem to aggregate

, using the information to determine most interesting product categories or to prevent crowding. 

Track how people engage with a certain product on sale

, with all interactions detected and analyzed as they happen.
In short, user behavior is tracked in much the same way as with e-commerce, with the same tool. The intelligence gathered can be used to customize the shopping experience, enhancing the customer's interaction with the store, adds Jeff Pivac. 
Information that is always spot on 
All this, naturally, explains Jeff, would mean nothing without the accuracy of the information and prices displayed on the electronic shelf labels.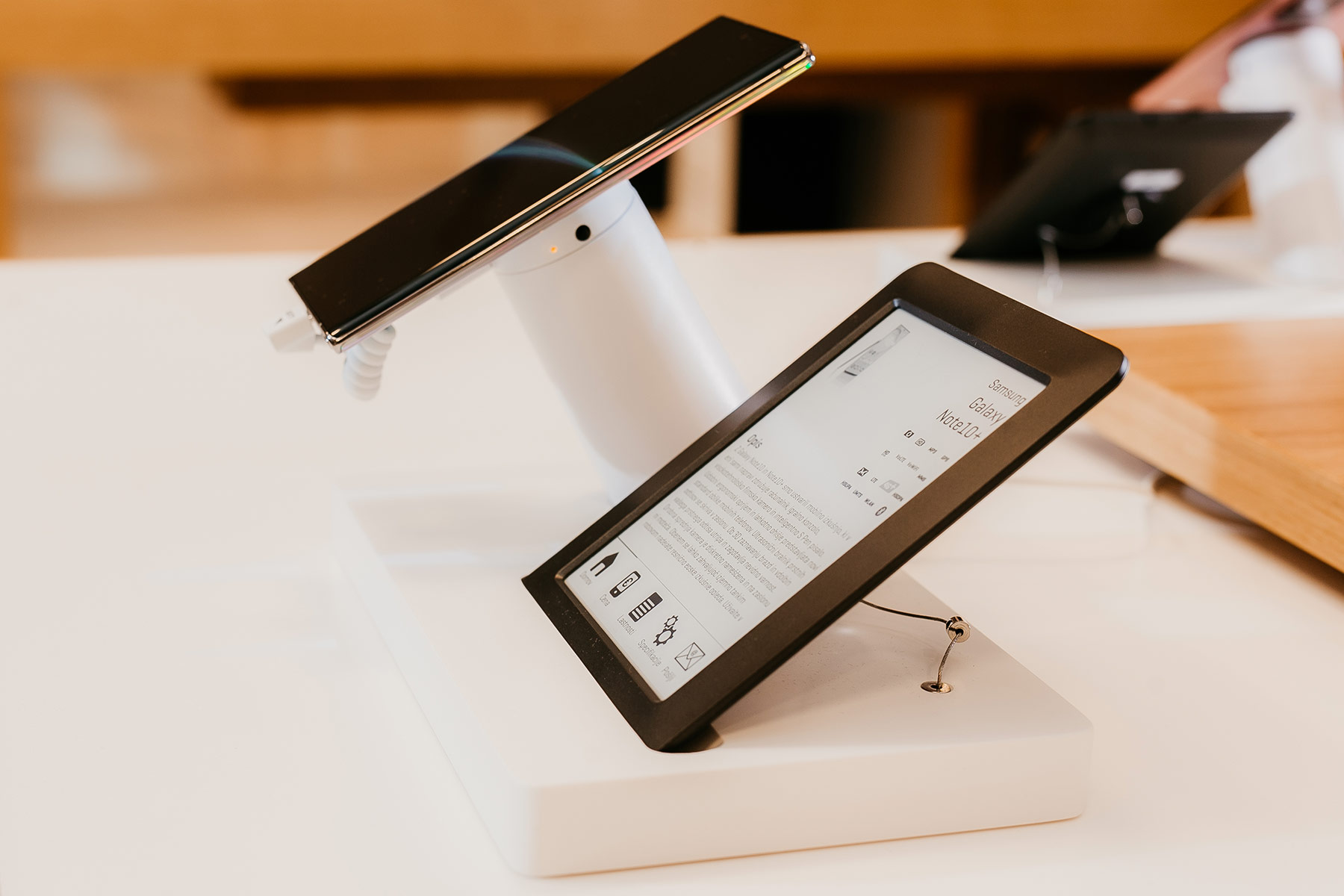 These are pulled from the resource planning software that Telekom Slovenije uses. New information is pushed to the electronic shelf labels automatically, refreshing  product details and prices in real-time, leaving no room for human error and avoiding the manual update process that used to bleed man hours. The ability to wirelessly shelf label content from a central location also ensures that the information available to the customer is always in sync with the information provided online – including different promotions, discounts and price reductions that might apply and that are often so difficult to transparently communicate on a slip of paper. 
And the battery life? Superb – a Visionect electronic paper device uses 99% less energy than an LCD, wasting power only when changing screen content and making installations possible without wires or access to the power grid. All Telekom employees need to do, is charge the electronic shelf labels every few weeks, smiles Jeff.