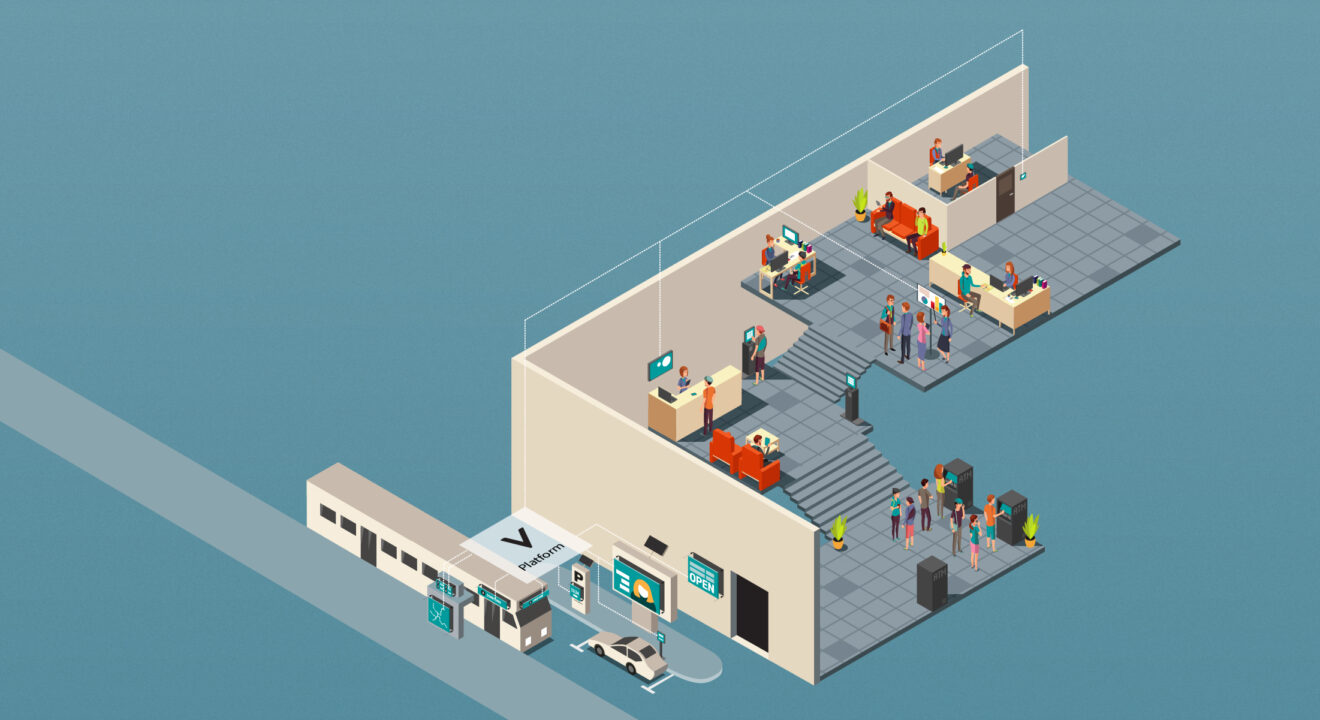 It's not just Joan, the savvy office room scheduler from Visionect, that is making life easier for people around the world. When working hours are over, a multitude of Visionect-powered electronic paper signs help improve the everyday bustle of urban living in cities across the globe. Here's where and how.

Smart digital signs are all around us, in copious amounts: behind the counter as we are about to order that absolutely necessary cappuccino and are scanning for its price, on the street as we impatiently check the schedule of the long-awaited bus, in the store window as we are admiring that big wall of slick rotating ads on our way to work.
But very rarely do you see that Holy Grail of IoT displays that seems to hit the trifecta of truly smart digital signage: a connected screen that is suited to both the indoor and the outdoor, one that is easy to install and proves even easier to use.
Electronic paper signs running on Visionect's low power tech hit all of these marks.
Here are the 8 cities around the world that are putting the "smart" into smart city thanks to our technological know-how and the ingenuity of our partners.
Boston, Las Vegas, Miami and Atlanta
Imagine if all it took to set up a comprehensive city-wide system of informative displays was just a bit of imagination, a few bolts and absolutely no wires. This is exactly what our partner Soofa is doing.
All across the United States, the MIT spinoff has been reimagining the sustainable cityscape and activating public spaces with the Visionect-powered Soofa Sign, the bulletin board of the 21st century. The elegant stand-alone sign runs on solar-power and connects via 4G, its large 32 or 42-inch electronic paper display focused toward delivering community content: a mix of municipal information, transit updates, advertising for businesses operating nearby and citizens' input.
"Innovation is fast to market when you have the right partners in place who work side by side." Sandra Richter, CEO of Soofa
The first Soofa signs were first installed in the harsh Boston climate, evolving from downtown Boston to include the Boston Seaport as well as Allston Village, Fenway, and Ashmont neighborhoods.
Soofa Signs can now be found in: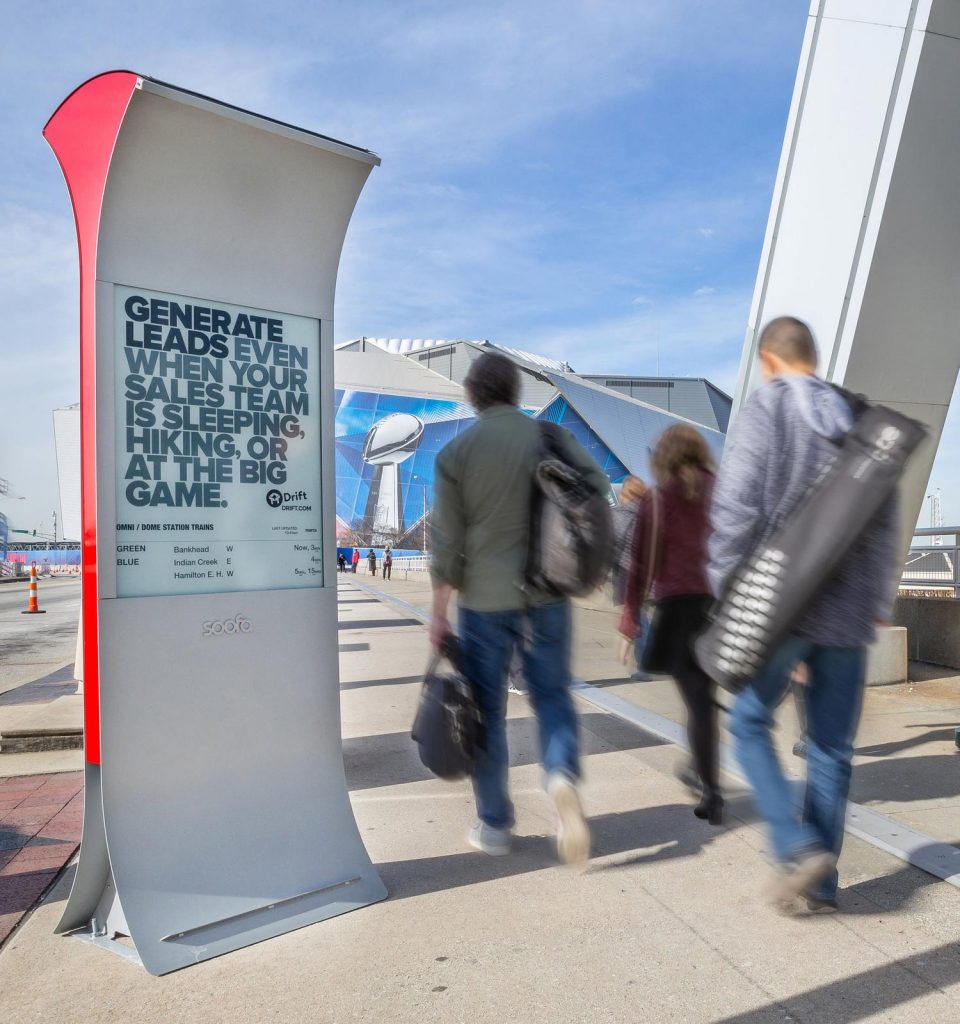 Drift reaching out the huge crowds at Atlanta Super Bowl weekend. Image
Sydney and Auckland
We've already mentioned how, with their all-in attitude, the land down under is leading the world when it comes to e-paper installations, thanks in large to our Australian partner Mercury Innovation.
Joining the solar-powered e-paper traffic signs that have been running in Sydney with zero failures since 2013, are the Urban bus stops, which in 2018 began to replace the paper bus stop timetables in the bustling metropolis and at its airport.
Designed by Mercury and powered by Visionect, Urban bus stops make access to travelling information and emergency notifications easier than ever before, updated in real time via 4G. Running on plentiful sunshine, the signs are simple to install and are completely independent from the power grid, accessible to even the most remote of areas.
Not to be outdone, neighbouring New Zealand has now also turned to the low power signs and installed the Urban signs at the airport in Auckland. Each Urban, located at the bus stops of the international arrivals terminal, features two 13.3" electronic paper screens, both providing Real Time Passenger Information (RTPI) to help commuters when they visit Tāmaki.
London
You didn't think the UK would be outshone by the Commonwealth, did you? Not when it comes to e-paper public transport interactivity!
Look for smart passenger info to start popping up in Russia as well, where partner Design Technologies is using our e-paper tech to display train schedules at three Russian Railway stations.
Londoners have been able to access bus arrival times and interactive bus route maps on solar powered electronic paper bus stops since 2015.
Running on Visionect technology and installed by Technoframe in cooperation with TfL, London's bus stops have superb visibility in all light conditions, and use no energy to retain an image displayed. Buttons at the bottom of the screen allow the user to switch between the content displayed, choosing between real-time arrival information, route maps and important service notifications.
Vienna
Moving across the Channel, electronic paper signage has found its way into non-corporate indoor use as well, with our Austrian partners Next Urban installing e-paper menus at a swanky Vienna restaurant.
The menu boards, running on Visionect 13" and 32" Place & Play devices show the always accurate daily menu (no need to ask for the daily specials!)  on a 16 level grayscale display that has the readability of paper. The screen is enforced with a durable glass pane to protect from scratching and hazing. The smart sign connects via Wi-Fi and is 99% more energy efficient than LCD or LED, offering up to 12 months of battery autonomy – to the delight of all the hungry diners in the Austrian capital.
… and it doesn't end there!
But the e-paper triumph hardly ends there.
Among our trusted partners is Qualcomm, helping Visionect lead the way in solar-powered smart displays that are based on Qualcomm's cellular solutions.
Intelligent, low power signage running on Visionect hardware and firmware is, among other, taking on ads on the sides of trucks in Germany, tackling carpooling in Switzerland, and fighting bullying in Mexico. These projects and many more are spearheaded by our partners that dot the i of our low-power tech, helping us usher in a new era of interconnection. We can't wait to see what's coming up next!