Solar-powered Urban signs with live departures help Sydney's metro line revolutionize the way Australia's biggest city travels
Visionect, 29 May 2019
What better way to celebrate the first 36 kilometers of Australia's biggest public transport project, the newly-opened Sydney Metro Northwest line, than by providing real-time passenger information on smart electronic paper signs that are powered by nothing but the hot Aussie sun?

A transit link to the north-western suburbs of Sydney, the Sydney Metro Northwest line represents the first stage of an ambitious Sydney Metro project aimed at improving travel in the bustling Australian metropolis.
Australia's first driverless metro line, the new standalone Sydney Metro to be completed in 2024, will deliver 31 stations and more than 66 kilometers of new rail, increasing the capacity of train services in the city by as much as 60%. Carrying about 40,000 passengers per hour, a significant improvement from the 24,000 people an hour per line that the current public transportation system supports – the new rail will see trains arriving every two minutes, revolutionizing the way Australia's biggest city travels.
And the exciting news: on the first 36-kilometer stretch, these arrivals and departures will be supported with live journey updates provided on energy-efficient, solar powered Urban signs!
More than proven in the field
Sydney Metro Northwest just opened on 26 May 2019, includes eight new metro stations and five upgraded stations. It is the first reliable public transport service in an area that has the highest car ownership levels per household in New South Wales and a population that is rapidly rising – expected to swell to above 600,000 over the coming decades, twice the size of Canberra.
No wonder then, that the $8.3 billion project went looking for the most efficient and user-friendly way to deliver real-time travel information at metro stations to keep the ever-higher number of customers connected at all stages of their journey.
They needn't look any further than their own backyard.
Sydney has long been at the forefront of the digital signage revolution, turning to electronic paper for self-sufficient, accessible and wire-free signage infrastructure that can easily adapt to its environment.
The Urban bus stop, designed by Mercury Innovation and powered by Visionect, proved the obvious choice also for Australia's biggest transportation project. It had more than demonstrated its worth in the field, helping Sydneysiders catch the bus and supporting them by providing passenger information for the Station Link train replacement bus service.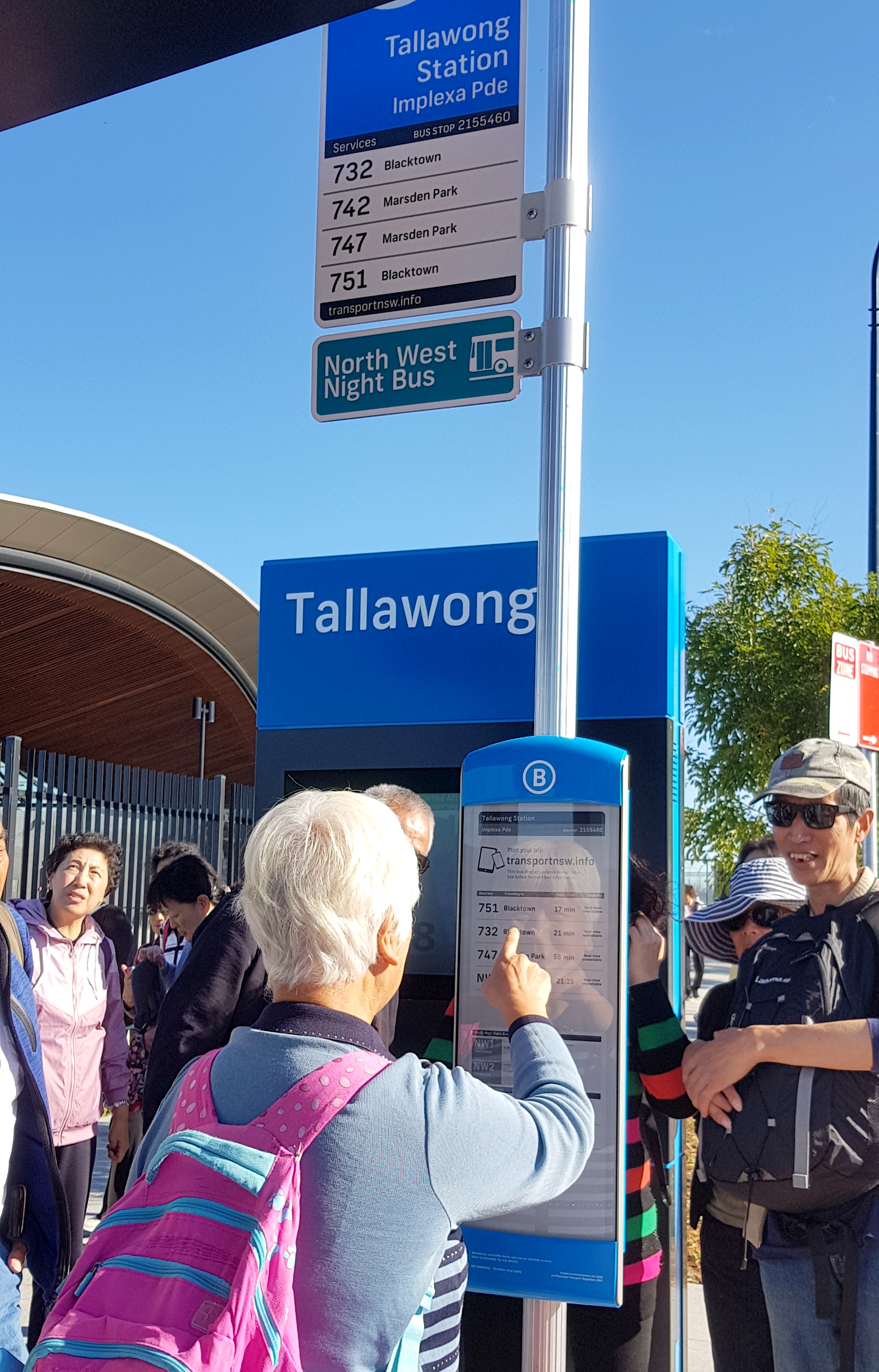 The Urban bus stop, designed by Mercury Innovation and powered by Visionect, proved the obvious choice for Australia's biggest transportation project.
A solar-powered powerhouse
Installed along the Sydney Metro Northwest line from Tallawong to Chatswood, 50 Urban bus stops – the biggest deployment of these smart signs anywhere in the world – now show interchange bus departure times at each metro station, connecting via 4G to show always relevant information about the arriving buses.   
Impervious to the elements, each Urban is waterproof and tamper-resistant, its two tiled 13-inch electronic paper screens offering paperlike readability in bright sunlight. Without glare or light pollution, the bus stop is illuminated with a frontlight for uninterrupted visibility at night. Best of all, Urban is solar-powered, conserving energy and consuming minuscule amounts of power, making it completely independent from the city's electrical network and installable with just a handful of nuts and bolts.
This not only means that the Urban can be placed absolutely anywhere, without the need to dig or lay power or data cables, it also aligns perfectly with Sydney Metro Northwest's vision of delivering sustainable infrastructure throughout the project.
After all, what's more sustainable than electronic smart signs that use 99% less power than LCD or LED and run on a natural resource that Australia has in abundance?  
Want to improve metro lines in your town? The Urban e-paper bus stop is available in Visionect's online store by contacting Mercury Innovation or Visionect directly. Choose between Urban with a single 13.3" screen and Urban Dual featuring two tiled screens.