Sydney introduces the smartest commuter information displays that run on the power of sunshine
Visionect, 2 Mar 2018
Catching a bus in Sydney just got a whole lot smarter, thanks to the new digital bus stops from Mercury Innovation and Visionect. These intelligent signs run on solar power and have been developed on energy-saving electronic paper technology to ease the daily commute in the bustling Australian metropolis.
Providing real-time information, the digital bus stops are solar-powered, running on the plentiful Australian sunshine.
New digital bus stops have been installed around Sydney's Town Hall, replacing traditional bus stop paper timetables. Dubbed 'eStops' and developed on electronic paper, the displays have been developed with the commuter in mind, making access to travelling information and emergency notifications easier than ever before.
The digital stops provide real-time bus arrivals, as well as capacity information, service notifications and any other relevant commuter information right at the stop.
Best of all, each eStop is solar-powered, running on the plentiful Australian sunshine, a natural resource that Sydney has in abundance.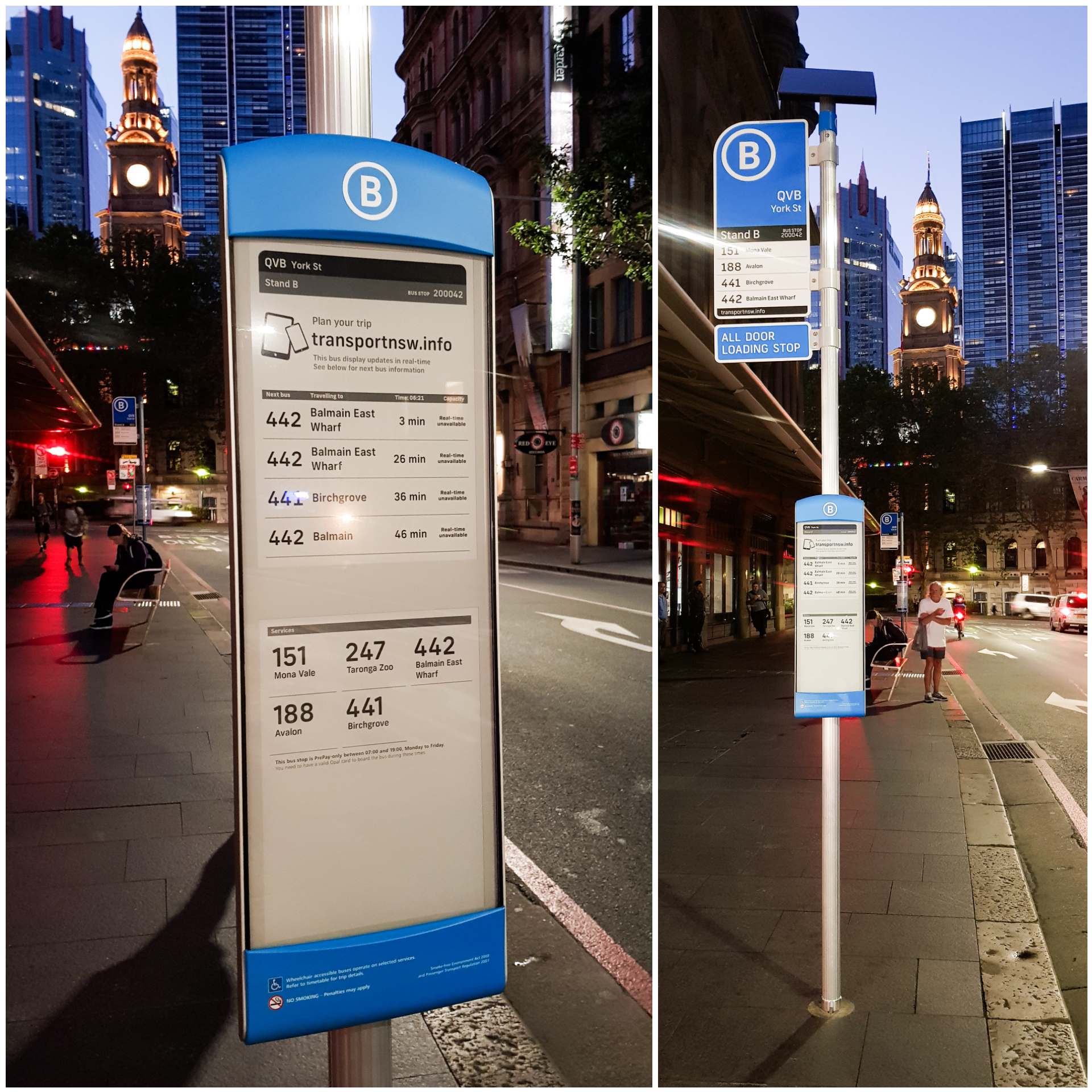 This makes the display not only simple to install, but also completely independent from the power grid, making it accessible to even the most remote of areas. Transport for NSW can now communicate critical notifications at exactly the right moment, keeping passengers up to date and ensuring accurate information is delivered at the point of action, no matter your location.
Nowhere is this more crucial than in Sydney—one of the busiest cities in the world, the metropolis is host to a variety of special events, such as the upcoming Mardi Gras Parade, with streets closed off and normal city flows disturbed.
The new eStop displays allow service disruption information about such events to be communicated to the public in real-time, before and during the event, allowing for efficient interaction with bus commuters, increasing the service experience for passengers and providing an effective management system for the city.
Not only this, in cases of emergency, the eStop can provide crucial emergency information to not only the bus ridership, but Sydneyites in general, displaying notifications even during blackouts, when other digital displays fail.
Based on electronic paper technology, they eStops have been designed and manufactured by Australian engineering company Mercury Innovation and Visionect, the world leaders in outdoor e-paper products.
The eStop is another breakthrough product in the partnership between Visionect and Mercury.
Together, Mercury and Visionect are making outdoor sustainable signage a reality, following the success of their 2013 installation of solar powered e-paper traffic signs in Sydney, a world first, running uninterrupted with an unprecedented zero failure rate years later.