"Why is the bus late?" Leveraging the potential of real-time passenger information
Visionect, 6 May 2021
From planning a trip to knowing its cost, updates or delays, passenger information provided in real time will increase the quality of a transit service. Be it frequented transportation hubs or isolated bus stop locations, electronic paper can help.
So many questions!
In 2014, unusual stickers began popping up at bus stops across Brazil. On them, jotted down in felt pen and marker in a myriad of different handwritings, were the routes of buses that stopped there. 
The plan was simple: to combat the lack of public transport signage and the financial and organizational issues that hindered authorities, residents who knew which bus stopped where would write it on the bus stop itself. The result was one of the biggest community projects in the world, a grassroots approach to answering an ever-present query: where is the bus going and will it take me where I need to be?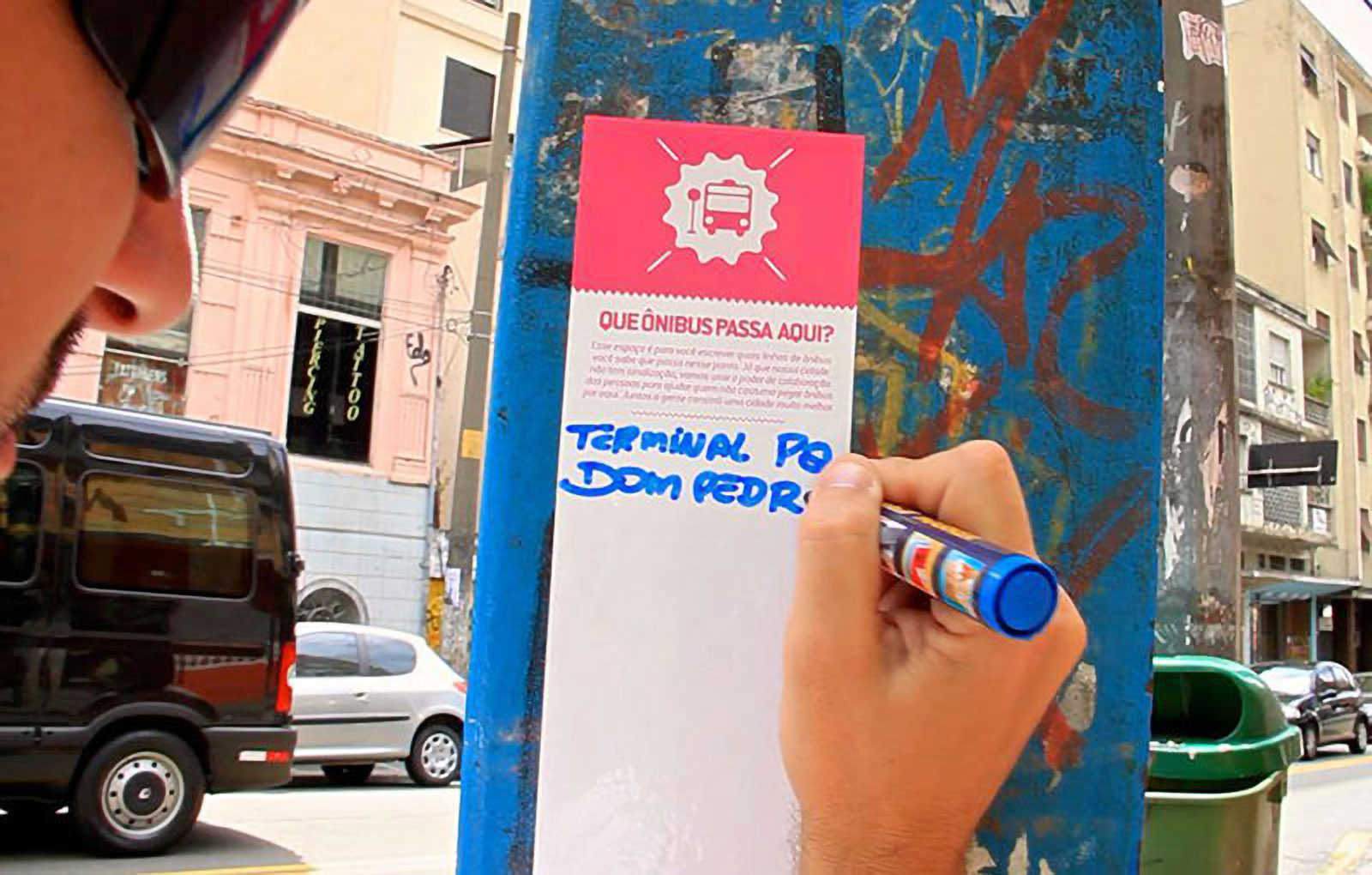 Source: popupcity.net
In almost a decade that has passed, passengers have come to expect public transport to easily answer that question and many more. Questions like: When exactly is the bus coming? Can I trust that the arrival information is correct? Why is the bus late? How will your detour impact my ride? 
Welcome to the transportation revolution
And no wonder: as a society, priding ourselves on immediate access to information, available on smart devices tucked away in our pockets and purses, we have come to expect instant accountability from public transport. Old paper timetables (or stickers, for that matter) with fixed, only occasionally updated arrival and departure schedules have now become outdated and irrelevant. As passengers, we not only want to know the real-time location of the bus or tram, we also need to understand its occupancy rate, potential delays and any other issues that might cause a deviation from the planned arrival or route. 
Add to that the fact that public transit – especially in the urban areas – is increasingly becoming the most time and cost-efficient means of transportation. Just compare the cost of driving in the United States vs. taking public transportation below: 

Source: liveabout
It is becoming clear to see: we are in the midst of a transportation revolution. One that has made it paramount that the service is extremely reliable and the information associated with it very precise and always delivered in real-time, no matter the location. 
This, however, can become a formidable task. 
Cutting out the power grid 
Just consider the fact real-time passenger information seems to have never really been an issue at the most frequented transportation hubs. Even before advanced display technology and flat panels made it possible to fully digitize our travels, up to date service information was provided via rolling letter screens or through live announcements. Why then were some bus stops and stations left in the dust?
The problem only arose when it came to duplicating real-time information across the whole of the network – more specifically, at locations without power grid accessibility. Lack of electrical infrastructure, its costly and time-consuming rollout and the need for displays to be constantly connected to power has long been a limiting factor in the public transport digitization process. But no more.
The need for the power grid can be completely cut out with the help of electronic paper technology. This is because while e-paper displays need electricity to work, they don't need constant access to power like LCD displays do, making them much easier and cheaper to install across different locations. Just take into account the initial cost of installing complex electrical infrastructure to support LCD or LED screens at 100+ bus stops, the initial cost of rolling out electricity to them and the lifetime cost of keeping them plugged in so that they may function. Right from the start, but even more so throughout the lifetime of LCD or LED, this cost curve will significantly surpass that of rolling out e-paper – no matter where you are located or how the LCD/LED installation and lifetime of electrical grid power prices might vary. 
Electronic paper, kick-starting bus stop digitization
Electronic paper signage brings a digital solution that is independent from the electrical grid or cable ethernet and, at the same time, delivers information in a non-intrusive, yet effective manner. This makes real-time passenger updates possible at public transport stops where no such information was feasible before, kick-starting the pace of bus stop digitization everywhere.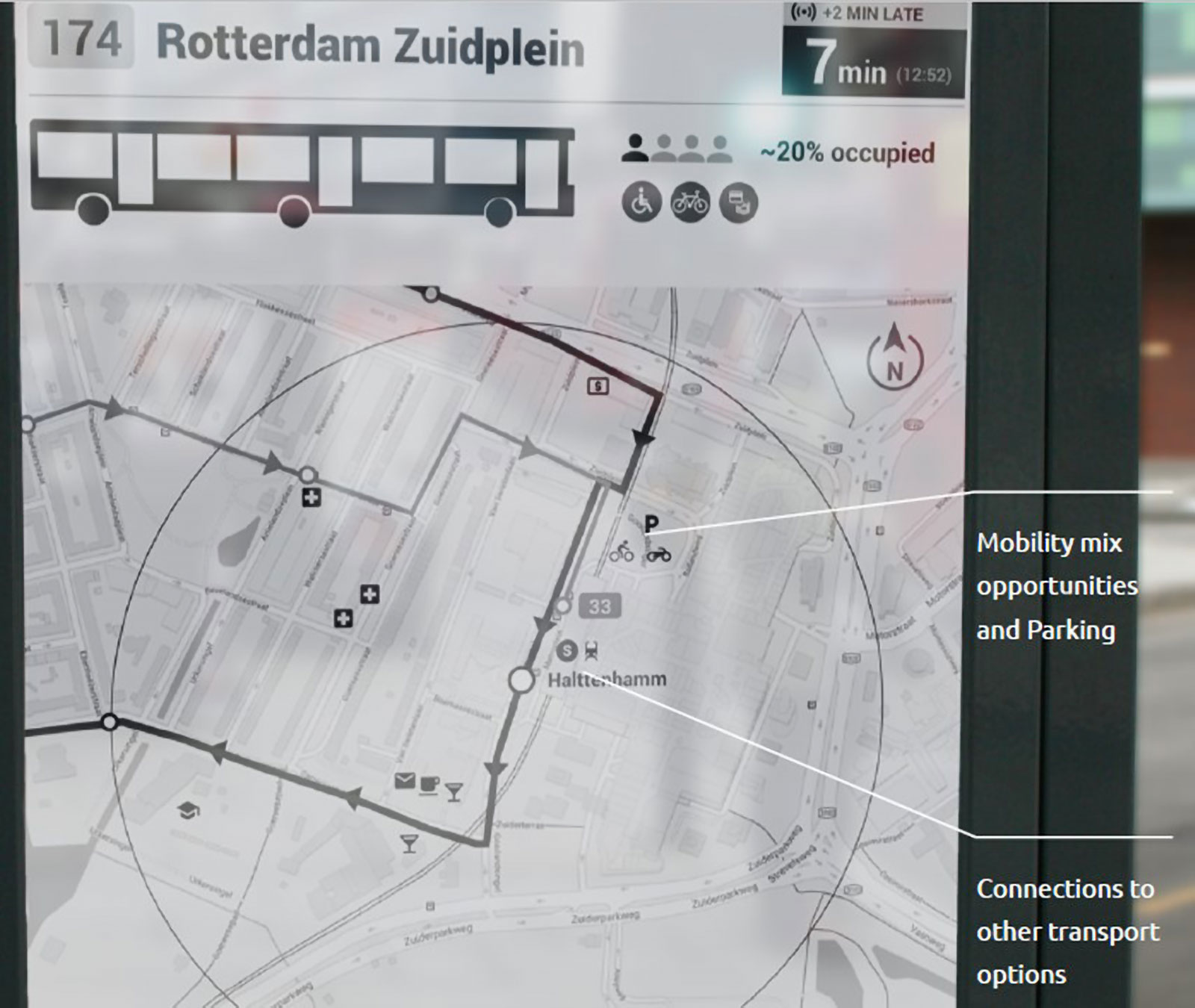 Source: Visionect
Visionect-powered electronic paper bus stops make it simple to: 
Consult informative and rich route information that is always up to date.

Plan a journey with route map and info, provided on a paper-like, glare-free medium.

See line changes in an instant, the moment they occur.

Plan ahead with entry option information, vehicle capacity, occupancy and more.

Discover station service information.

Consult public health instructions.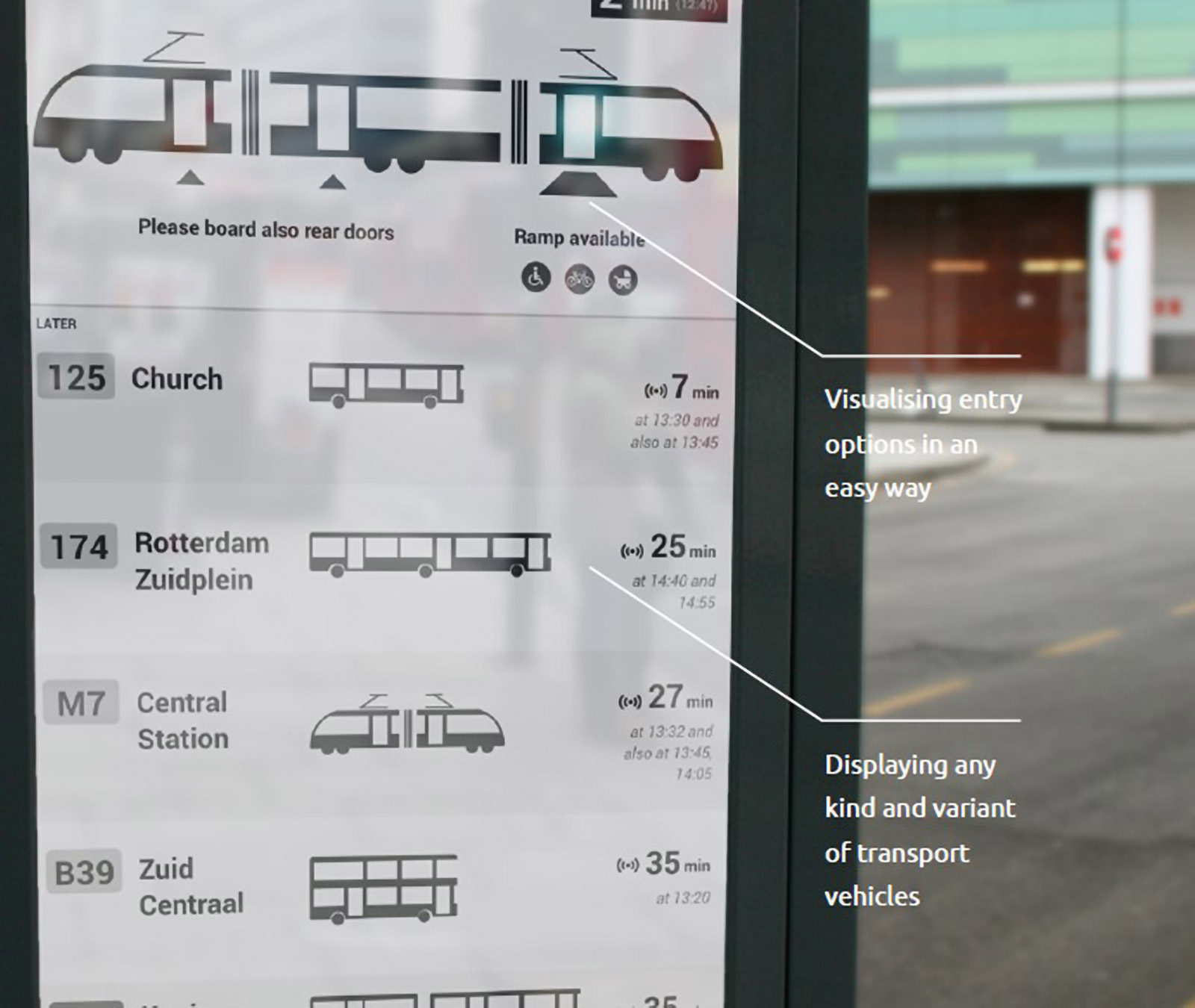 Source: Visionect
All this in graphics and tables that have been brought over from the familiar paper versions, with an improved way in which this data is visualized. And even more, with instant accessibility exactly at the point where needed. 
This is because Visionect's power consumption optimization reduces the required physical dimensions of the product and its additional components such as solar panels and batteries, enabling an easier and more seamless fit into the environment. 
And the best part? At Visionect, we enable mass adaptability of this versatile technology by providing both 
different levels of

finished hardware products

(from integration modules to finished products and customized units), 

as well as a

versatile software backend

that offers full compatibility (via APIs) with any web-based content management system out there. This enables our customers to manage Visionect`s ePaper screens via the same user interface they are familiar with. No need to onboard a new content management system – just use the one that manages your existing network of LCD/LED or any other displays.  
All with the aim to significantly improve public transport services, leveraging its full potential – for ridership and transport operators alike.