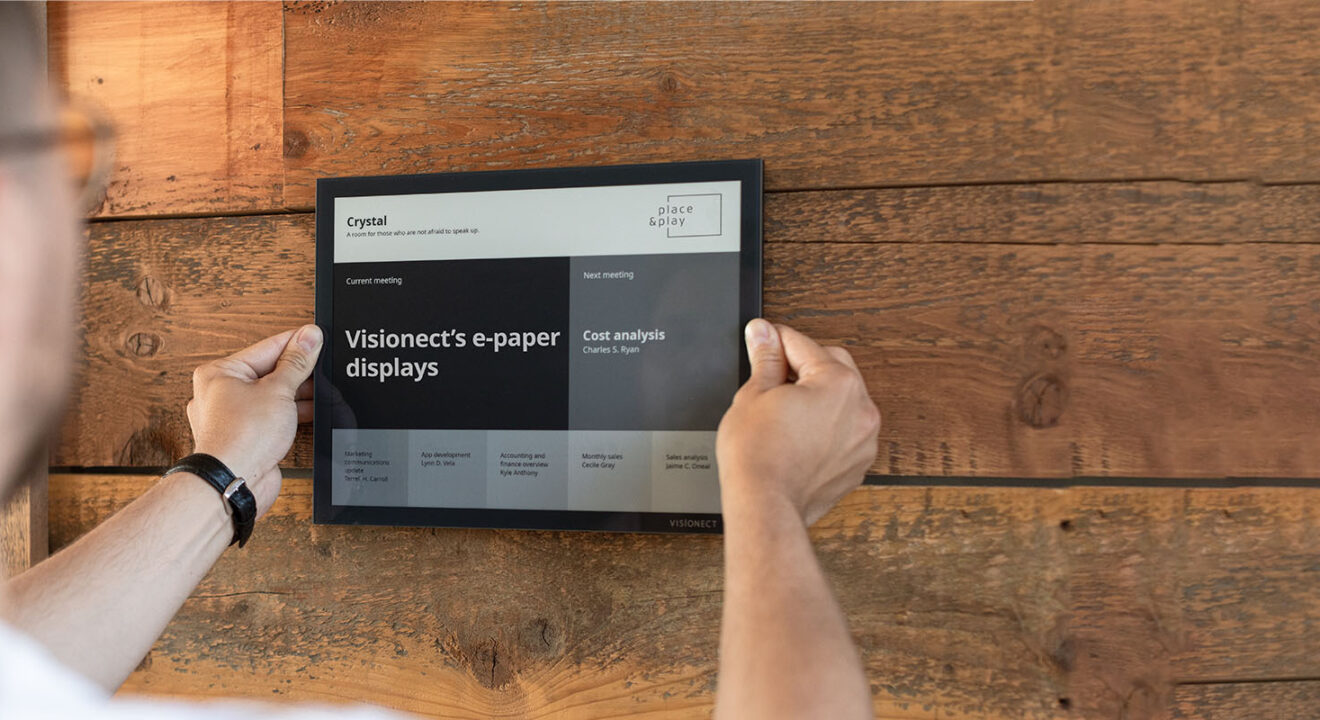 While electronic ink displays have been in the works for decades, it's only recently that the world has begun to realize the impact electronic paper can have on the planet. Since the conception of television, consumers have been obsessed with clearer, more detailed, high-definition, vibrant displays. Now, with climate change and sustainability on everyone's mind, society is interested in an ultra-low-power solution.
E-paper is that solution. While the concept of electronic paper isn't new, it's taken decades to refine the technology. For the past 15 years, Visionect experts have ironed out every detail, making some of the clearest, most reliable, and energy-efficient digital signage on the planet.
Below are answers to the most frequently asked questions about our electronic-ink displays.
1. How do e-paper displays work and what are they made of?
Although you can't see them with the naked eye, e-ink displays are composed of millions of tiny capsules. These capsules, about as wide as human hair, are filled with minuscule particles of different colors, most commonly white and black.
An electronic ink screen uses positive or negative electric fields to move these particles from the top or the bottom of the capsule. Usually, the white particles carry a positive charge and the black ones carry a negative charge. If the electric charge applied to one spot is negative, the black particles rise, changing the color of the display's surface. Pretty amazing, right?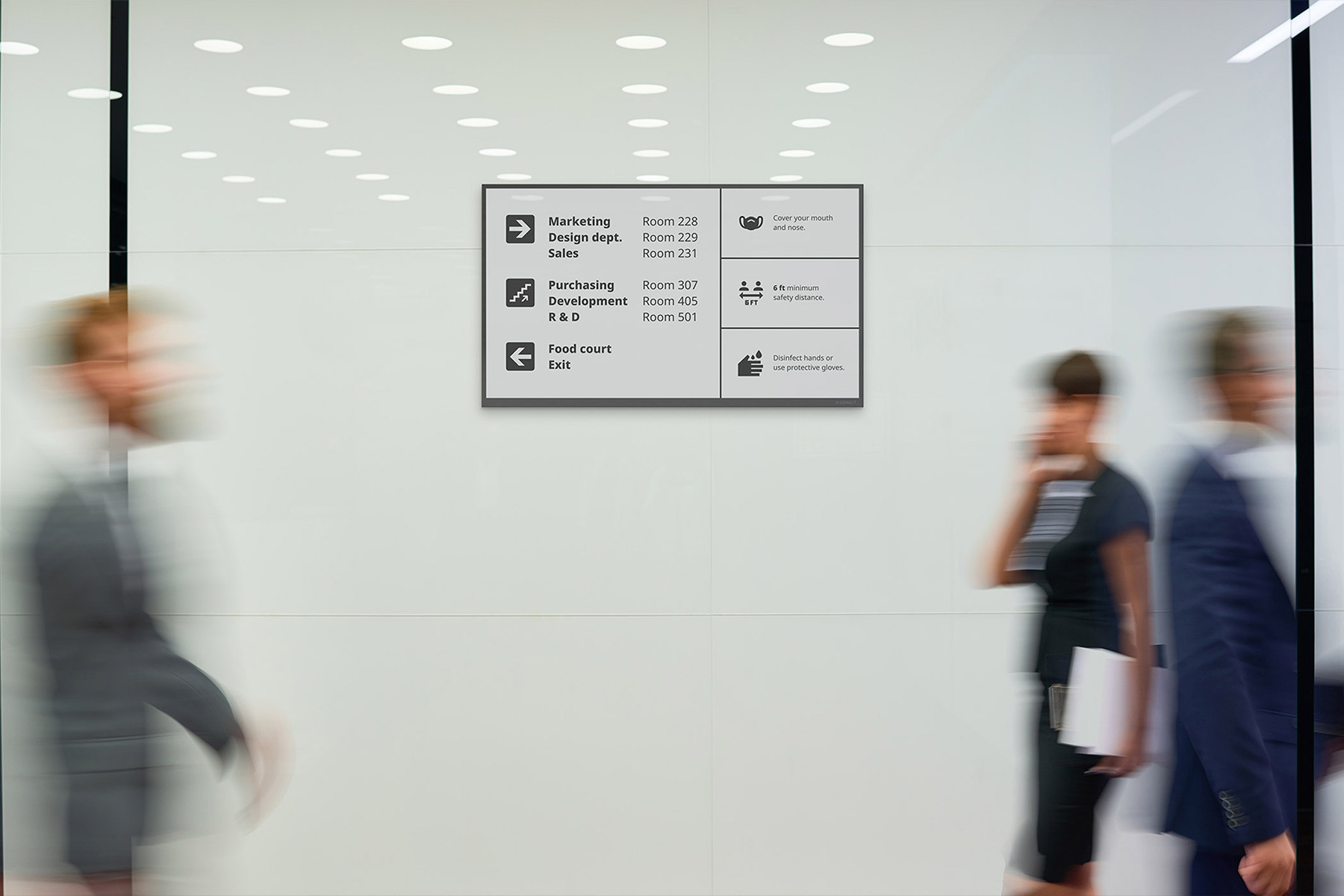 2. Can e-paper come in different colors?
Electronic paper can have more than two colors. As with grayscale e-ink displays, electronic ink displays with more than two colors are bi-stable and don't consume power during standby. However, the more colors there are, the more complex the display refresh becomes. The content on the screen takes longer to update.
The time to refresh the image on color displays can take up to 30 seconds, which is 30 times longer than grayscale images take to update. This lengthy refresh time significantly increases the device's overall power consumption, making color e-ink displays inappropriate for battery-powered applications that involve more than a simple standby image.
Still, research is advancing every day and E Ink experts are continually exploring ways to make color electronic paper displays more energy-efficient. Visionect is looking forward to the day when we can deliver quality, power efficiency and color in one stylish package.
3. What temperature range can the e-paper displays be used?
The operational and storage temperature range that electronic papers thrive in is 32°F to 122°F (0°C to +50°C) — perfect if you need a weatherproof solution, wherever you are. Still, e-ink displays have proven robust in more extreme conditions from -5°F to 150°F  (-20°C to 65°C).
Whereas LED and LCD displays generate heat while in use, electronic paper displays do not. This characteristic is due to the ultra-low refresh rate of the displays, considering electronic paper requires no energy to keep an image on the screen. With such low power consumption, the energy-efficient displays remain significantly cooler in hot climates.
4. Are e-paper displays eco-friendly?
Yes, without a doubt!
Electronic paper displays are the most energy-efficient displays on the market. The wireless displays have ultra-low energy costs and run months on the amount of power it takes to brew a cup of coffee.
Every component of Visionect e-paper displays is hand-picked for unparalleled energy efficiency. From WiFi modules to microchips on the system board, all refined by a decade of research, the displays are as power-efficient as possible.
While all electronic paper displays have an impressive battery life, only the best are made from sustainable resources. Visionect displays are constructed of reusable and recyclable materials, minimizing their impact on the environment. Plus, our manufacturing process is structured to have a negligible impact on the local environment while our tree-planting initiative helps bring each device's carbon footprint down to zero.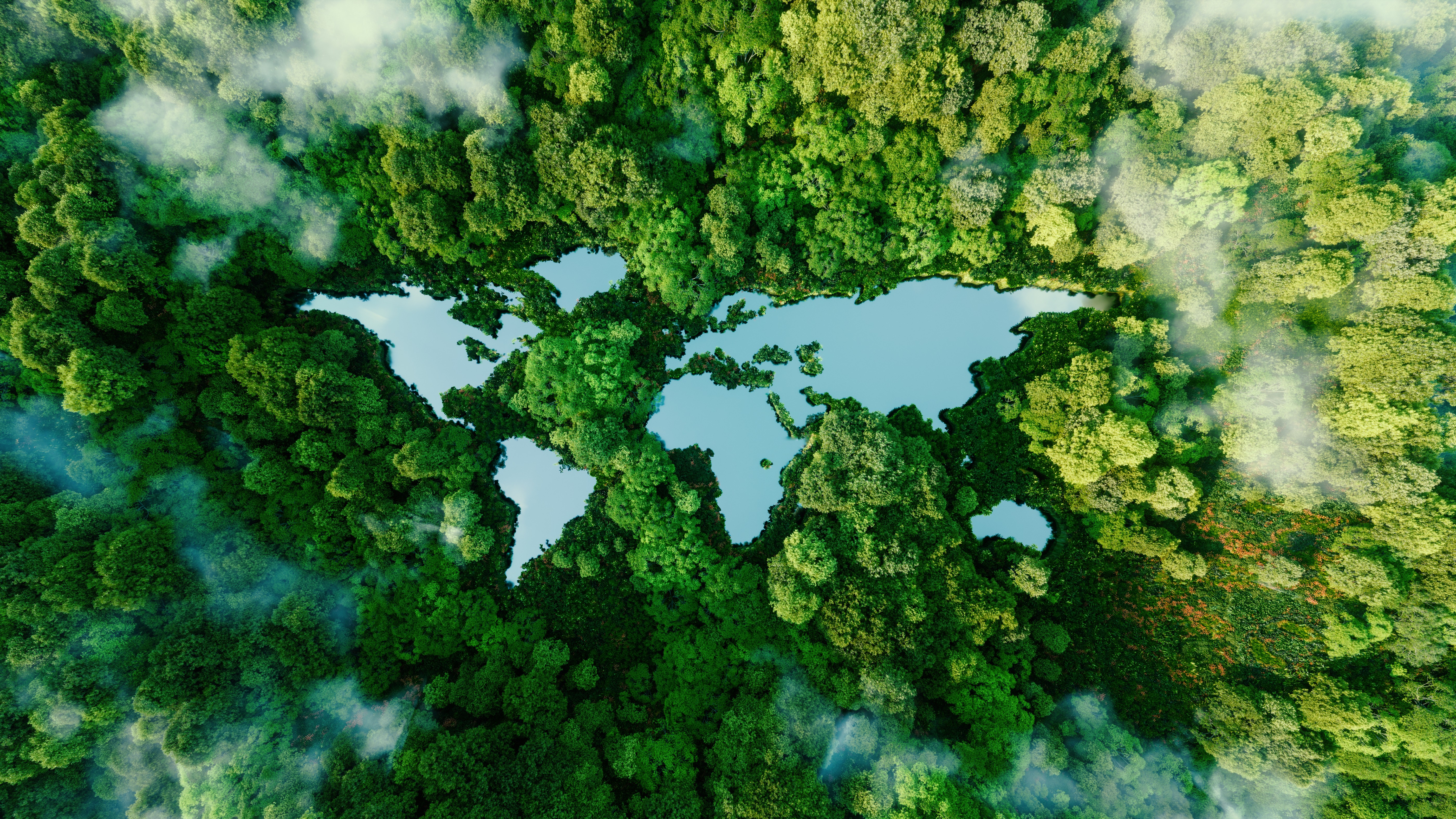 5. Why should I use e-ink technology instead of LCD/LED?
Over the past two decades, LCD displays have dropped in price, making them affordable solutions for many use cases. Affordable, yet not necessarily ideal. LCD screens are prone to glare and are difficult to read in direct sunlight. Also, the liquid crystal in these displays is susceptible to temperature-influenced performance issues.
Another roadblock with LCD devices is their power consumption. These displays need to be connected to a continuous power supply, limiting their versatility and complicating their installation
On the other side, E-paper displays operate without fail in nearly any climate, hot or cold. The paper like screens resist glare and are easy to read in daylight. The best part is, e-paper displays are the most energy-efficient screens on the market. Each device can go months on a single charge or easily run off of solar power, making them virtually wireless and easy to install.
6. Why choose Visionect?
Visionect is the Apple of e-ink solutions: committed to perfection from manufacturing to delivery. Each Place & Play device is a premium display and the best solution of its kind. Still, you don't have to take our word for it.
Many of the classiest organizations around use our technology, including InterContinental, NASA, Panasonic, Microsoft, Siemens, Cisco, Sony, and more. With the lowest failure rate in the industry, our devices are trusted solutions for limitless use cases.
At Visionect, we stand by our products through and through. Customer service is our top priority, driving us to reach for quality from our products through to our support. Our customer success agents ensure our users have a customized onboarding experience while our tech teams are committed to a five-star customer support experience.
Not to mention, Visionect's awards are piling up. Our devices are recognized as world-class leaders in our industry with unbeatable designs.
7. What are the most common use cases for Visionect products?
Visionect technology can be separated into two categories: indoor and outdoor, both with limitless use cases.
Our e-paper devices take minutes to install on any surface. The long battery life makes each display virtually wireless, requiring no maintenance for months on end.
Some indoor use cases include digital museum labels, digital smart labels, information boards, and concierge displays.
As for outdoor uses, Visionect displays have been quite popular among transportation sectors as public information displays. The low-power digital signage can run reliably off solar power and connect to the internet via WiFi or a wireless network — no digging or external cables required!
For more ideas on the many use cases of Visionect displays, check out our "Visionect digital signage use cases from around the world" article.
8. How does the Visionect software work?
Our teams are currently working on a full-blown content management system (CMS)! Until its release, our devices run on a versatile back-end platform called Visionect Software Suite (VSS). To keep our devices as low-energy as possible, we store minimal data on the actual device. Any updates and reprogramming of the displays must be done through the server.
Every device comes with VSS, which supports open API integration of any web-based back-end system while enabling monitoring features including humidity and temperature sensors, battery level, and signal strength. Many Visionect clients enjoy the flexibility of using their own HTML script and web-based CMS.
9. Are Visionect displays available in my country?
Visionect displays are available around the globe and can be found at many local resellers, or you can order them online and have them shipped to your address. Our devices are active in almost hundreds of countries from the USA to Australia.
Contact us to discover the best way to get a Visionect display, wherever you are.
10. What's the difference between Visionect and Joan?
Joan is part of the Visionect company, but targets different markets. 
Joan offers a brand of e-paper displays that support workplace management with a key focus on meeting room management. These displays come as touchscreens or non-touchscreen devices that are perfect for displaying meeting room schedules, office announcements, and customized branding.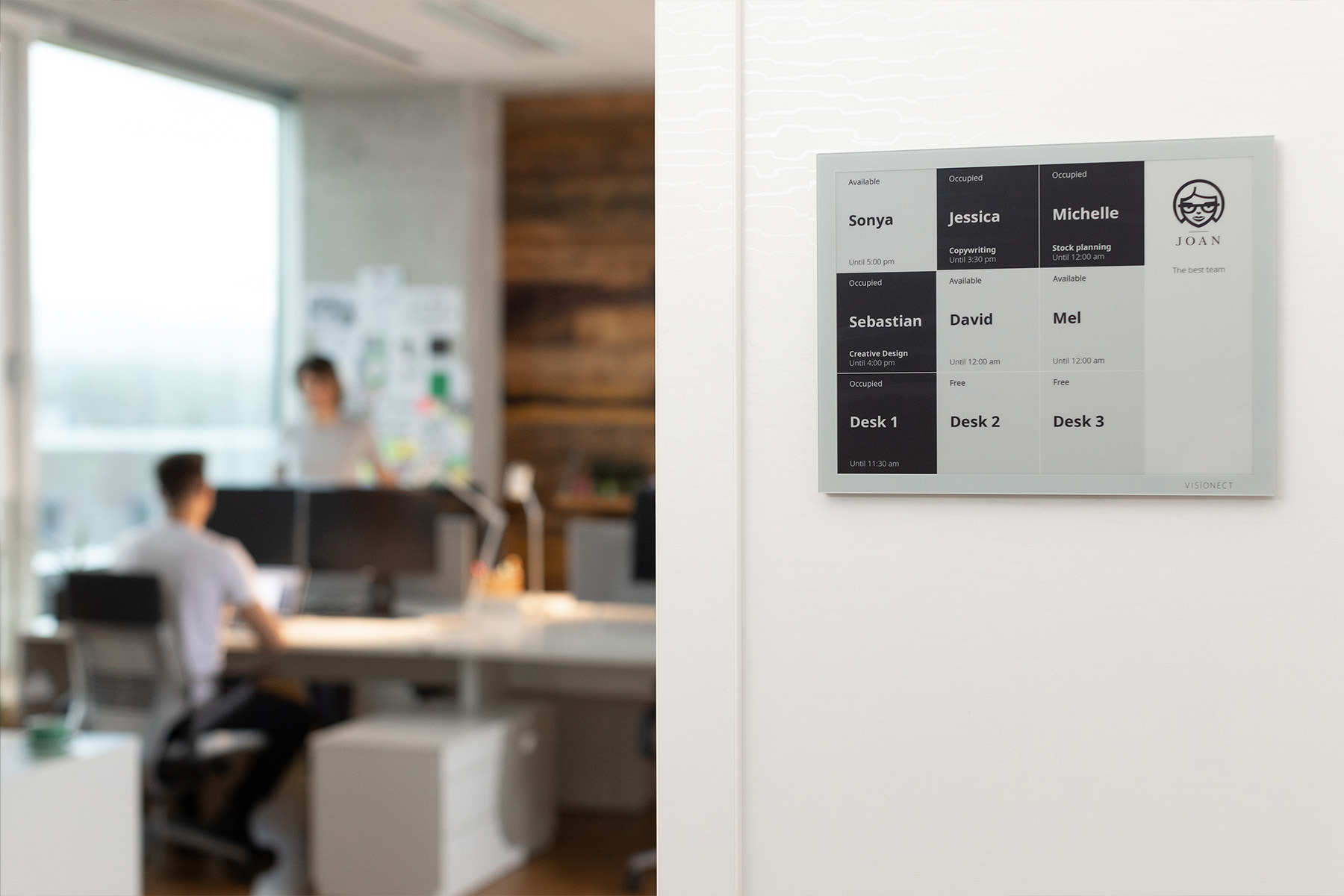 Visionect, on the other hand, has unleashed a powerful pair of versatile Place & Play devices for limitless use cases. What's more, the company also caters to urban scenes, offering outdoor e-paper solutions.
Learn more about the indoor E-paper displays
With state-of-the-art technology, renowned ingenuity, and esteemed customer service, Visionect has become a leader in the e-paper industry. If you have any more questions or would like to learn more about how Visionect displays can fit into your use case, don't hesitate to contact our team. 
We look forward to hearing from you!