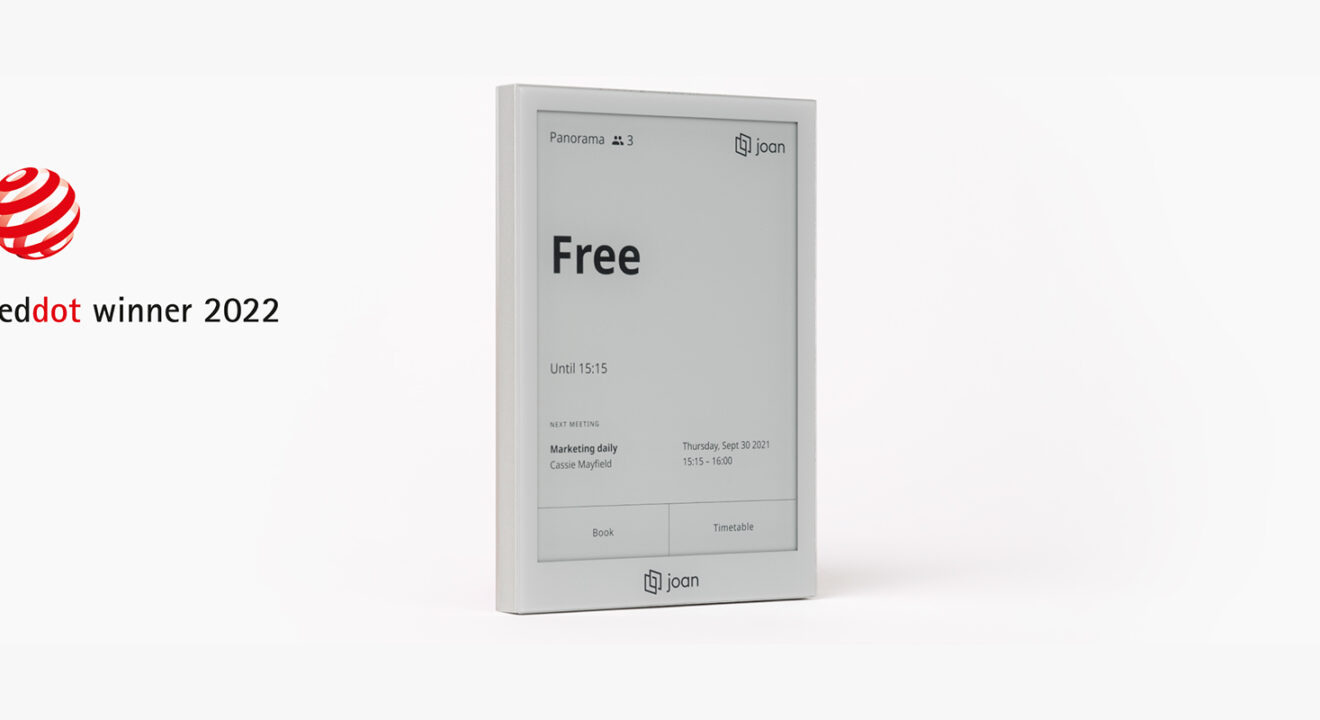 For the third time, Visionect's room scheduler Joan has been the recipient of the distinguished Red Dot Award for outstanding product design. In 2022, the honour fell to Joan 6 Pro, our next-generation meeting room scheduling device.
One of the biggest design competitions in the world, the Red Dot Design Award has become the benchmark of excellent design and innovation. The distinction "Red Dot" has, since the 1990s, been established internationally as one of the most sought-after marks of quality for good design. In 2022, the 48 international members of the Red Dot Jury assessed some 20,000 submissions from around 60 countries, with only those products that won over the experts with their outstanding design quality winning a distinction⁠—and setting new standards in the design industry. 
Among them is Joan 6 Pro, our room scheduling device running on powerful Visionect technology. Joan 6 Pro is the latest product in our Joan family, which combines ultra-sustainable e-paper displays (powered by our decades of know-how, of course!) with user-friendly solutions for efficient end-to-end workplace management. 
The third such honour for Joan devices (following the Red Dot Awards in 2018 and 2016) , the 2022 Red Dot Award: Product Design proves that it is not just technology that must do more—sustainable and simple design is also a must if we want to make the products we use better and tackle the challenges of the future.

Workplace collaboration (sans wires)
The prestigious Red Dot Award 2022 represents the latest recognition of Joan's outstanding design and underlying principle of simplicity, all boosted by electronic paper technology that allows them to shine. 
Created to manage the new flexible workspace and focusing on safe collaborative work, Joan 6 Pro features minimalistic design, ease of use and sustainability. All are evident in the device's superb design and user experience:  
Simple setup

: Joan 6 Pro's setup takes only a few minutes without wiring, drilling, and additional costs, all thanks to the device's Smart magnetic mount. With the mount's location ID, you can even undock the display without losing any room information. 

Visionect's ultra low power functionality

: just like in all Visionect devices, the magic behind Joan 6 Pro's e-paper screen results in ultra-low energy consumption. The scheduler only needs to be charged twice per year. In fact, the energy needed to power Joan 6 Pro for an entire year is equal to making one cup of coffee—making it 580x more power-efficient than tablets.

 

Sustainable and powerful make:

Made of highly recyclable aluminium and glass, Joan 6 Pro supports companies' mission for sustainability and provides a high-quality experience that extends device life expectancy to 5+ years.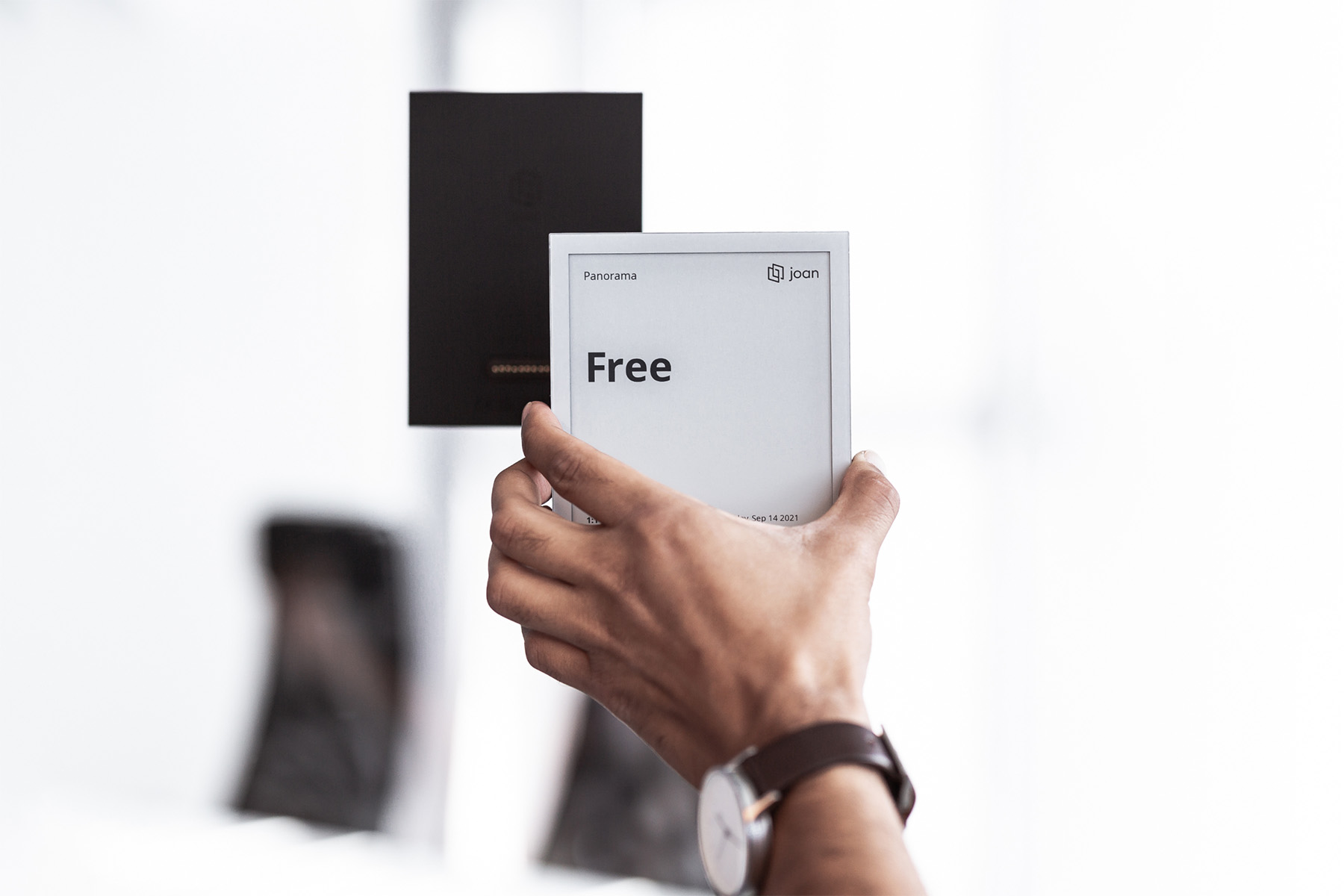 The result of 15 years of e-paper development and 6 years of workplace management solutions, Joan 6 Pro offers unparalleled support to the hybrid office, with its decline of dedicated desks and 9 to 5 workdays. Joan 6 Pro elevates the new workplace that features more meeting rooms, more huddle rooms and additional shared spaces. It connects with the calendar companies already use, integrates with existing communication tools, displays meeting information, offers advanced analytics and manages meeting spaces from a mobile app. All to help people work better. 
Joan 6 Pro will be celebrated during the Red Dot Design Week from 20 to 24 June 2022. The Red Dot award: Product Design award ceremony will take place in Essen, Germany on 20 June 2022.
Making the product and the world better
Recognized in the Communication Technology category of the 2022 competition, Joan 6 Pro is a perfect example of Visionect's innovative product development, advanced solutions and sustainable approach to high-tech devices and their use. 
It aligns perfectly with the vision of Red Dot's CEO, prof. Dr. Peter Zec, who has been particularly struck by the exceptional creativity shown by the award-winning products in this year's competition. "It is really impressive and praiseworthy that there are still designs out there that can surprise us with their form and functionality. This makes it clear that design cannot be restricted or brought to a standstill by unfavourable circumstances. On the contrary: more and more new ideas and creations emerge," he explains. 
Adds Visionect's co-founder Matej Zalar: "At Visionect, we endeavour to simplify our products from a technical and design perspective, resulting in improved function and better quality that make the products we use and the world we live in better. Our team dedicated thousands of hours to reducing the complexity of workplace solutions and providing an alternative that offers a better quality of work life. This includes the realities of the post-pandemic workplace that Joan 6 Pro more than addresses."