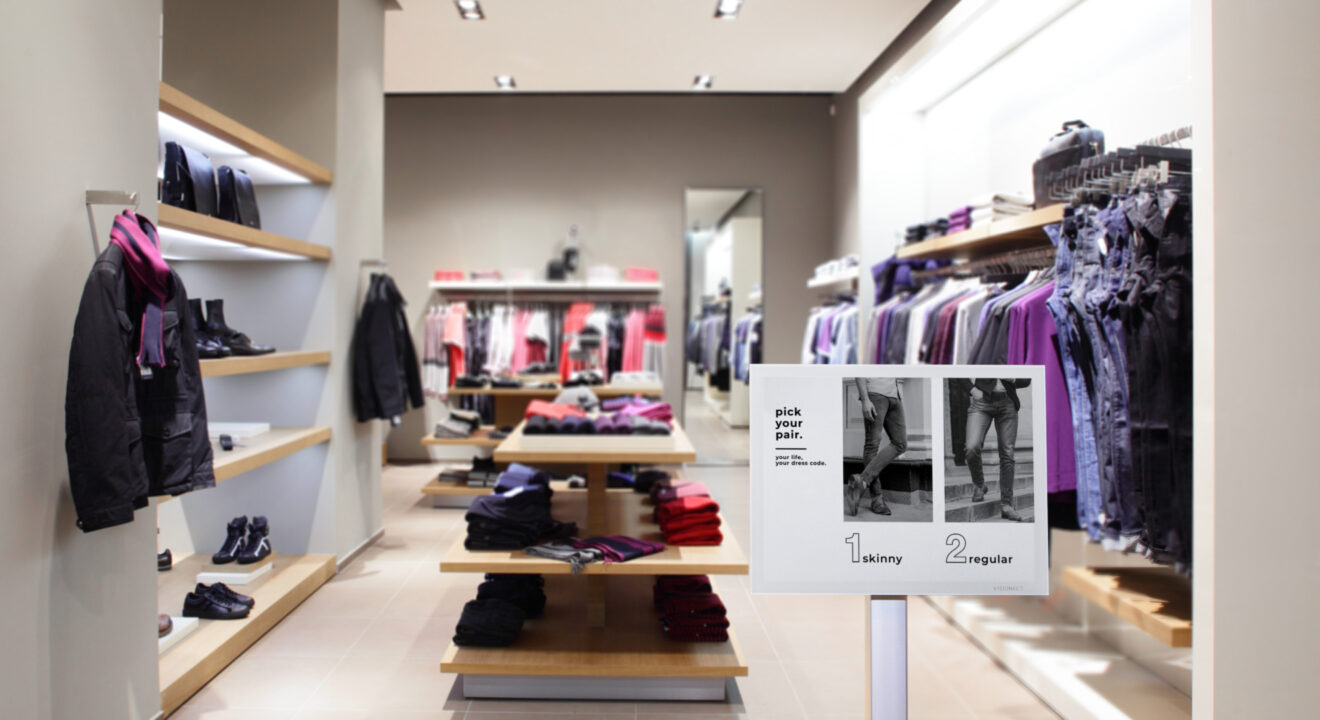 E-paper comes with a variety of benefits that are perfect for the retail industry. Can the customers navigate easily? Do they know about up-and-coming releases? Can they learn about product features without pulling out their phones? What opportunities do you have to upsell?
A digital display would solve many of these problems. However, LCD and LEDs require a steady power supply — meaning expensive installation processes — and the blaring screens often take attention away from the product itself.
E-paper offers a classical option that's easy to maintain, updates wirelessly, and is no more distracting than mainstream paper labels. These displays function on some of the longest-lived, low-energy technology on the planet, making them not only a practical choice, but cost-effective too.
Using e-paper displays in retail environments
If you've dreamed of a solution that's digital, wireless, and simple, have a closer look at e-paper displays. Here are a few examples of how Visionect products can enhance retail environments and the customer experience.
Product information
Some of our retail clients have used Visionect e-paper technology on the sales floor to show product details or pricing. Telekom Slovenije went one step further and implemented e-paper smart shelf labels.
For these shelf labels, customers could flip through product information on the low-energy displays, much like turning pages in an e-book. Companies can customize the content, showing product information, pricing, and upselling or package details.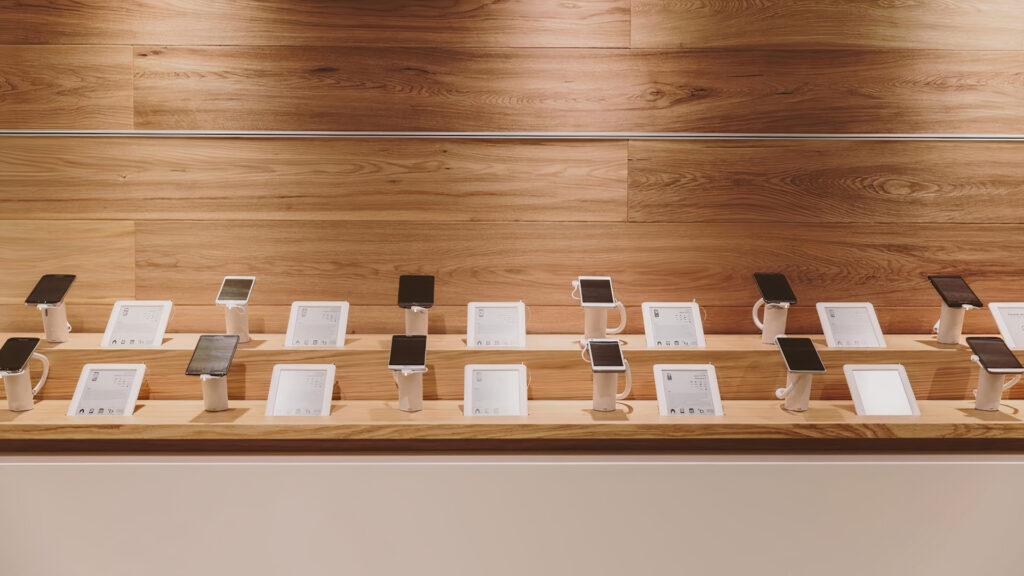 Wayfinding
When it comes to retail spaces, it's important to have a strategy for directing a customer's in-store experience. You can improve sales significantly by supporting the physical environment.
E-paper displays can provide cues and visuals to attract or direct attention. These displays last months on a single charge and update wirelessly over the internet. Meaning, they can be mounted in place and left alone with very little maintenance while they guide and direct customers around the store.
Advertising and promotions
Many retail stores overlook one of the simplest forms of marketing: on-site advertisements. These advertisements target customers who are at the point of purchase and are engaged with the products already.
Examples of in-store advertisements include menu boards, product upsell information, details on package deals, and promotional displays, to name a few. These message boards prompt impulse purchases, promote new products, advertise sales, and more.
Real-time updates
E-paper displays are a great wireless solution to share real-time information with customers. Shops can show store capacity numbers, wait times, featured products, or special events. The displays sync over the network to keep people up to date with the latest information.
For example, when governments mandated health precautions and regulations, INKcoming used Visionect technology to create smart, eco-responsible e-paper signs to keep clients and patrons in-the-know.
Hours of operation
Hours of operation change. Sometimes they're seasonal, sometimes they vary to accommodate holidays. You've seen paper printout signs amending a business's hours — "Closed for Easter Monday!" — and they're never pretty.
Some businesses are turning to e-paper signs to show their open hours in a classy, professional way. Because our e-paper display update wirelessly over WiFi, they're a great way to let patrons know a store's hours throughout the week and any upcoming variations or store closures.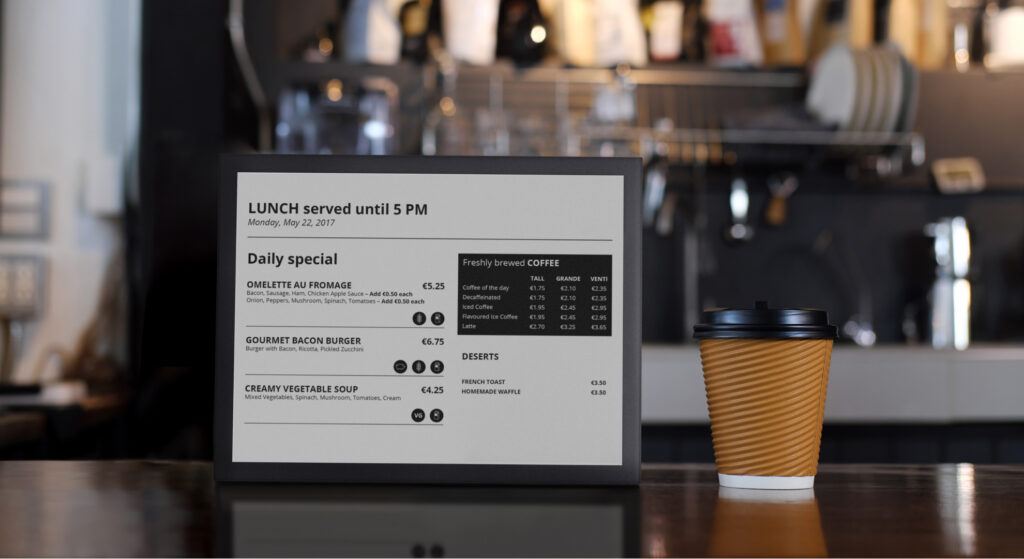 Why our customers love Visionect displays
Visionect displays use advanced e-paper technology. Our engineers go above and beyond to bring quality, durability, and longevity to our product line, creating state-of-the-art digital displays that fit in any environment, featuring
Extremely low power consumption. Visionect displays last months to one year on a single charge, running on 99% less energy than traditional LCD and LEDs. This low power consumption is easy on your electric bill and delivers a great TCO.
Sleek and elegant. Designed to be classic, timeless, yet modern, our displays are manufactured with quality materials that last. Our products are unobtrusive and fit into any space.
Easy to use. Unlike traditional digital displays, Visionect e-paper devices don't require a regular power source or any installation beyond placing and configuring the device. With our accompanying Visionect software, customers have their Place & Play devices running in no time.
Sustainable. Most of our products are manufactured with glass and aluminum, which are not only durable resources, but are reusable and recyclable too. The ultra-low power consumption of the displays is easy on the environment, and so is our sustainable product packaging.
"The simple beauty of electronic paper lies in how quietly it integrates with the environment. Visionect has realized this simplicity with grace, elegance, and style."

Barrett Comiskey, inventor of electronic paper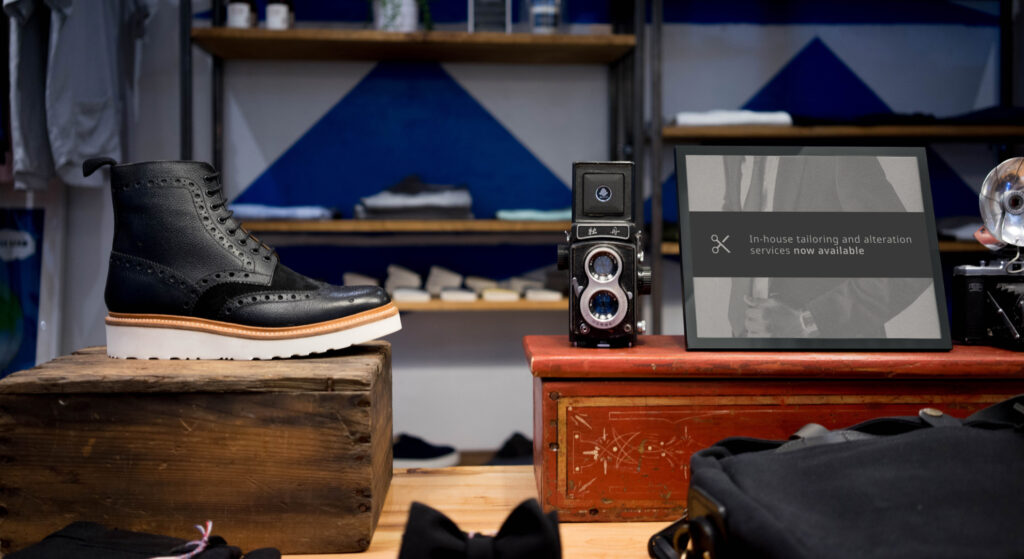 A retail investment that pays off
When it comes to the shopping experience, it's important to look at the whole picture — the whole customer experience. With their wireless nature, Visionect e-paper displays are an incredible solution to create a truly customer-centric experience.
Contact our Sales team to learn more about how e-paper displays can enhance your space.