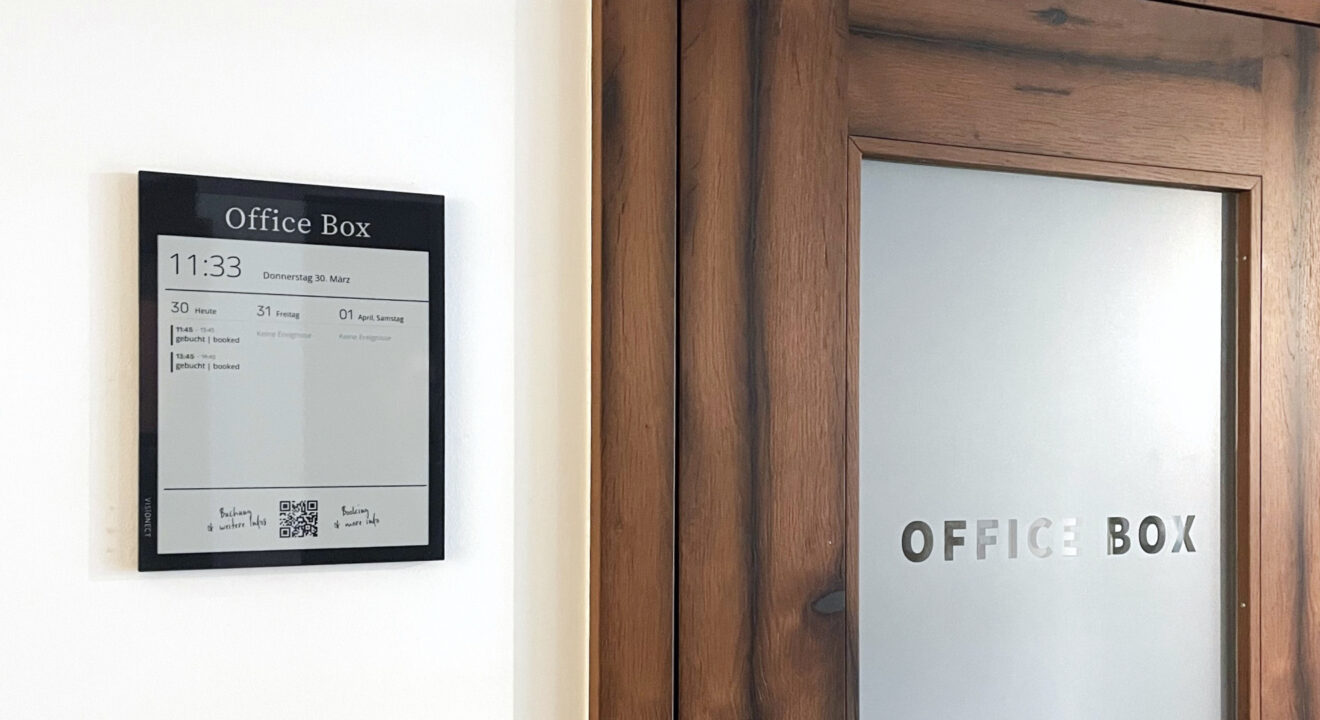 Last year, the luxury hotel group Familux Resorts discovered that Visionect displays can do so much more than share information: they can create a full-blown experience.
The resort turned to Visionect because of the subtle, classy style our e-paper displays offer.
That, and the fact that Visionect Place & Play displays can be mounted on any surface anywhere without wiring or drilling.
In the end, Familux achieved precisely what they were hoping for.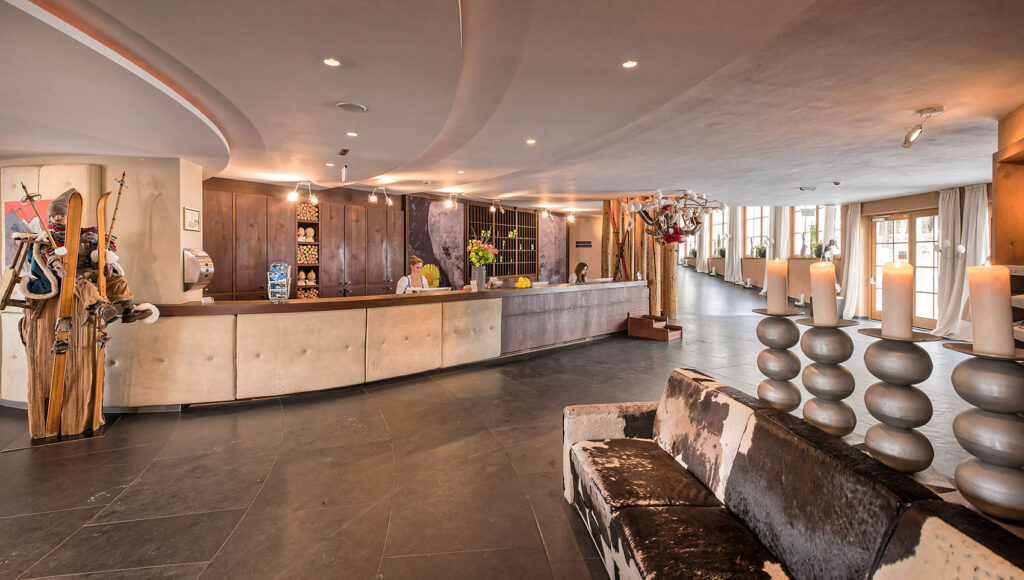 The lobby
As Familux guests enter the main lobby, they pass by the program wall. This wall houses a myriad of e-paper displays that showcase activities and events happening at the resort. These displays update in real-time, so they're always up to date with the latest information. By syncing wirelessly over WiFi, Visionect devices can show any changes to upcoming events — cancellations, room changes, delays — to keep guests in the loop.
Fine dining
Moving on from the lobby along the path to the restaurants and dining rooms, guests will come across another e-paper display or two, complete with maps and directions. These displays are perfect for wayfinding, helping guests get from point A to B without delay. Perhaps even the month-watering dinner specials will be shared on-screen too.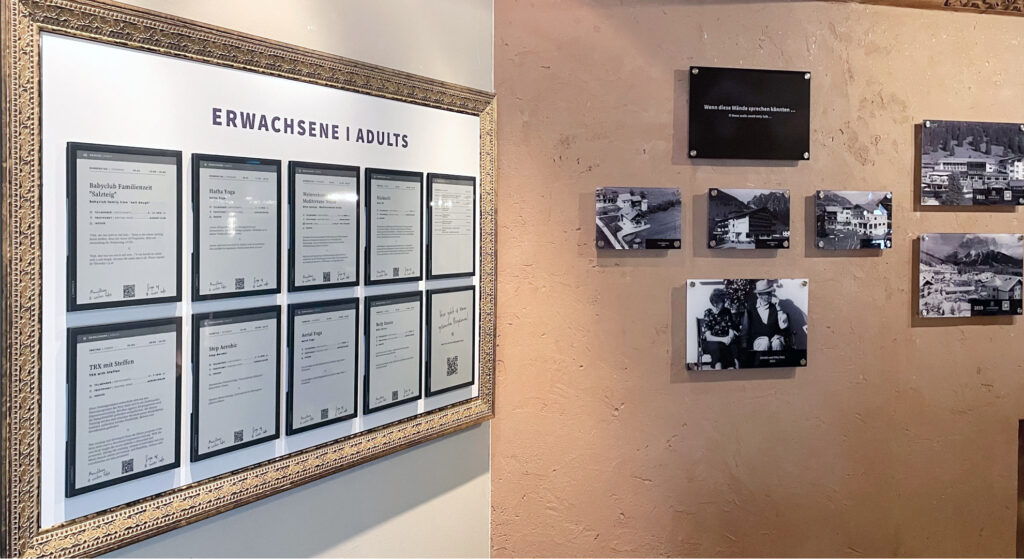 Workspaces
Come morning, sometimes Familux guests may find themselves with work to do and require a quiet place to finish it. So, they amble to one of the resort's workspaces, leaving their better halves or children to enjoy the resort activities.
At their communal workspaces, Familux uses Visionect displays to show resort agendas and upcoming activities so their guests can plan accordingly. If they don't want to miss out on the 2:00 P.M. swimming class, they can plan their work around it. If they forget which time they need to pick up their children from the kids' center, they can check the display.
Entertainment
Familux resorts are family-centric, designed to help parents and children have a great time. Aside from workstations and fine dining, the resorts offer entertainment, including events for the children, theatres for movies and musicals, virtual reality (VR) rooms, and more.
Visionect displays support resort entertainment in three key ways:
Wayfinding. As guests meander the grounds, they can check the occasional e-paper display to see where they are in comparison with their destination. These displays are incredibly user-friendly, making it easy for both adults and children to use them.
Registration. Familux had the brilliant idea to display QR codes on their e-paper displays, allowing guests to sign up for events on the fly directly from their smartphones.
Advertising. Visionect displays are positioned outside of entertainment centers, including the theatre, kids club, virtual reality rooms, and so on.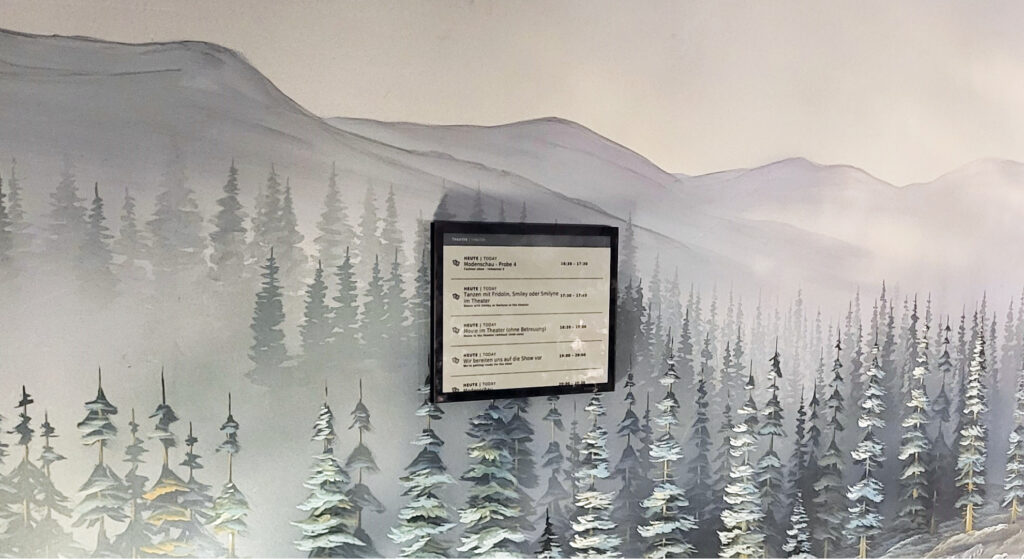 How Visionect enriches the guest experience
Aside from looking great in the classy spaces, around 200 Visionect displays benefit Familux resorts in several main ways:
Enhance communication. Familux resorts think of everything, offering their guests more events, features, amenities, and services than the families could possibly partake in during their visit. Which means, there's something for everyone. The best way to communicate these offerings is to make them visible around the resort with signs for wayfinding, hours, upcoming events, signups, agendas, and more.
Save guests time. When you're on vacation, or even a business trip, every minute counts. Whether it's a minute of soaking up the sun, skiing in the mountains, or joining yoga classes, every second spent relaxing or trying a new activity is time well spent. Familux's clear signage helps people move efficiently around the resort and plan their days to get the most out of their stay.
Eco-friendly technology. Visionect displays run on 1% of the energy traditional LCDs use. With such low power consumption, these displays can run up to one year on a single charge, making them not only easy on the electrical bill, but also essentially free to install with no drilling, wiring, or handyperson involved. Visionect products are also manufactured and shipped primarily with recyclable or reusable materials, truly making them the greenest displays on the market.
Ultimately, the on-site Visionect technology is designed to help guests focus on having a fun, productive visit full of events to keep the whole family enthralled.
If Visionect displays sound like a good fit for your environment, contact Sales today.