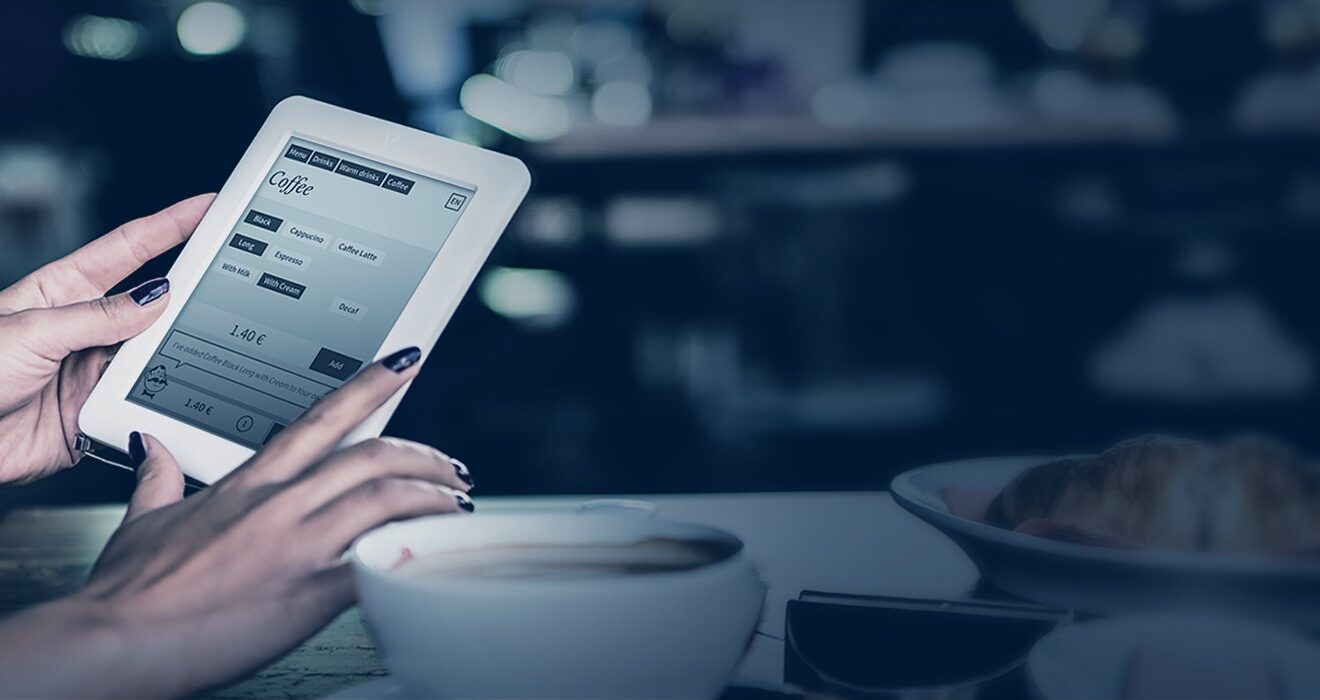 Tabletop ordering enables guests in restaurants to order food and drinks from their table with a device or a smartphone. There is number of mediocre apps for smartphones out there and compared to dedicated devices they lack in customer engagement. Only 4-8% of guests order with their smartphone vs. 93% if offered a dedicated device.
Restaurant and bar owners gain better insight into their customers and their business, upgrading the business with features so far only available in on-line stores: instant customer feedback, dynamic inventory, real-time statistics, and analytics.
Restaurants across the world (most notably in US and Japan) are embracing tabletop ordering systems, which is a fancy way of saying that guests can order directly from the table without the help of serving staff. In the restaurant of tomorrow (and for some of you, today) you sit down and use a device to browse the menu, select your create your order and get it delivered to your table.
A lot of restaurants contemplate mobile or tablet apps for tabletop ordering, but statistical data from the most popular tabletop ordering apps shows that only every 25th guest decides to order with their smartphone or tablet. Have we finally found an application which is not suited for our smartphone centric life?
Why tabletop ordering?
Tabletop ordering is not a novel idea and the benefits are obvious. We, as guests, spend less time waiting for waiters to take our order while at the same existing serving staff can provide the over-the-top engagement to guests that require it. Restaurant/bar owners on the other side gain better insight into their customers and their business, upgrading the business with features so far only available in on-line stores (instant customer feedback, real-time statistics, dynamic inventory, etc).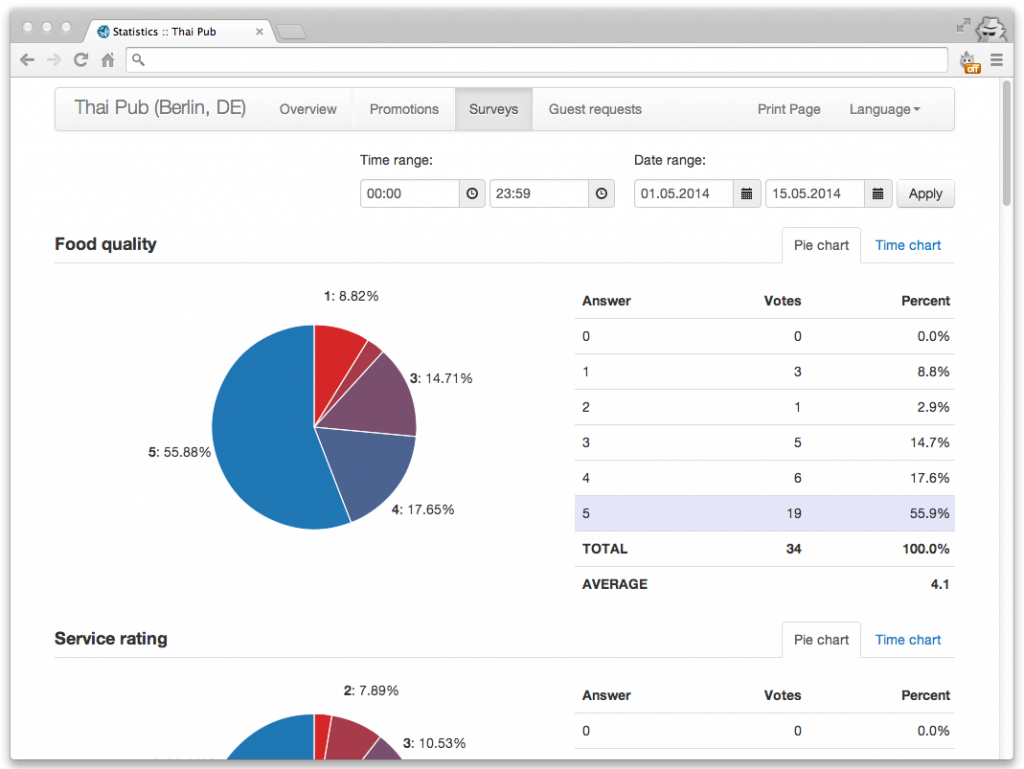 Instant customer feedback on the quality of service and real-time statistics.
The landscape of tabletop ordering systems evolved immensely in the past two years as smartphones and apps became ubiquitous. This considerably lowered the bar for companies trying to enter the tabletop ordering business. Instead of developing a custom device developers simply create an ordering app for your smartphone. In the end some restaurants decide to roll their own solution, while others use one of the existing tabletop apps and this resulted in literally hundreds of mediocre apps.
Is mobile really the way to go?
Deploying an app is conceptually a sound idea – people use smartphones for everything, why wouldn't they use them for ordering food and drinks. It turns out it's not that straightforward. The steps to successfully browse the menu include at least: a new app to download (perhaps one in every restaurant), install (on your private phone) and finally configure (via a QR code, NFC tag or manually selecting table from a list).
No wonder that the tabletop app makers keep reporting that only between 4-8% of guests use their phones to order food and drink in the tabletop ordering enabled locations. The low customer engagement rate is of course an issue for the restaurateur and their serving staff. With low engagement you're not really upgrading anything – you're just adding another thing to watch over in the already hectic restaurant environment.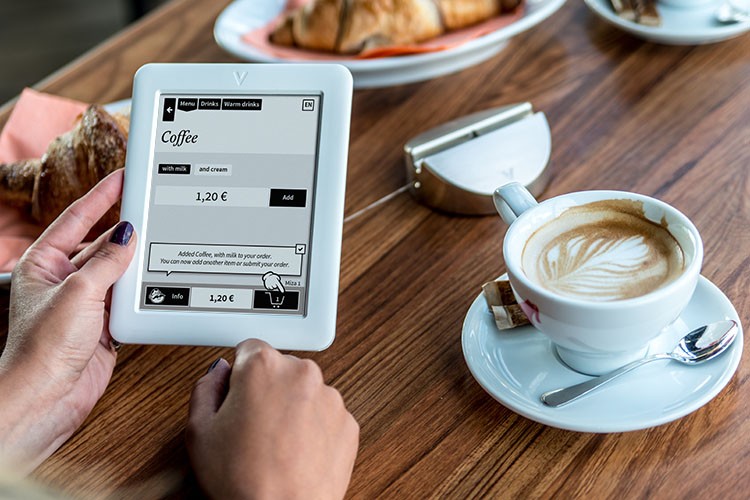 Ordering on Geoffrey, the electronic paper menu.
Customer engagement, o where art thou?
Almost every guest picks up a menu after it sits down to figure out what to order, so if you want customer engagement you need to augment the menu. This is where dedicated devices really shine.
A restaurant could give out tablets with one of the smartphone apps, but have you ever seen typical shelf life of a 400$ iPad in an environment where people spill their drinks daily? Granted that the shiny shiny device didn't get stolen or that it didn't run out of battery juice before somebody spilled their beer over the device.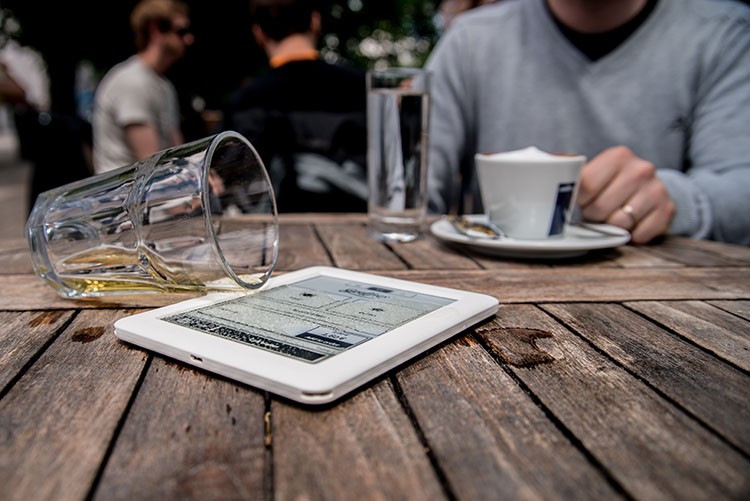 The V-tablets are completely waterproof and can take a spill without any adverse side effects.
The restaurant is an environment that's perfect for our V Tablet devices. Thanks to their superb e-paper screens, the devices can work more than a week on a single battery charge and are superbly visible in the screeching sun of all those beer gardens and outdoor cafes. The device itself is also completely waterproof so it can be dipped in a pint of beer without any adverse side effects.
Enter Geoffrey
We tested claims of high customer engagement with Geoffrey, our tabletop ordering system. We've deployed the system across restaurants, cafes and bars and measured the usage amongst the guests as well as the impact on the restaurateur's bottom line.
Results were tallied and a dedicated system will get 93% of guests to order with the devices, which based on our statistics nets you 10%-20% higher revenues. This is huge in an industry that works with typical profit margin of ~3%. Even more surprisingly, every third customer decided to answer a couple customer satisfaction questions, giving owners insight on what their customers think.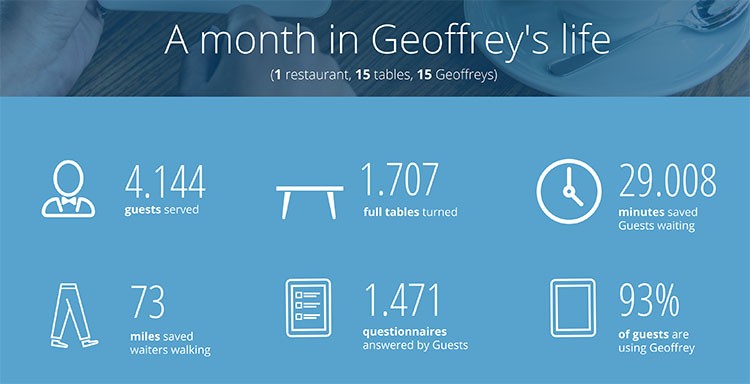 A month in the life of Geoffrey: 1 restaurant, 15 tables, 15 electronic paper menus.
The important thing to note regarding high customer engagement is that it enables restaurateurs to embrace the Restaurant 2.0 concept where normal tables get replaced with smart tables and where serving staff can focus on their guests' well-being instead of acting as a simple relay between the menu and the kitchen. This is where "catch phrases" like BigData and real-time business analytics really make sense.
Our experience with dedicated devices is fully consistent with latest developments where we see chains like Chili's and Applebee's opting for full devices mounted on tables over finicky smartphone apps.
What's next?
Tabletop ordering systems like Geoffrey are revolutionizing the hospitality industry that succeeded staying mostly dormant in terms of technology for the past 25 years. This has really changed, restaurateurs have really embraced the technology and the number of Restaurant 2.0's is going up quickly (and mostly with dedicated devices).
It is interesting to see that the hardware revolution not only brought huge numbers of new gadgets to Kickstarter but it also made us rethink the mantra "smartphones and apps will rule the world". In some cases the phone/tablet simply cannot cut it due to environmental requirements and entrepreneurs these days are not afraid to create products which include some hardware as well.