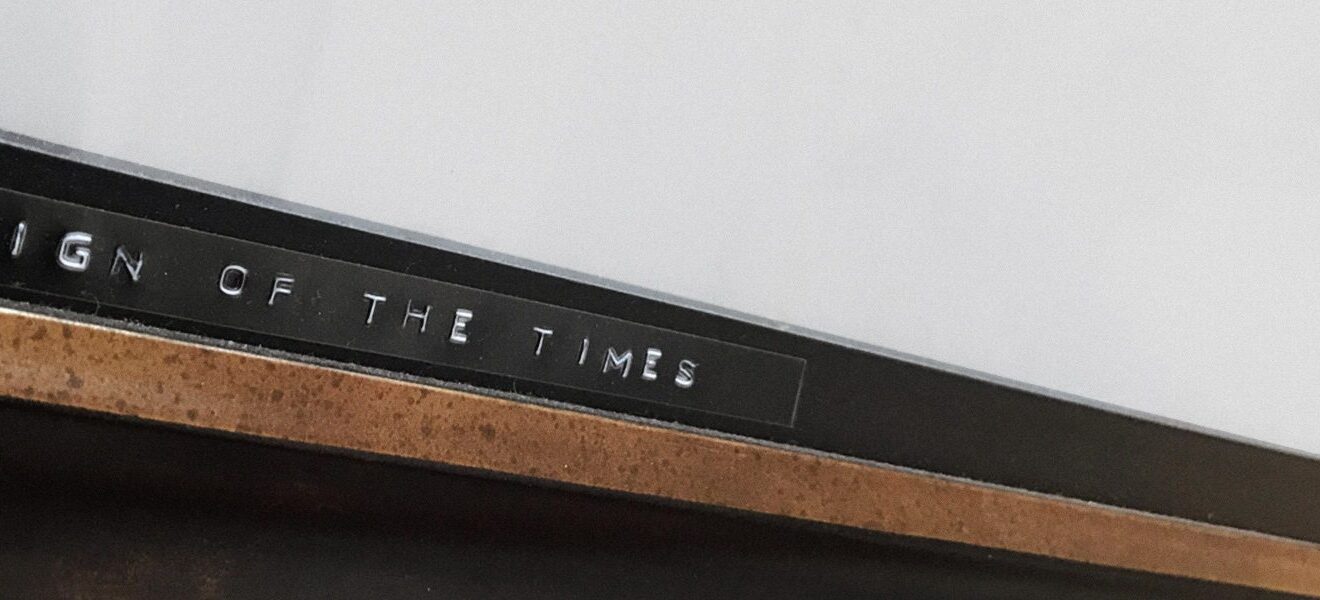 The Twitter feed of Donald Trump has inspired everything from political commentary to memes and even museum exhibits. It has also sparked the creativity of one of our users, who has created an electronic paper artwork for his living room displaying the latest tweets from the US president.
It was the kind of line that is usually reserved for the launch of a new iPhone.
This past weekend New York City saw thousands queue up to visit the 'Donald J. Trump Presidential Twitter Library', a three-day pop-up museum of Twitter quips from the 45th US president. The brainchild of Comedy Central's The Daily Show, the snarky showcase memorialized Trump's posts from 2009 onwards. The aim, according to Daily Show host Trevor Noah, was to give "context to the tweets." 
Peder Dinkelspiel understands completely.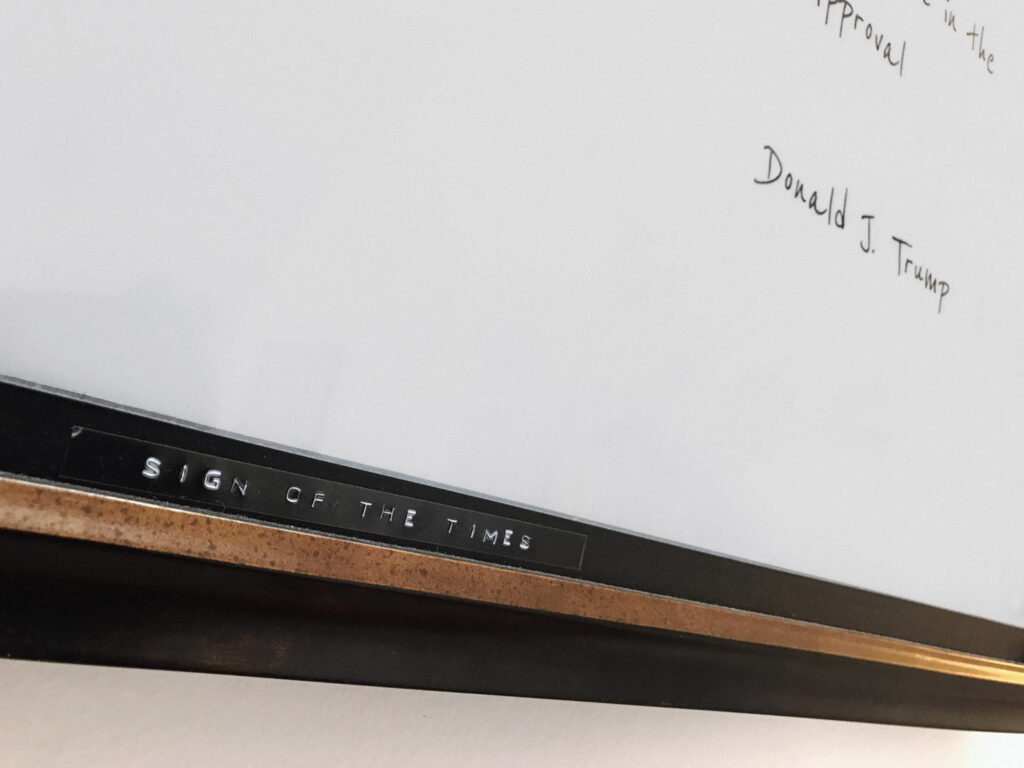 Sign of the Times, Visionect
A tech enthusiast, Dinkelspiel set out to create a digital artpiece for his living room. "The important thing was that it had to in no way appear as if electronics were involved," he remembers. "It had to seem as if what I saw had always been there."
A 32-inch electronic paper display, named 'Sign of the Times', shows the latest tweet from President Donald Trump.
After bouncing around ideas, he turned to electronic ink, impressed with its visibility, lack of glare and energy-saving properties.
Using Visionect's 32-inch eink development kit, he set to work, creating a simple web page that would display the latest tweet from a specified account or the latest mention matching a search string. The e-paper display was then framed and hung on the wall, set to update via Wi-Fi every five minutes.
By this time, however, the idea behind the project had evolved. "We were now in early 2017," says Dinkelspiel, "and USA now had a president tweeting."
Dinkelspiel modified his frame, now named 'Sign of the Times', to no longer display breaking news or random status updates, instead showing the latest tweet from President Trump.
Much like the Daily Show would later do, the display was developed to offer a thought-provoking social commentary, "with each tweet creating a news story". This is communicated on a versatile technology that is rugged, requires very little power and can be used and viewed with ease, refreshing in real-time to effortlessly keep up with all content updates.
All this in a paperlike experience accessible from the comfort of Dinkelspiel's Stockholm living room.
---
Wanna have Trump in your living room as well? Shoot us an email!
'Sign of the Times' is now available for purchase! Click here to get your very own high-tech influencer picture frame. 
---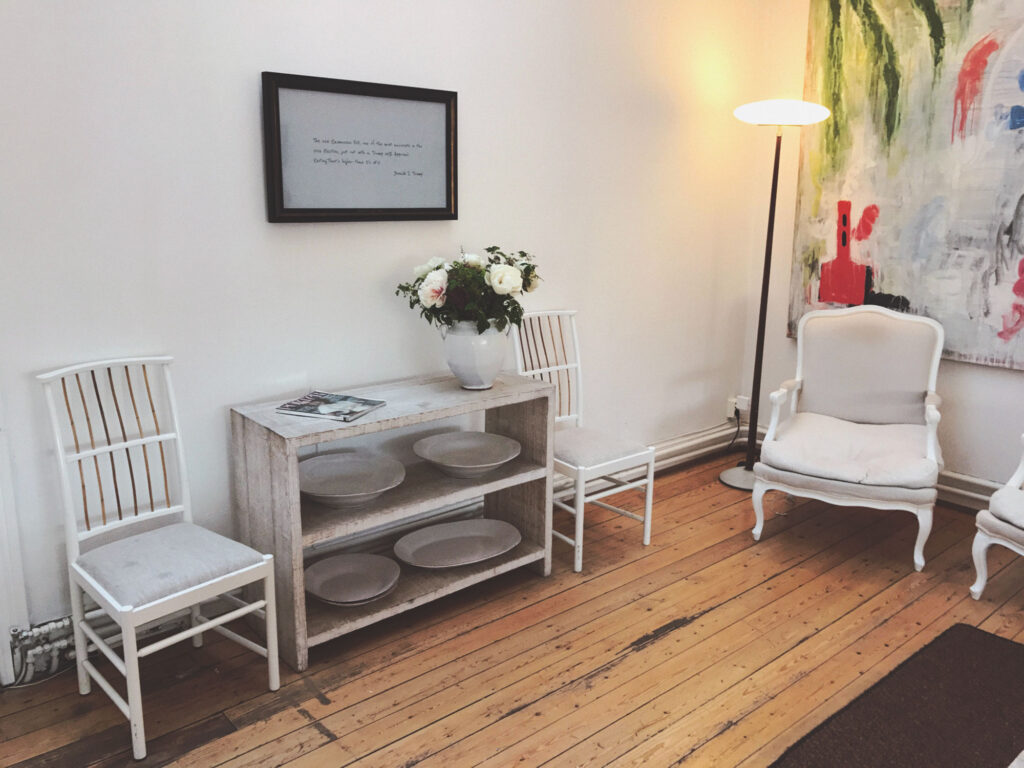 Sign of the Times, Visionect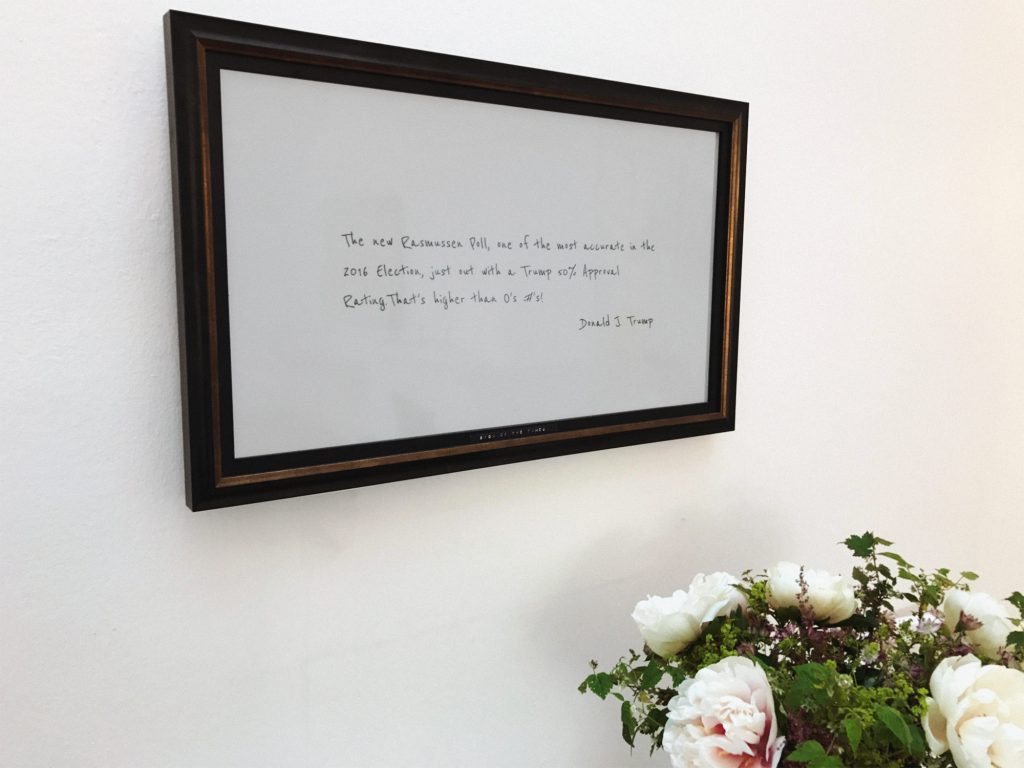 Sign of the Times, Visionect