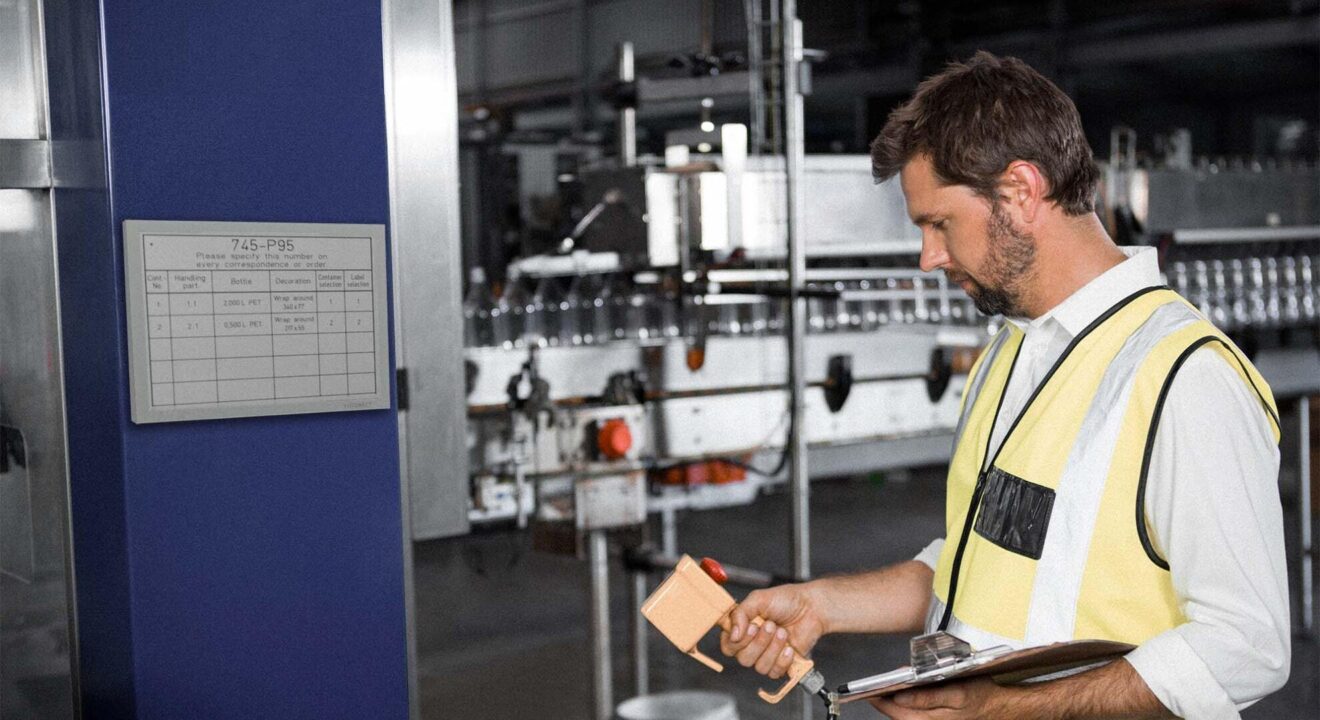 Modern manufacturing facilities face a number of challenges. They need to maximize efficiency while sustaining quality and ensuring they don't make mistakes. They want to minimize costs while maintaining a high level of safety. To achieve this they strive to improve communication across all levels of the factory which can be especially tough in complex manufacturing plants.
In this article, we will take a closer look at how e-paper technology and Visionect devices can help manufacturing facilities address all of these challenges and streamline their operations.
Why e-paper devices are a great fit for manufacturing facilities
Enhanced efficiency and accuracy
Visionect's Place & Play devices can easily be installed on the factory floor without any wiring. There they provide workers with real-time information about production schedules, work orders, and quality control checklists. This helps to reduce errors and improve the overall efficiency of the manufacturing process.
Additionally, e-paper displays are easier to read from extreme angles and when exposed to direct light compared to LCD and LED displays, which ensures reliable visibility of key information.
Reduced costs
E-paper displays are remarkably energy-efficient, which reduces energy costs. They also have a long lifespan, which means that they do not need to be replaced nearly as often as LCD or LED displays. Additionally, Visionect's Place & Play devices don't require a complex setup, eliminating installation costs and they reduce the need for paper-based signage, saving money in the long run.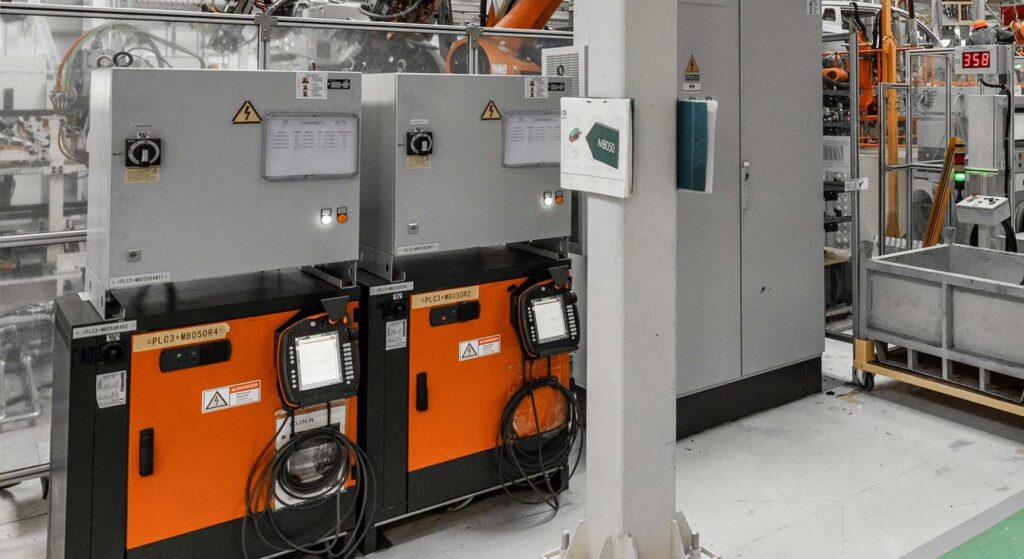 Better communication
E-paper displays can be used to communicate with workers in real-time. Place & Play devices can be used to display messages from supervisors or allow workers to submit feedback and suggestions. They can be used to display real-time data from production lines and other equipment. This can help workers to stay up-to-date on the latest information and to identify any potential problems.
Visionect also provides the Place & Play Content Management System (CMS) which further elevates your organization's communication. It makes it easy to tailor and schedule your content as well as integrate the displays with your data sources. You can read more about the Place & Play CMS here.
Improved safety
Place & Play devices can be used to display safety instructions and warnings in key places.
That can be especially important in spots where safety information must be regularly refreshed and where it's hard to install displays that require any cables or drilling.
Emphasized sustainability
E-paper displays are more sustainable than traditional LCD and LED displays. They consume 99% less energy and last much longer as they only activate when the info on their screen is refreshed. Place & Play devices are the green choice for companies that care about sustainability.
Case study: How E Ink uses Place & Play devices to streamline its manufacturing process
E Ink is a company that develops and manufactures e-paper displays. Manufacturing e-paper is a lengthy process with strict controls to ensure quality at each step. One small error can result in an entire batch of products being scrapped or reworked.
E Ink saw a need to improve how they manage the chambers used to control product moisture levels. Previously, managers hand-wrote the details of when different batches went into the chambers and when they were due to come out, with notes displayed on dry-erase whiteboards. This system lacked checks to ensure that chamber conditions were correct.
Visionect's Place & Play devices enabled E Ink to easily integrate and adapt digital signage into its manufacturing process flow and data management systems.
Today, bar codes on rolls of E Ink material are scanned before they are put into chambers. This data is combined with other record-keeping information for display on the Place & Play device mounted next to the chamber.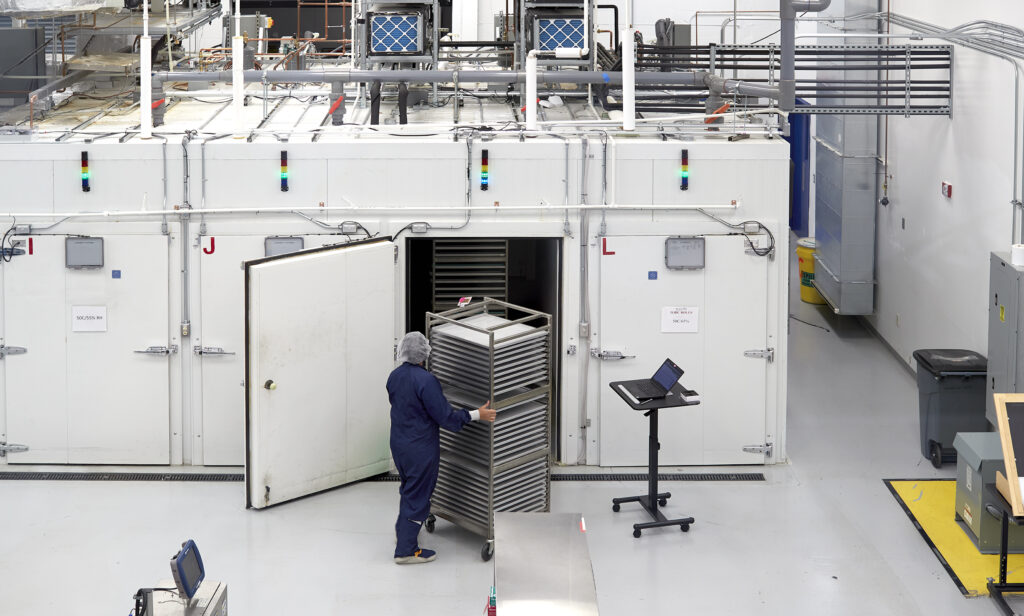 E Ink also developed a feature called Recipe Match. It automatically checks if all the entered parameters will result in a perfect batch of products. If anything is not 100% right, an error message appears on the Place & Play device that helps operators proactively identify problems.
Visionect's e-paper displays are helping E Ink to streamline its manufacturing processes, ensure quality, and lower costs. Having clear, accurate information that everyone on the manufacturing floor can see in real-time makes processes easier to follow and errors easier to spot before they lead to expensive mistakes.
Place & Play devices utilize Visionect's top-quality e-paper technology and they bring a lot of value to manufacturing facilities. They enhance communication, and efficiency as well as emphasize the importance of sustainability. If you are looking for ways to streamline your manufacturing operations and workspace, contact our sales team and discover the ideal Place & Play solution for your needs.