Visionect with JOAN at Midwich Technology Exposed: Room booking that gets you into a Mercedes AMG
Visionect attended Technology Exposed 2017, October 11–12, the flagship event of the year hosted by JOAN's Official Distributor for the UK, Midwich Ltd. Happening at Mercedes-Benz World, Surrey, the final tally saw over 1,000 visitors, never-before-seen products and cutting-edge technology from Midwich vendor partners. At the event, Visionect officially released its JOAN Board, an advanced 13-inch room scheduling display from the line of JOAN meeting room booking solutions, for the first time for the UK.
Developed on Visionect's revolutionary Place & Play signage concept, JOAN Board is a breakthrough product, disrupting the signage market with its simplicity and ease of use.
Since it is a completely wireless display, it can be installed anywhere, running uninterrupted for up to 12 months on the amount of energy used to brew a single cup of tea.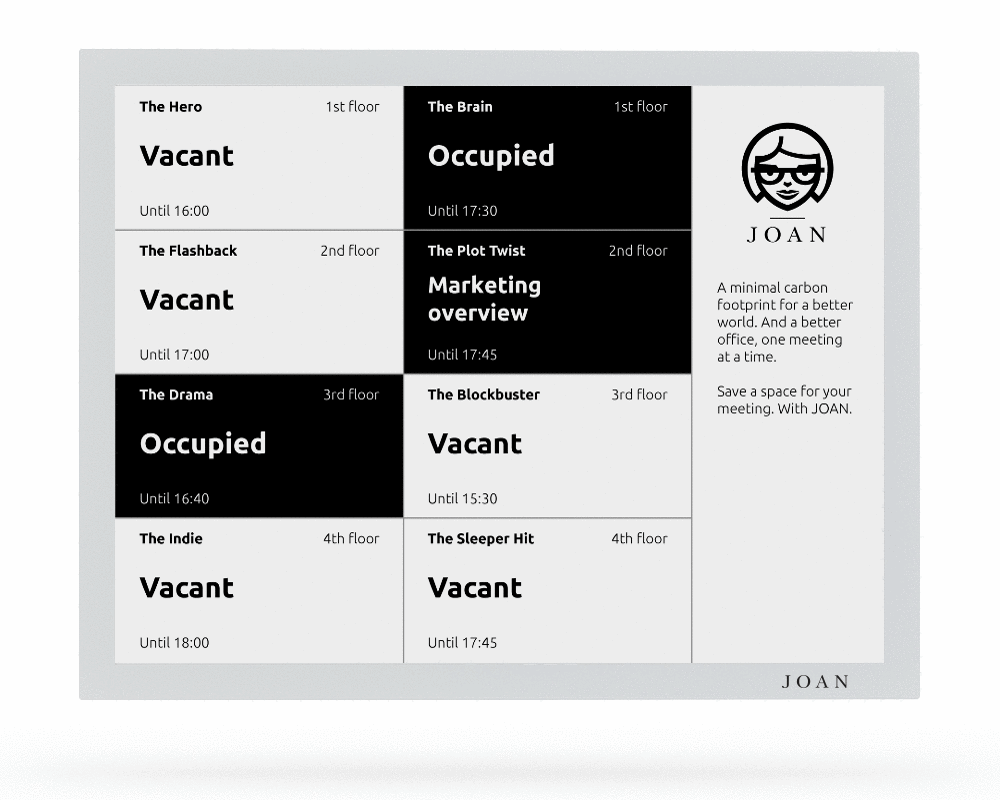 JOAN Boards shows up to 9 meeting rooms, their status (Vacant/Occupied) and location, effectively solving a problem for reception areas and lobbies, providing information to employees on the go when they need it the most and acting as wayfinding for guests coming in for meetings.
During the showcase, guests could see JOAN Board devices in action and have their picture taken wearing an assortment of funny accessories and then popping their head through a giant JOAN Board canvas, which earned one lucky winner, Samantha Bews from Pacific Ltd., a 1-Hour Mercedes-Benz Driving Experience with the animalistic Mercedes-Benz SL 63 AMG.
Recording double-digit growth, international expansion, new solution zones and a host of specialized workshops, Tech Exposed 2017, the Midwich flagship event of the year, saw great success.
The Midwich JOAN Board Promo Bundle
To celebrate JOAN Board's release at Tech Exposed, Midwich prepared a special JOAN Bundle to fit the needs of any business and create a seamless meeting room experience. More information on the special JOAN Bundle can be found here.
Jon Dew-Stanley, Director of Midwich Technical, commented: "We continue to raise the bar to meet and exceed our clients expectations. 2018 promises to be an exciting year for Midwich and we look forward to bringing to market an enhanced number of services to deliver outstanding audio visual projects with our partners, that are supported with aftercare and warranties that lead the industry".
---
About The Midwich Group Plc | The Midwich Group is JOAN's Official Distributor for the UK, Distributor of the year 4th time and running, a specialist AV and document solutions distributor to the trade market, with operations in the UK and Ireland, France, Germany, Iberia, Benelux and Australasia. The Group's long-standing relationships with over 300 vendors, including blue-chip organisations such as Samsung, LG, Epson, and NEC, support a comprehensive product portfolio across major audio visual categories such as large format displays, projectors, digital signage and printers. | www.midwich.com
---