Visionect is a decade-long market leader in developing ePaper solutions. Here's why.
Visionect, 20 Jul 2021
There are two ways in which technology can be truly valuable. The first (slightly more meta) way is to use it in further developing advanced technologies. The second way is to create solutions that improve our everyday lives. Without leveraging technology's societal impact and applying its power to solve our challenges, what would be the point of developing them in the first place? 
With ePaper, it's no different. 
At Visionect, we've been on a decade-long journey to create value from ever-advancing E Ink solutions. It's been quite the ride, from prototyping products that never saw the light of day to masterminding ePaper tablets used across many industries (and in almost every country on the planet!). 
Buckle up and peek behind the curtain of the most successful E Ink technology applications.
Trendsetters in the ePaper industry: How we stay ahead of the curve
Before diving into the value that we bring to ePaper, let's take a look at the relationship between our applications and E Ink's advancement of technology. 
E Ink is the pioneer of ePaper technology. While the majority may know their technology from the popular commercial application Amazon Kindle, it doesn't stop there. In the past few years, their technology has progressed from ePapers with a slow refresh rate and ghosting, to multi-colored displays with advanced use cases. E Ink's state-of-the-art, low-power, anti-glare technology is perfect for applications where standard LCDs (and other screens) fail. 
And that's where Visionect comes in.
By keeping our fingers on the pulse of new technological advances, we're able to conceptualize, create, and deploy solutions with the latest E Ink technology in place. We understand that time-to-market is crucial when deploying the latest tech, which is why we've been a trusted partner in testing E Ink technology before it hits the market. 
Testing the technology beforehand gives us a much-needed playground to implement solutions aligned with E Ink's vision of its applications. Lately, we've been testing 3-pigment ink systems… 
E Ink technology tested and deployed in Visionect solutions
As we've just mentioned, we work with advanced technology developed by E Ink and add to its value by building innovative products with consumers in mind. 
Here's the technology that we're currently working with.
Two-pigment ink system
The two-pigment system is made up of millions of tiny microcapsules, which contain negatively charged white particles and positively charged black particles in a clear fluid. The particles become visible when a positive (or negative) electric field is applied. Depending on positivity/negativity, black ink either becomes visible to the viewer or it doesn't.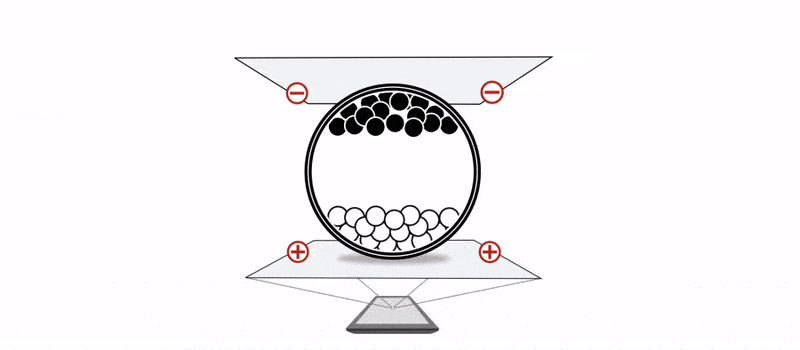 We use this system for our bus stops and workplace digital signage. 

Four-pigment Ink System (ACeP™
)
Advanced Color ePaper (E Ink ACeP™) uses four colored pigments to produce full color at every pixel, without the use of a color filter array (CFA). Despite the advanced technology, colored ePaper maintains its ultra low-powered structure and paper-like readability.

The future application of a multi-pigment ink system 
The future looks bright for colored displays, as we continue to work on different applications for day-to-day life. 
Workplace management solutions
Our low-powered ePaper device, Joan 6, can be found in thousands of offices globally. We introduced them a couple of years ago, recognizing the pressing need for organizing meeting rooms, workplace wayfinding, and optimizing meetings without interruptions. 
While the device is slick and smart in its design, adding color would elevate the experience by color-coding the meeting room's status: green for available and red for booked. This addition would inform employees of its status without them needing to pay much attention to the words on the screen. It would even make it immediately clear from afar. 
With larger workplace displays, such as Joan 13, we eliminate the constant search for free meeting rooms by showing the availability of them all in one place.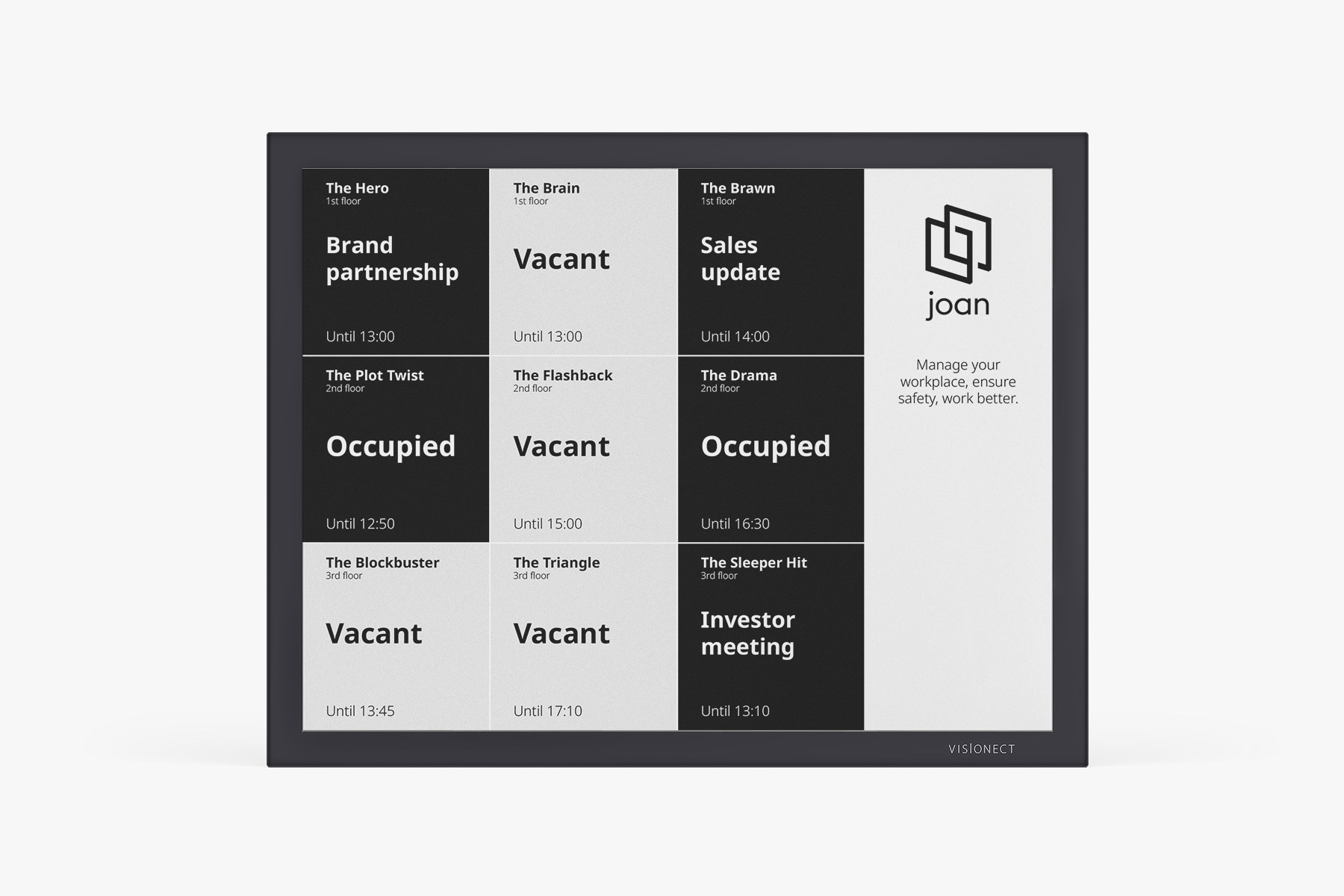 Now imagine this product with an Advanced Color ePaper. The colored areas would catch the attention of any bypasser, making it virtually impossible to walk into an already booked meeting room. 
These large ePaper displays are versatile in their use. When not showing wayfinding information in your front lobby, they are perfect for displaying important corporate information, infographics, or business results. 

Smart City Solutions
Due to its low-powered structure, ePaper solutions are ideal for public transport signage – they can be powered with the help of solar cells and they update in real-time. This uniqueness gives them the edge over standard LCDs or paper. 
With colored ink, the signage's application gets expanded even further, from showing timetables and displaying colored maps to color-coding different rail routes. 

Advertising solutions
Let's face it – two-colored ink would look a bit boring for the largest brands. What's Coca-Cola without its signature red color? But the main benefit of adding colors to public screens extends further. 
In the majority of places, public screens are partially funded by advertising money. When brands have the interest to advertise, this can speed up the process of setting up screens that show useful information and ads. 
Due to its energy-efficient nature, ePaper is perfect for public displays… and adding a dash of color would certainly make them a more interesting investment!
The world is better in color
Being trendsetters in ePaper technology means that we're constantly testing new technologies and creating the best solutions or applications of E Ink systems. 
Without a doubt, colors are definitely next in line. 
Subscribe to our newsletter if you want to learn more about colored ePaper and Visionect's upcoming solutions.