From Brookline to Atlanta, it's been a good year for Visionect-powered Soofa signs
Visionect, 19 Dec 2019
Innovation is fast to market with the right partners in place, even with demanding projects such as integrating people with their environment. Read how Visionect and Soofa have been reinventing the urban landscape in 2019, creating the cities of tomorrow today. 

No man is an island entire of itself, wrote John Donne way back in 1624. The powerful words hold as true as they did centuries ago, be it applied to humanity as a whole or, as in this case, a powerful partnership of two high-tech companies that have joined forces to create people-focused technology that brings communities together. Think peanut butter and jelly, Gilbert and Sullivan, Lennon and McCartney – and Visionect and Soofa.  
A spinoff of the MIT Media Lab, Soofa is dedicated to creating the neighborhood news feed with screens everyone can see and anyone can use; a perfect match for Visionect, the premier designer and developer of ultra-low-power digital display solutions. The result of the cooperation are the electronic paper Soofa Signs that are installable with just four bolts and are powered by Visionect technology.
Taking over the US, the solar-powered communication hubs blend useful transit and neighborhood information with relevant local messaging and advertising. This is where they brought communities together in 2019. 
Empowering the local business in Brookline
Soofa Signs arrived in Brookline, Massachusetts in late September 2019 with a pilot deployment in the town's commercial district.
Installed in some of the city's most frequently visited and walkable neighborhoods like Coolidge Corner, St. Marys, Washington Square, and Brookline Village, these "untypical bulletin boards"  improve outdoor neighborhood communication and empower the local business community. The neighborhood news feed they display shows a mixture of upcoming events (both municipal and private), local business promotions and mobility options available to passers-by – from arrival times of the public transport system to public bike availability and wayfinding to places of interest nearby. 
As State Representative Tommy Vitolo put it at the Coolidge Corner launch of the technology: " is part of what you need to do to keep people on the streets talking to each other, engaging with our businesses and community as a whole."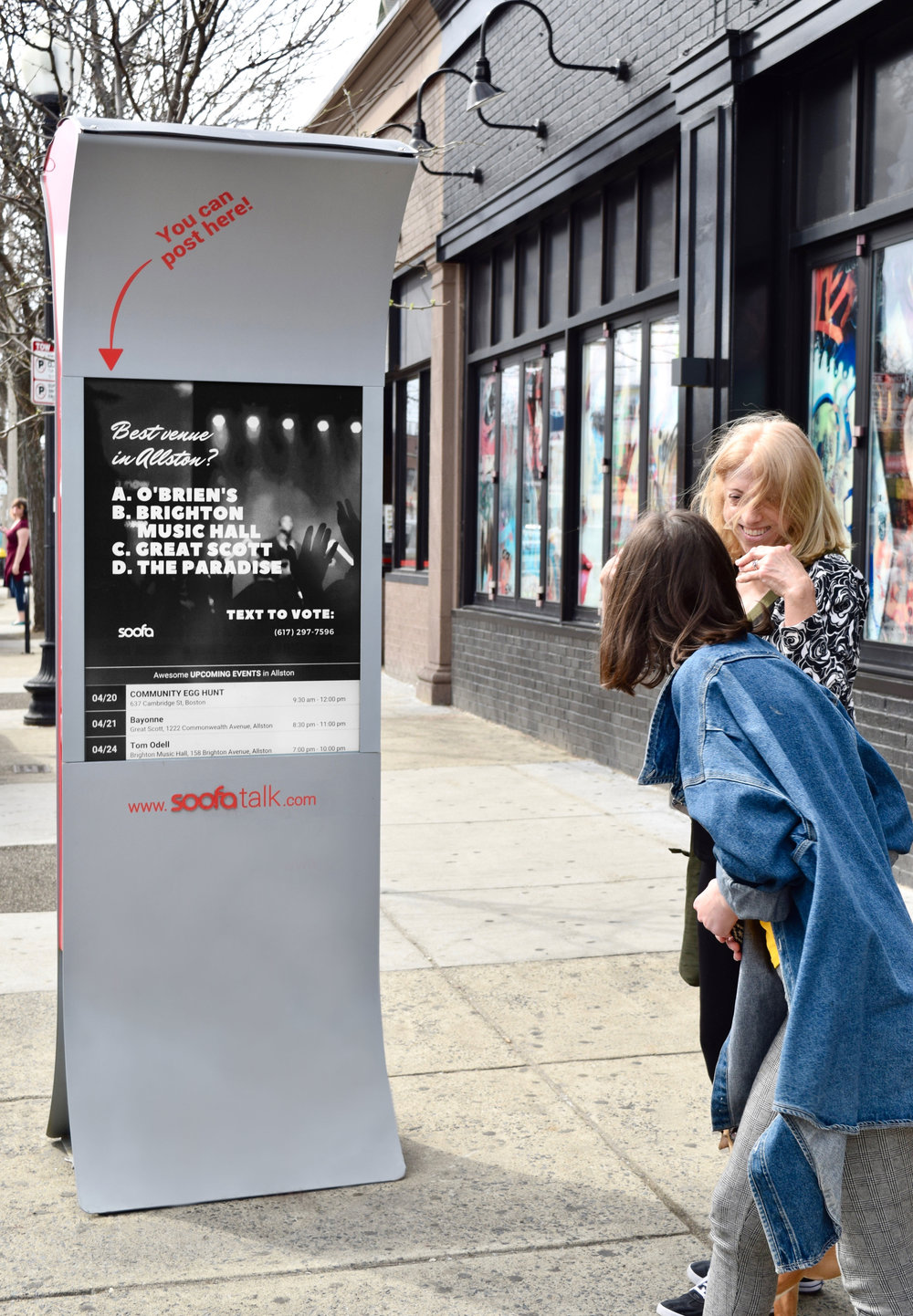 E-paper signs installed in some of Boston's most frequently visited and walkable neighborhoods.
Reaching visitors in Super Bowl Atlanta
Along with Boston and Las Vegas, Atlanta was selected as a strategic early adopter city of the Soofa Sign in late 2017 to enhance overall citizen engagement and bridge the gap between digital and physical communication. First installed in five select neighborhoods, the Soofa network proved such an important asset that the number of signs was more than doubled in February 2019 to cover 30 installations. Just in time for Super Bowl weekend!
The new Soofa Sign locations were determined based on pedestrian traffic and the anticipated influx of visitors leading up to and during the Super Bowl. Used as a real-time messaging platform on the most heavily trafficked streets, the Signs displayed up to the minute metro arrival times, connecting with new and potential riders, and enhanced the digital communications platforms that Atlanta had already put into place – reaching also those Super Bowl fans that had not connected with the city online. 
Putting people first in Boston
In 2018, the first Soofa Signs were installed at Boston Seaport, the neighborhood that is transforming Boston's waterfront. A year later, the network was expanded to even better promote local events, news and messages from nearby businesses, bolstering community identity in the sleek, modern new district. 
Later this year a dozen e-paper signs were also installed across other Boston communities, albeit temporarily. The Signs are part of the Beta Blocks process, exploring the public value of technology in Boston. Throughout 2019, Soofa Signs gathered resident input to help ensure that new tech makes life better for people in Boston, inviting the community to share their perspectives on how new urban technologies should be used in their neighborhoods. We cannot wait to see the amazing ways in which they will bring the community together in 2020!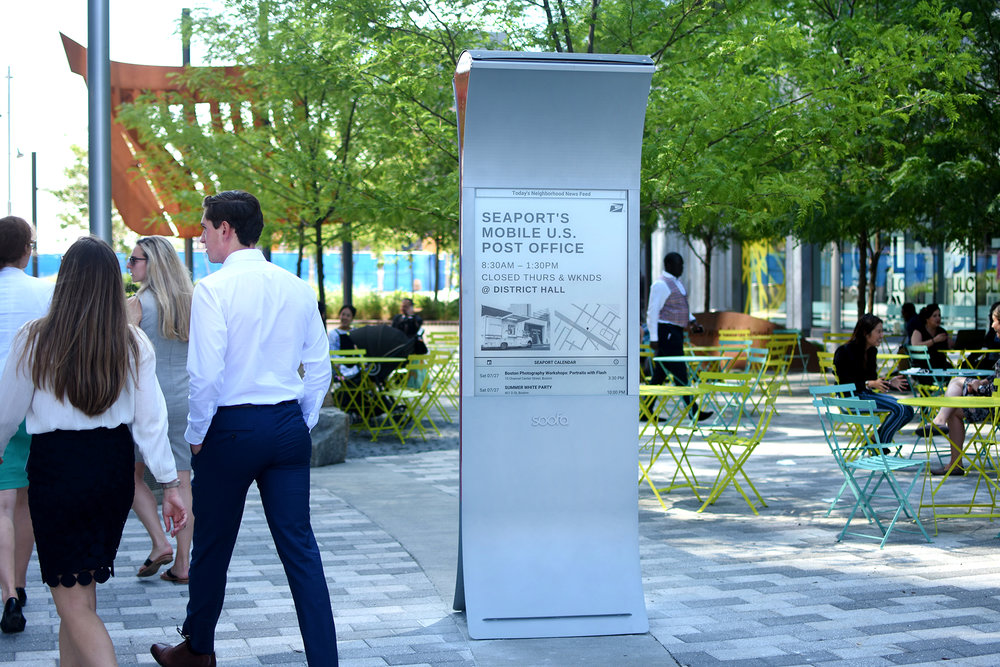 In 2018, the first Soofa Signs were installed at Boston Seaport.