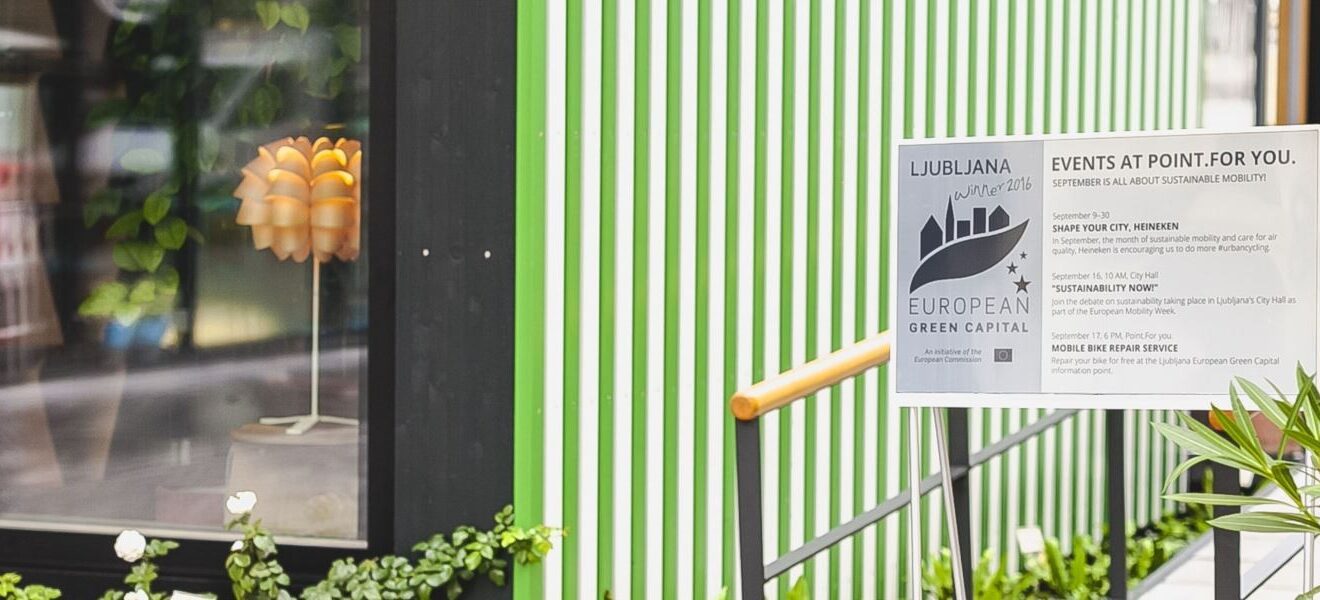 Nestled between Venice, Vienna and Budapest is Ljubljana, a small modern city taking big steps in creating a sustainable living space for its citizens. The perfect example are the Visionect-powered notice boards installed in front of the Ljubljana Town Hall, promoting the city's green events.
Ljubljana, the capital of green
A city "that will surprise you and exceed your expectations", Ljubljana has long been at the forefront of green and environmentally-friendly.
The capital of Slovenia, the world's first green country with 46% of its territory covered by forests, Ljubljana boasts 542 square metres of public green space per resident, natural drinking water and a pedestrian-only city centre closed for traffic.  Ljubljana is distinguished by a sophisticated waste management system with the largest share of separately collected waste among all European capitals (65% in 2016). Dedicated to the promotion of sustainable energy, Ljubljana has even been named one of the Top 100 Sustainable Destinations today.
The European Green Capital 2016 has successfully tackled the environmental challenges of living in urban areas through the use of innovative eink technology.
No wonder then that the city is this year's European Green Capital 2016, having successfully tackled the environmental challenges of living in urban areas through the use of innovative technology.
A perfect example? The Visionect-powered electronic paper billboards promoting events at the Ljubljana Green Capital information point.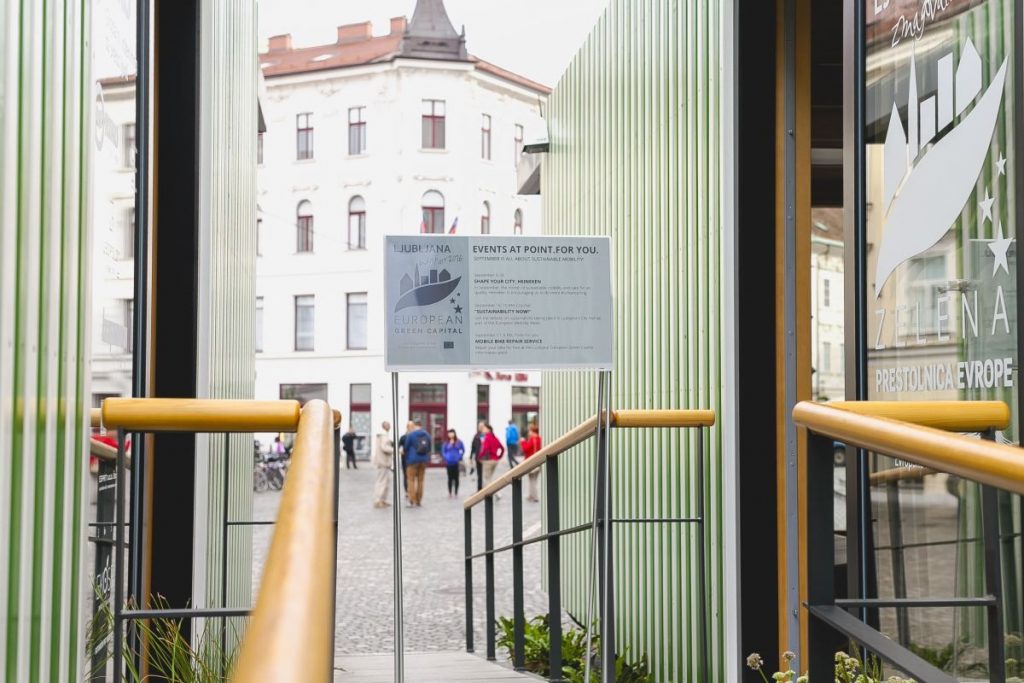 The electronic paper billboard in front of 'Point.For You.', the Ljubljana Green Capital information hub. Join one of the many city-wide events aimed at promoting environmental awareness and sustainable urban living.
Smart city on electronic paper
The billboards are not Ljubljana's first foray into energy-saving electronic ink.
Searching for the most sustainable and energy-friendly solution, Ljubljana had previously already installed advanced passenger information displays developed on e-paper on select bus stops in the city.
The new billboards join the electronic paper real time arrival displays the city has already installed on select bus stops.
Powered by Visionect hardware and software, these electronic paper displays have two key features that fit perfectly into the production of smart city information systems: visibility and extremely low energy consumption. An electronic paper sign will feature impeccable readability in less than ideal light conditions, such as under direct sunlight. An additional advantage is the fact that the screen will use electricity only when changing content and will use no power to retain an image already displayed.
The result is a display that emits no light pollution and can easily be powered by alternative energy sources, digitalizing city services without compromising the city's sustainability goals.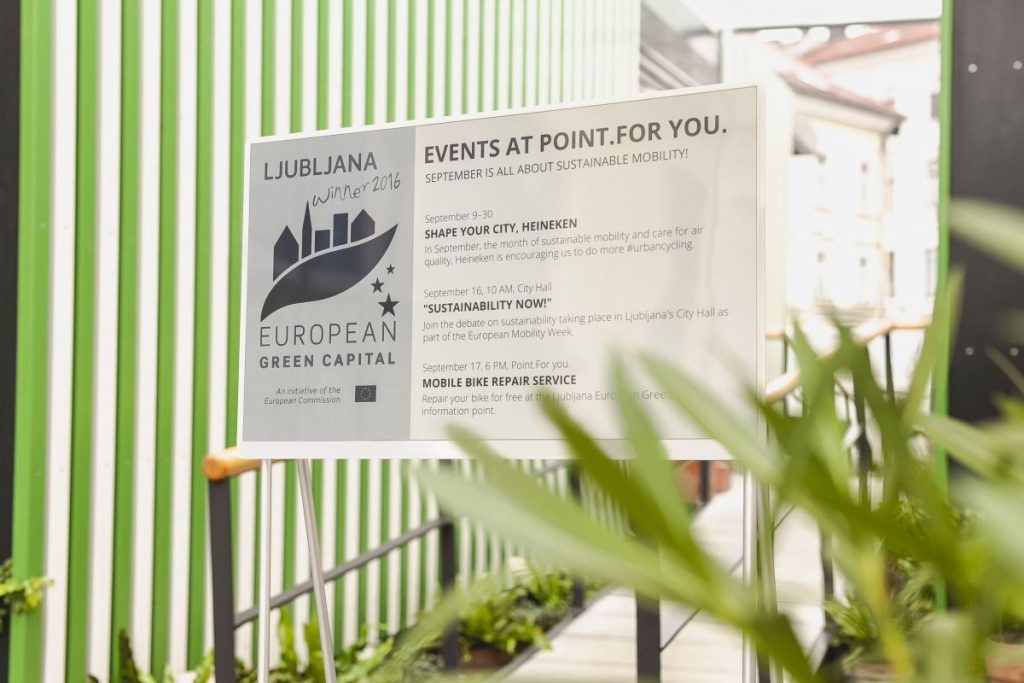 Electronic paper signs bridge the gap between the theoretical – the provision of public information – and the practical – the implementation of smart integrated solutions that result in a sustainable and usable information system.
Transcending boundaries
With this minimal environmental impact in mind, Ljubljana turned to e-paper again when selecting the technology to promote the city activities in the European Green Capital year.
Powered by Visionect electronic paper technology, the 32-inch electronic paper billboards located in front of Ljubljana's Town Hall, part of the 'Point.For You.' information point, keep citizens up to date with all of the city's events promoting green and sustainable living.
Eink signs open up a whole new horizon of usability, providing end users with accessible, responsive information and helping individual city sectors transcend their boundaries.
The billboards emit no glare and connect wirelessly, refreshing the information displayed in real-time, in a hassle-free online process taking place at a central location. Better yet, they use 99% less power than an LCD or LED screen, supporting Ljubljana's strive for green.
And it's not just sustainability that wins here. Eink signs open up a whole new horizon of usability and innovative personalized communication with the public. Providing end users with accessible, responsive information, they can aid individual city sectors in transcending their boundaries, integrating with other services at a city's disposal and fully connecting people, processes, data and events.
From always current event information, to public transport arrival times, location-specific updates and dynamic wayfinding, the sky's the limit when it comes to e-paper. The easily installable technology can thrive in even the most demanding of locations, supporting a city's transition into a sustainable, interconnected living space. Talk about smart!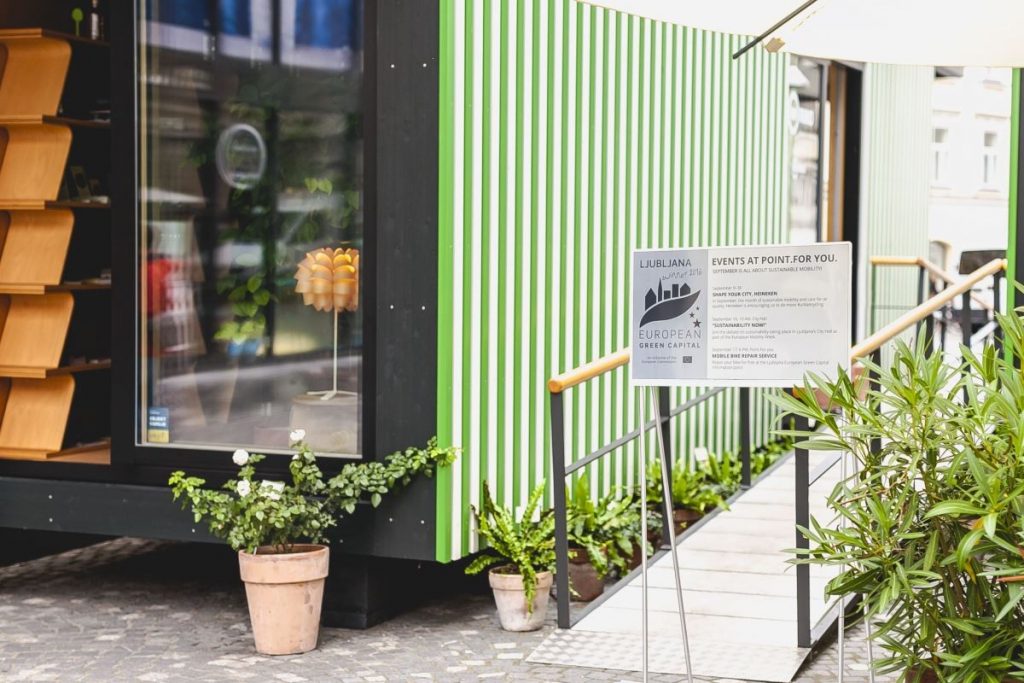 Visionect's electronic paper signs are remotely updatable, energy efficient and can run on alternative power sources – and are as such installable at even the most demanding of locations.