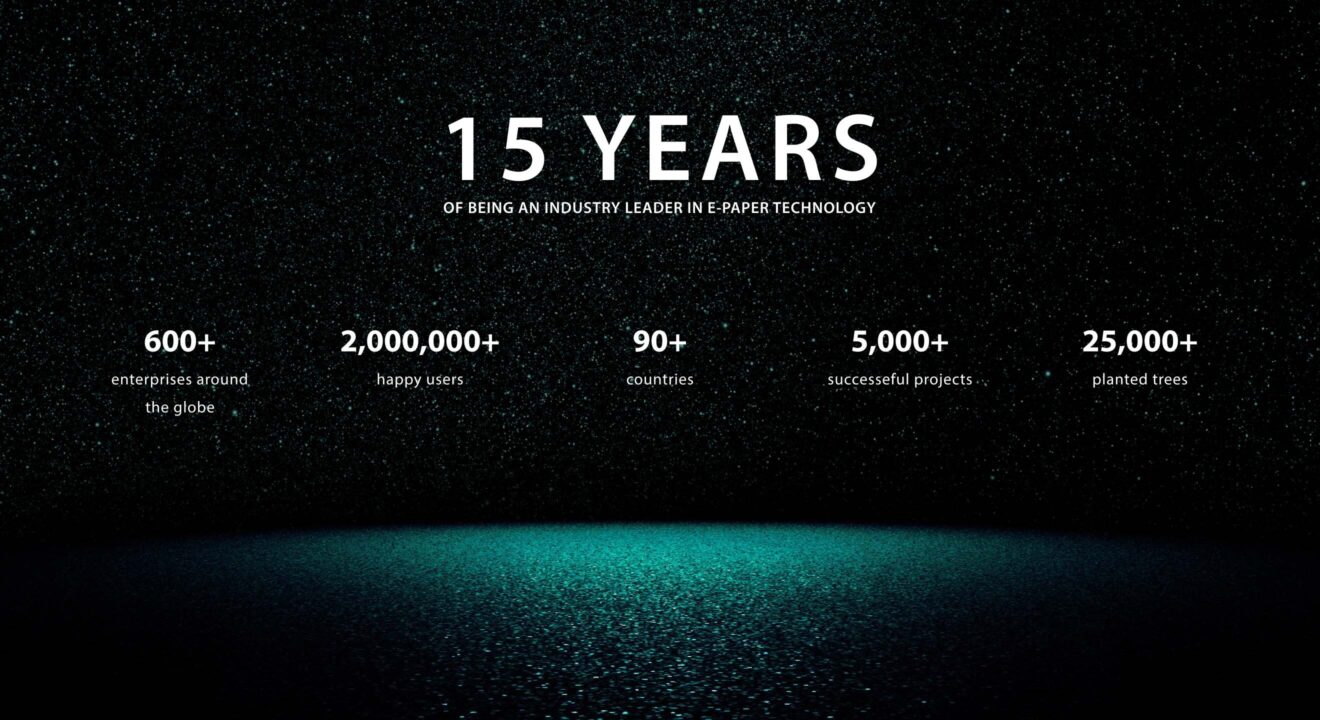 Nothing beats experience." Visionect was built on this ideal with the understanding that only the best experts in the industry can design and produce the most innovative solutions. With more than a decade behind us, Visionect has become a leader in low-energy, sustainable signage.
Over the past fifteen years, we've changed the way organizations, companies, and individuals deliver information. We take pride in every Visionect product — and it shows. Our products have won multiple prestigious awards for their outstanding designs and the company couldn't be more proud of where we are today.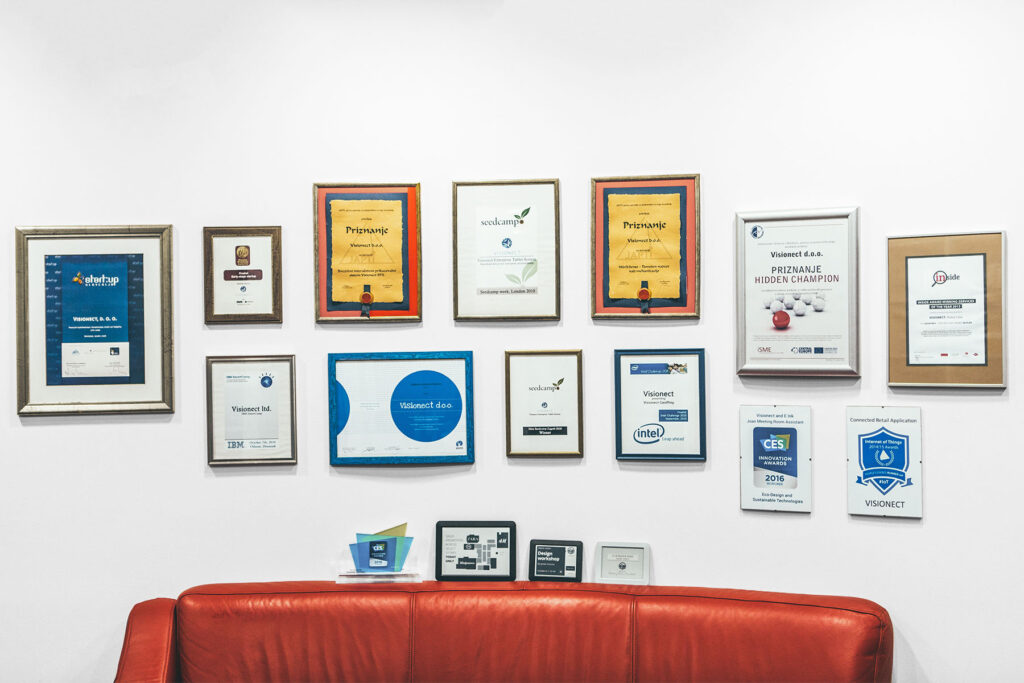 Where it all began
It all started with a love for electronic paper technology. Co-founders Luka Birsa, Rok Zalar and Matej Zalar foresaw the flexibility and adaptability of electronic ink, knowing it was a technology unlike any other. From there, ideas bloomed. The founders saw the world from a new angle, realizing the potential for electronic paper in applications around the world.
Luka and Rok came from technical backgrounds while Matej was the business mind of the team. First, the trio dreamed up e-paper price labels (eSL) for stores and shops. Yet, e-ink price tags were already offered by more than one big player on the market. They needed a new, fresh idea — one that hadn't been imagined before.
At this point, the Visionect team had grown, adding more minds and imagination to the playing field. The first idea they followed through on was a digital menu system for restaurants, a solution named "Geoffrey." Despite Geoffrey's success, the team of professionals knew e-paper had the potential to take off with even more momentum. So, they juggled other ideas on the side.
"We started exploring what other venues we could apply these technologies to."
— Luka Birsa (CTO)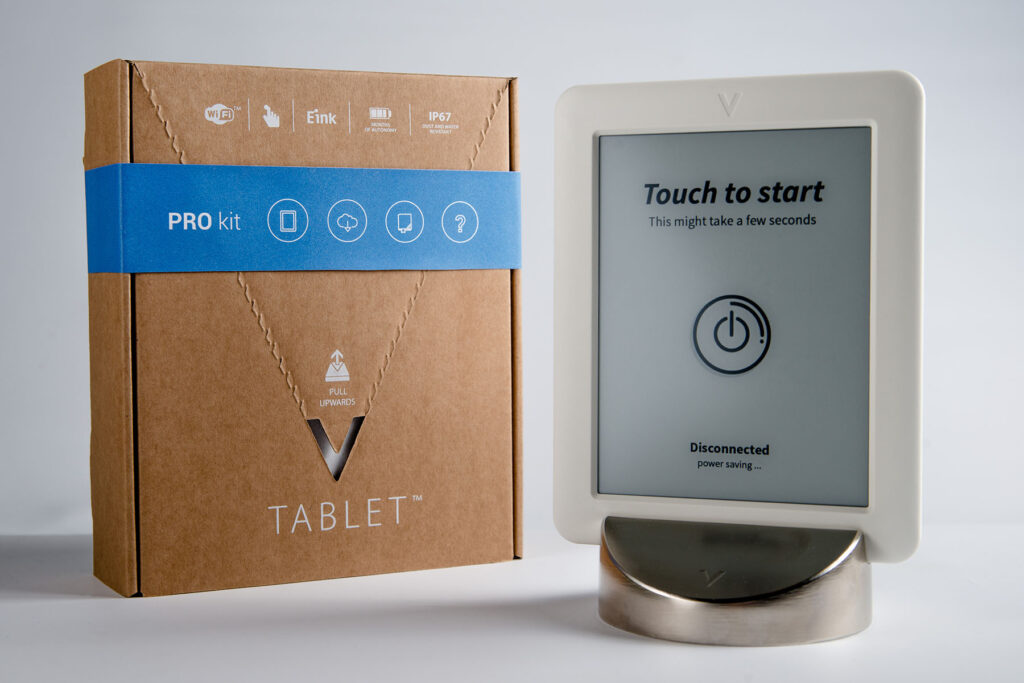 The team turned to the global community, reaching out to partners worldwide to find a problem only electronic paper could solve. They discovered that the world didn't need a solution to solve one problem — it needed one solution to solve many problems. So, Visionect rose to the challenge, releasing leading-edge displays that allowed industries to build and customize their own content for their unique use cases.
Despite this broad direction, the team also found the meeting room management sector had a high demand for e-paper displays. In ​​response, Visionect released a six-inch e-paper touchscreen wireless display that can be mounted on any surface: Joan 6. The design was a huge success, winning awards around the world.

Dedicated to innovation and supreme technology
Luka, Rok and Matej have always been inspired by electronic paper's hardiness, which is why they've constantly tested its boundaries.
The technology can withstand temperatures and conditions that traditional LED and LCDs can't. As a result, Visionect was the first company to deal with outdoor e-paper. In fact, we were so successful that our urban solutions are still in high demand today.
Visionect displays have been used for everything from advertisements on moving vans to displaying art in indoor settings. Our team even went so far as to test video games based on electronic paper capabilities. Through years of tinkering, Visionect has grown top experts who know e-paper from the inside out.
Still, the excellence doesn't stop at electronic paper technology. The Visionect team is dedicated to creating the best systems as a whole, including wireless communication, ultra-low-power capabilities, touchscreen functionalities, battery-powered design, and stylish housing made of high-end materials.
"E-paper display as a technology is just one component in our product."
— Rok Zalar (CEO)
In the end, Visionect products don't only look nice, but have received multiple Red Dot awards. Our designs have been refined wholly from the mounting magnets to the wireless connections.
Visionect solutions are designed with sustainability in mind from packaging to product. Each device is made primarily out of reusable or renewable resources, such as glass or aluminum. The packaging is paper-based and made without chemicals or harmful byproducts. What's more, Visionect plants one tree for every product sold, further giving back to the environment.
Our electronic paper devices are engineered from the ground up to be as sustainable as possible. Beyond packaging and materials, the displays are programmed to use the least amount of energy necessary for their use case, lasting months to a year on a single charge. The products are incredibly long-lived, some lasting even five to eight years before needing to be replaced.
"The proof is out there, based on how many of our products are still alive, how they are working, and how they are being used. We build stuff that survives — that endures through the worst kind of environments."
— Luka Birsa (CTO)
The Visionect team strives to bring the best possible experience to our customers and the environment alike. Recognized for our excellence, the company is growing. Visionect products are now available in over 90 countries and used by millions of users around the globe.
Rather than offering cheap, simple, high-volume products, Visionect devices excel at excellence. Our products range from tablet to television-sized displays that can be wholly run on battery power, delivering crystal clear content.

Teamwork makes dreamwork
In the words of a wise Harvard professor, "I've found that small wins — small projects, small differences often make huge differences." While Visionect employs a team of professionals that is not as large as Samsung, Apple, or other big players, they make a huge impact.
Visionect houses a team of visionaries — top innovators in their fields. As much as the team likes to design the best products on the market, we're also passionate about empowering each other.
The company centres around intrinsic values, supporting employees to grow, seize the reins, and dive in. Teammates are encouraged to take their own initiative and push electronic paper technology as it's never been tested before. After all, that's how innovation happens and great ideas are born.
The Visionect vision
The name "Visionect" stems from two words: vision and connect. From the start, our vision has been to connect. Whether it's connecting customers to the best solutions on the market, connecting users to the information they need, or our teams connecting the perfect recipe that makes our product outperform all others, our vision is coming true.
It's the most passionate teams that make the biggest difference. Bit by bit, the Visionect team is changing the world. We are pursuing solutions for the future with both their users and the environment in mind.
In the words of Rok Zalar,
"Visionect is not a one-trick pony. It's not the company that creates something, launches it, and then doesn't exist after two years anymore. It's a company that is going to last for many, many more decades."
Visionect Place & Play devices have been designed to not just solve one problem, but a plethora of them. Visionect aims to provide users with the quality, long-lasting displays they truly need.
Moving forward, we'll continue to grow our global presence, enhancing our technology and designs tenfold again and again. Our teams will continue adding features to our solutions and pushing the boundaries of what electronic paper is capable of. We dare to dream, making our displays the leading edge of electronic paper solutions.
Contact our sales team to learn more about what our innovative digital display solutions can do for your unique use case.