Meet JOAN Premium. Meeting room management has never had this much power.
Introducing the latest product in our award-winning line of JOAN room scheduling solutions—the JOAN Premium! At 13 inches in diagonal, the brand new device offers the most comprehensive overview of the meetings coming up in a particular meeting room yet. Developed on Place & Play technology, JOAN Premium represents the distraction-free elegance of electronic paper at its finest, running for as long as 12 months on a single battery charge.
Since 2007, Visionect has brought its expertise to projects all over the globe, spanning use cases and industries and pushing the boundaries of digital displays. The apex of our cutting-edge technology is the Place & Play signage concept, the greenest ready-to-use digital sign, and the award-winning JOAN meeting room scheduling solutions, which disrupted the market with its easy, zero-cost installation and unparalleled battery autonomy.
Our latest JOAN product, JOAN Premium, brings the two together.
JOAN Premium shows the most comprehensive overview of meetings scheduled, standing out for its extreme battery longevity: as much as 12 months on a single charge.
Developed on the 13-inch Place & Play, JOAN Premium is the largest JOAN device, presenting a detailed overview of all the meetings scheduled to take place in the meeting room, conference hall or huddle room in that day.
Shown is the meeting currently taking place, the next one coming up, and the 5 meetings that follow it. This schedule is displayed on an elegant, subtle device created to blend into any interior, supported by unparalleled simplicity of installation and use. With zero wires, there is no need for costly installations, while its intuitive user interface is easy to read and understand.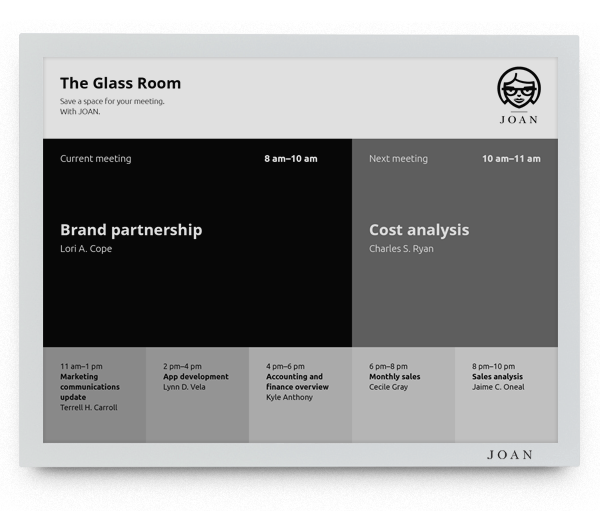 Offering the readability of ink on paper, without glare or light pollution, JOAN Premium is enclosed in precision-brushed aluminum casing enforced with a durable glass pane to protect from scratching and hazing. It is also completely button- and cord-free and does not require access to power.
JOAN Premium, like all JOAN devices, supports an energy efficiency that is 99% less than comparable solutions. JOAN Premium, however, stands out for its extreme battery longevity: as much as 12 months on a single charge. This allows for effortless, wire-free installation via the included Magnetic Mount—even on glass or wood.
JOAN Premium integrates with existing calendars—G Suite, Office 365, Microsoft Exchange 2010+ and iCalendar—connecting via Wi-Fi to display room availability at the meeting room door.
It joins the existing JOAN product line, consisting of the touchscreen 6-inch JOAN Manager and JOAN Executive that display room availability at the meeting room door; and the 13-inch JOAN Board, showing the status of up to nine meeting rooms on a single screen.
---
Want to harvest the power of comprehensive meeting overviews? JOAN Premium is currently available in preorders, open until the end of October, for a discounted preorder price.
---