Game-changing infrastructure: Orlando and Pittsburgh join London, Singapore and Ljubljana in adopting electronic paper bus stops
Visionect, 8 Apr 2016
Electronic paper once again proves its worth as the disruptive, power efficient technology of public transportation. E-paper now replaces traditional static signs with sunlight readable, solar-powered displays in a pilot roll-out in Florida and Pennsylvania.
We want to look at all amenity options for our current and new riders. After all, Orlando is the number one tourist destination in the world and we want to provide our customers what they expect as far as bus stop information without us incurring expensive infrastructure improvements. — Matthew Freidman, Director of Marketing, LYNX-Orlando
Did you know that 38% of Americans say they would be motivated to take public transit more often if real-time schedules were displayed on location? Similarly, studies as far back as 2003 have shown that advanced passenger information systems reduce commuter stress and improve overall satisfaction – something we already covered in detail.
Among the cities tackling the issue of providing a better experience for riders are Orlando and Pittsburgh, joining London, Singapore and Ljubljana in implementing electronic paper across the city's bus stops in a pilot rollout of the technology.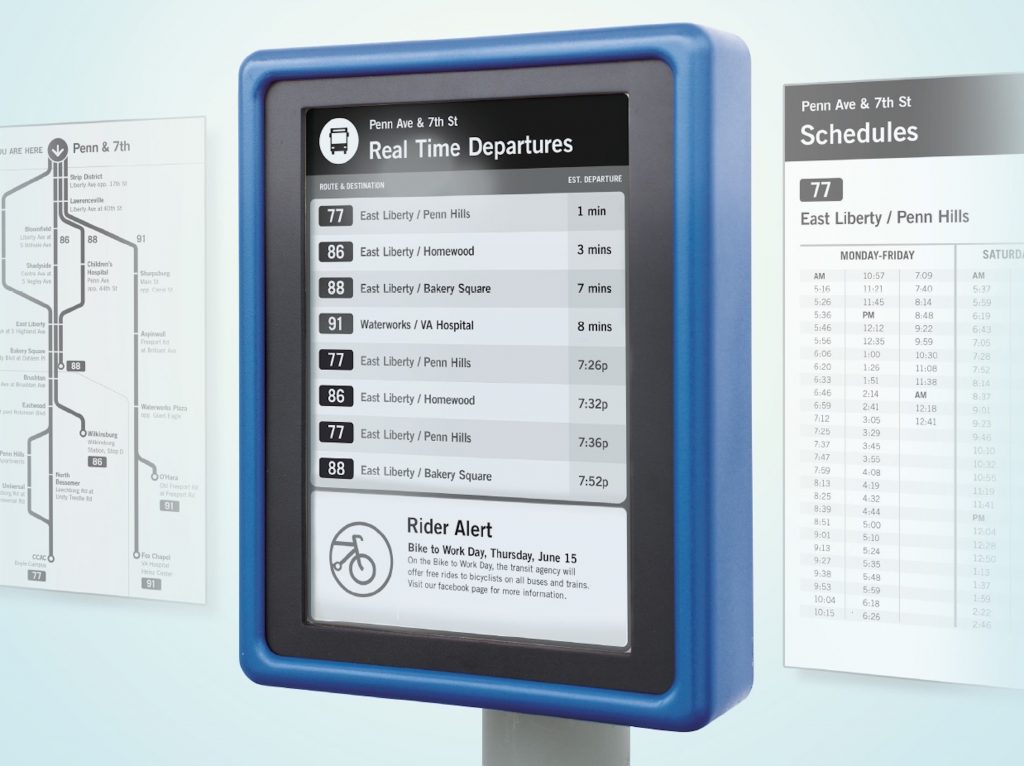 The new E Ink and CHK arrival information and wayfinding solution currently being tested in Orlando and Pittsburgh is easy to deploy within existing bus stop infrastructure. The large area electronic paper displays are ultra-low power and provide exceptional outdoor readability, making them ideal where access to a power source is not a given. (image source: CHK America)
User friendly information, efficient service updates
The deployment is part of a project by CHK America, a provider of customer information solutions for the U.S. public transportation industry, and E Ink®, the leading world manufacturer of electronic paper.
The aim, it was announced, is to deliver advanced digital wayfinding solutions across the United States by replacing traditional static signs with high contrast, sunlight readable displays operated via battery or solar.
This is the kind of game-changing infrastructure that will make our system easier to use and provide riders with information right at their fingertips. We are excited about this technology and look forward to testing it in the field. — Scott Vetere, Director of Service Planning and Evaluation, Pittsburgh's Port Authority of Allegheny County (PAAC)
The digital bus stops allow transit agencies to easily deploy advanced passenger information almost anywhere, without requiring electrical infrastructure at bus stops. The solution enables transit agencies to deliver service change updates to bus stops everywhere effectively and efficiently from one central location, and at the same time provide improved service to riders with real-time departure information.
In addition electronic paper displays integrated into existing bus stops provide transit riders with easily readable, up to date information under all lighting conditions in a cutting edge solution to a long-term problem that all transit agencies face – how to deploy and keep service information current and user friendly at bus stops.
The prototypes of e-paper digital bus stops are currently set to be tested by two clients: LYNX-Orlando and Pittsburgh's Port Authority of Allegheny County (PAAC).